When it comes to amputee dogs and cats, Tripawd traction is a key ingredient for an excellent quality of life. No-slip surfaces in the home prevent injuries and give your amputee pet more confidence to get around and be part of the family. But what happens when carpet runners just aren't enough for your pet? Well, that's why Tripawd traction matters, and it's how Dr. Buzby's Toe Grips can help the canine contingent.
Dr. Buzby is the creator of Toe Grips and on this episode of Tripawd Talk Radio, she shares all her Tripawd Traction tips and tricks for a no-slip life with your Tripawd dog.
A Chat About Tripawd Traction Matters with Dr. Buzby
Toe Grips are an ingenious invention that have helped millions of dogs live better and safer on slippery surfaces. We've always been curious about how Toe Grips work for Tripawds, which is why we invited the inventor of Toe Grips, Dr. Julie Buzby, to chat with us on Tripawd Talk Radio.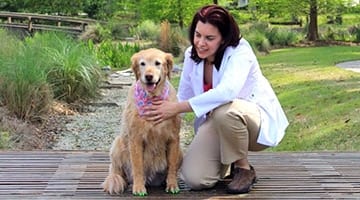 In this episode you'll learn fun facts about Toe Grips and Dr. Buzby, such as:
Why Dr. Buzby decided to focus on integrative medicine.
The importance of traction for dogs from her perspective as a chiropractor and acupuncturist.
The long-term consequences of dogs living on slippery surfaces (especially Tripawds)?
Who inspired Toe Grips and how the invention process developed.
The ideal candidate for Toe Grips (and why they won't work with cats).
What to consider for anyone who wants to try Toe Grips on their pup.
We know you'll love this episode!
Dr. Julie Buzby, DVM, CVA, CAVCA is an integrative veterinarian certified by the American Veterinary Chiropractic Association and by the International Veterinary Acupuncture Society. In addition, the South Carolina based veterinarian is founder of Dr. Buzby's Innovations, which created the dog traction solution known as Toe Grips.
The Toe Grips traction product has helped millions of dogs regain confidence on slippery floors and empowered pet parents since the product made its debut to veterinarians at the 2013 North American Veterinarian Conference.
This episode is not sponsored, and Tripawds received no compensation for having Dr. Buzby on the show. We are just so in awe of what she does to help animals live happier lives, that we want to share her work with as many people as possible!
Read our complete Toe Grips Product Review and find many more helpful products for three legged pets in the Tripawds Gear Shop.