As animal prosthetics become more common, it's important for pet parents to know the level of time, money and commitment required. In last week's Tripawd Tuesday, we follow the early days of Bridget's partial amputation and prosthetic journey. Today, Bridget's mom Kathleen shares the nitty gritty of healing a partial amputation wound, and the prosthesis journey.
Partial Amputation Wound Care and Prosthetic Preparations for Bridget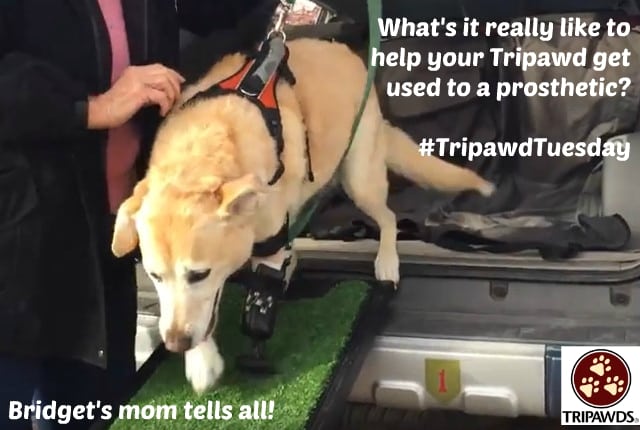 Care and Monitoring After the Surgery
It is important that if you don't live near where your pet has partial amputation surgery that you have a local veterinarian who will support your decision and provide follow-up care. Even though our vet wasn't experienced in partial amputation, he was supportive in providing follow-up care and coordinating with Dr. Wendland at CSUVTH.
At each bandage change by our veterinarian, I took pictures of the incision to send to Dr. Wendland so she could monitor Bridget's progress until Bridget returned to have stitches removed and be fitted for her prosthesis.
Taking the pictures forced me to get over any queasiness about looking at her wound—I'm not extremely squeamish but seeing your sweet girl going through this process takes some adjusting to when you're already feeling sad that she's having to endure it.
It was unfortunate that she developed an infection (that required culturing to find the right antibiotic to treat it) but getting picture updates to Dr. Wendland helped her guide us through what was normal vs. abnormal.
I was grateful my husband and I are both retired so we could be with Bridget during her recovery. I am not sure how people who are working outside their home would manage it without at least taking a few days off.
Just as you wouldn't leave a human patient to fend for himself shortly after major surgery, it is important to have someone there to help with potty breaks, to give multiple medications at different intervals and monitor that the bandage stays clean and dry.
After a week of being close by, when I was confident she could be alone for a bit, I would leave my regular one-day-a-week volunteer assignment one time during my 7-hour shift to make sure she had her pain medications on schedule and allow for a potty break.
Keeping Bandages Clean and Dry in Wet Weather
One of the biggest challenges of having the surgery done in a wintry climate was figuring out how to keep Bridget's bandage dry.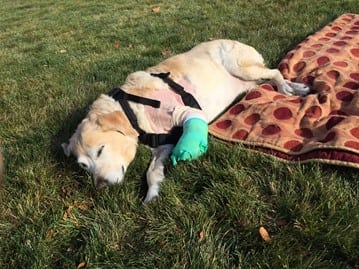 First, I put Glad Press and Seal wrap (which sticks to itself and gives a first layer of protection) around her bandaged limb and then put a gallon freezer Zip Lock bag over the Glad Press and Seal plastic wrap, twisting it to conform to her leg, then using wide gray electrical tape to seal the bag securely over the bandage. It took a few days before I could make sure she wouldn't lose the bag in the deep snow and I always checked to see if the bandage was still dry. Getting the wound wet is a huge no-no.
I ended up taking her to my vet to be rebandaged several times in between the prescribed bandaging intervals because she still managed to get her bandage wet.
She also required bandaging skills that I hadn't yet learned: non-stick dressing next to the wound, a lot of padding to give her limb protection, using adhesive tape applied to the skin to keep the dressings in place (so they wouldn't slip off), with a final covering of No-Chew tape to dissuade licking. (She did have to wear the "Cone of Shame" until she healed so she wouldn't mess with her bandage).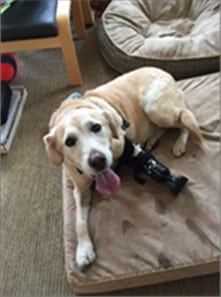 The bandage needed sufficient pressure to keep it on her leg, getting it tight enough to stay on without having it reduce circulation so I took her to our vet for these changes. I lost count of the number of bandage changes she had. Unfortunately, she was required to be bandaged much longer than usual because of the infection and the infection healed rather slowly. Near the end of the healing process, I had seen the bandaging process so many times that I was able to successfully do it myself if I needed to.
A dog with a full leg amputation soon learns to hop to get around. Bridget continued to walk on her partial limb so protecting the bandage even in dry weather required creative padding and covering. She was insistent on going on short walks on the side walk, which was rough enough to wear through multiple layers of gallon freezer Zip Lock bags taped to her leg so our vet gave me an empty IV bag cut off at the top with a gauze drawstring fashioned to keep it on. We went through a number of these as she convalesced.
Stitch Removal and Fitting for the Prosthetic
We returned to CSUVTH two weeks after the surgery for stitch removal and to make a mold of her residual limb for the prosthetic, which was done by Dr. Wendland. Bridget's a nervous patient and so I had, at CSUVTH's suggestion, given her some Trazadone to help calm her. At that point the wound was healing nicely.
The prosthetic device came a few weeks later to the pet rehab firm in our city that I was going to work with. Unfortunately, because of Bridget's infection, she couldn't wear the prosthetic immediately or do water therapy at the rehab clinic until she was fully healed. I kept in contact with Dr. Wendland via email who patiently reassured me that she would heal when I was getting very discouraged.
Breaking-In Period for Wearing the Prosthetic
There is a break-in period for a prosthetic so that the residual limb can develop a callous. When Bridget wore her prosthetic for the first time at the rehab clinic, she was thrilled with her new and better mobility.
She walked around as if she had been wearing it for some time and when we were finished, she ran up a steep ramp to the exit, and up the ramp into our SUV.
Within a few days from the start of wearing the prosthetic, Bridget was confidently navigating a few stairs, uneven terrain, and obstacles. She would happily keep me at a fast walking pace trying to keep up with her. We gradually were able to extend her walks to considerable distances which made for a very happy dog, but I was careful to monitor her limb to make sure she wasn't developing any sores.
After four sessions with the pet rehab group they said that, because she was so already so physically strong and had adjusted so quickly to wearing the prosthetic, that she didn't need to come anymore! In fact, she wore down the sole of the prosthetic within three weeks and we had to have another sole put on!
March 2, 2018—Approximately Four Months from Surgery
This week we are going to make a return trip to CSUVTH see Dr. Wendland so she can check that the foam sleeve (that part that fits inside the hard shell of the prosthetic) to ensure it still conforms properly to her residual limb and to check her gait. Apparently, the shape and size of the residual limb can change enough post-surgery that the foam sleeve needs to be redone.
About a week ago, Bridget was acting exhausted when we went on very short walks and she wasn't walking as confidently as before so I took her for her regular well-check and learned she had a bladder infection. Once she was on antibiotics, her energy and personality returned, and she was her cute self again.
Because she was already a little arthritic before her surgery and to combat any possible phantom limb pain, she continues to take Gabapentin and Rimadyl daily. She can wear her prosthetic most of the day but doesn't at night. Sometimes she puts her back leg over the prosthetic to keep me from taking it off because she likes the increased mobility she enjoys with it on!
When spring finally arrives, we will be doing more outdoor adventures and she can chase squirrels and balls as before.
We were not able to visit Dr. Wendland after Bridget started wearing her prosthetic because of winter weather and schedule conflicts. When we saw her on March 29, she was able to determine what changes needed to be made to the prothesis function better for Bridget and made them while we waited. The fit and her gait were much improved. Dr. Wendland is the BEST!
Would I recommend partial amputation to others, knowing what I know and what we've been through? YES!
I felt sure Bridget would take to the prosthetic like a champ, and I am glad she has the chance to live her life pretty much as before. Most people who see her are curious because pet prosthetics are so uncommon, but they are also amazed at how happy and mobile she is.
It may take a little more effort and expense than a full amputation but if it makes sense medically for your pet, you have veterinarian and pet rehabilitation resources to support you, and the time and willingness to help your pet "get back on her/his feet", it's so worth the journey.
Read All Tripawd Tuesday Stories
Your Pet Can Star in Tripawd Tuesday
Each Tuesday, Tripawd dogs, cats and other critters from around the world can enter for a chance to be "Tripawd of the Week." Just share your Tripawd's story and you're entered to win! On every Tuesday of the week, tell us about your three-legged hero. Just follow these easy steps:
In a short paragraph or two (or longer if you'd like!), describe your three-legged hero's story.
Include photos or links to videos already uploaded to YouTube.
Include a link to your Tripawds Forum topic and/or Tripawds blog, social media handles, etc.

Email your story and photos

to us.
All entries must be received by Saturday at 11:59 pm. One Tripawd story will be selected at random to be featured the following Tuesday.