Last week we discussed the Canine Osteosarcoma Vaccine facts, but there's so much more say! The biggest dog cancer treatment breakthrough in decades is underway. Many brave Tripawd parents and their canines play a role in this important new cancer therapy, like Prakash and Dexter, and Connie Kruzan and her beautiful Greyhound, Bowie.
UPDATE!
We are sad to report that as of 12/20 this vaccine is no longer available. Dr. Sue Ettinger explains why:
Their Canine Cancer Osteosarcoma Vaccine Experience Gives Hope to Many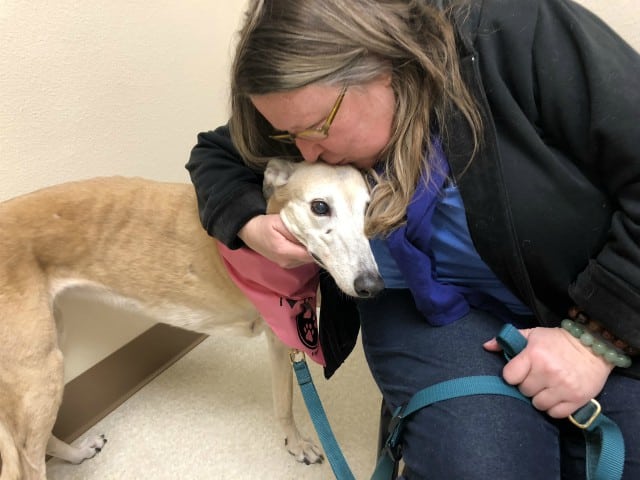 Connie and her retired racing Greyhound Bowie (aka "Bella Run Softly") are from Southern California. Last year, Bowie was diagnosed with osteosarcoma. Vets gave Connie the usual depressing prognosis. Most dogs affected by this cancer live about one year after being diagnosed. Rates are slightly better if dogs undergo chemotherapy.
Connie felt sadness but a surge of hope too. The new canine cancer osteosarcoma vaccine seemed possible. Maybe she could beat the disease if Bowie lived long enough to receive the vaccine.
Her dreams came true. Bowie is in good health one year after her diagnosis. She's part of the extended field study of the Canine Osteosarcoma Vaccine made by Aratana Therapeutics, Inc. As a patient of Dr. Andrew Vaughan DVM, MS ACVIM (Oncology) of the Las Vegas Veterinary Specialty Center, Bowie is receiving three injections. She gets them three weeks apart. In return, her immune system fights off osteosarcoma metastasis.
We met up with Connie in Las Vegas to discuss her clinical trial experience:
Being in the trial is a win-win for everyone. For example, Bowie gets the latest treatment intended to prevent metastasis. And now, more dogs can live longer with this disease as it becomes a normal osteosarcoma cancer protocol. Eventually, humans with the rare disease may benefit too. It's all because of the brave canines and their humans who participated in the Canine Osteosarcoma Vaccine clinical trials and field study.
Ask your vet to find a Canine Osteosarcoma Vaccine field study near you. Or, call Aratana's Customer Care team: 1-844-ARATANA (272-8262).
Learn More About the Canine Osteosarcoma Vaccine
Get the Canine Cancer Osteosarcoma Vaccine Facts
Vaccine holds promise for treating osteosarcoma in dogs