In our continuing efforts to educate people about the importance of canine conditioning for tripawds—and the benefits of visiting a certified rehab practitioner—we're asking rehab clinics to provide case studies and success stories about rehabilitation therapy for three legged dogs.
The following article was submitted by the fine folks at Integrative Pet Care. Please contact us if you would like to submit your rehab experience and refer your clinic staff to Tripawds if they have other three legged success stories to share. 

Don't miss your opportunity to get reimbursed for your first rehab session with the Tripawds Foundation's Maggie Moo Fund!
Rehab on 3 Legs
At Integrative Pet Care we see pets with a diversity of conditions and all of our patients inspire us with their resilience, but our three-legged "tripods" consistently amaze us with their tenacity and joy for life! We know that with some basic lifestyle modifications and a customized rehabilitation plan, tripods can live happy, comfortable lives.
Some three-legged pets are born with congenital abnormalities such as complete or partial lack of a limb. There are also some disorders that can necessitate amputation of a limb, such as traumatic injury or cancer. At IPC we see pets who are missing either front or back limbs and we even see a patient who is missing one of each!
Tripods face unique challenges in mobility due to alterations in balance and increased load to their remaining limbs. At Integrative Pet Care, we focus on therapies that improve balance, strengthen core muscles, maintain healthy joints and soft tissues and stay fit to avoid injury. Outcomes from rehabilitation depend significantly on the training and experience of those who prescribe, oversee their care and provide therapies. At Integrative Pet Care all of our veterinarians, physical therapists and technicians undergo in-house training as well as completing a certification program through Canine Rehabilitation Institute, University of Tennessee or the Healing Oasis. We use a collaborative approach, involving the referring veterinarian and the pet parent in the rehabilitation process, setting goals and working together to meet them.
In addition to a formal rehab program, home care (which often includes basic exercises and massage techniques taught by a certified rehab therapist) and customized assistive devices can also help tripods with their mobility. Non-slip floor coverings and harnesses can make a big difference in the lives of these pets and their families.
Meet some of our patients who have taught us how great life can be on 3 legs!
Aala
After her front limb amputation, Aala adjusted almost immediately, taking on stairs only 12 to 24 hours after surgery. Her parents on the other hand had a more difficult time adapting both to Aala's new challenges as well as their own uncertainty.
"She had an odd stride in her back legs after the amputation and after ruling out anything medical, it was suggested we try rehabilitation. However, while she has become so much stronger and her stride is now seamless and strong, a lot of the rehab process seemed to help us the most. The whole amputation process was a complete unknown for us. We had no idea what was normal adaption, what changes we should expect or what was okay to do or not do, both for her physically and for us as her caregivers. We learned how to better care for her (at IPC) and also it helped us see all that she could do, despite the surgery. When you go through such a big surgery, seeing all these abilities keeps spirits high." -Stewart, Aala's dad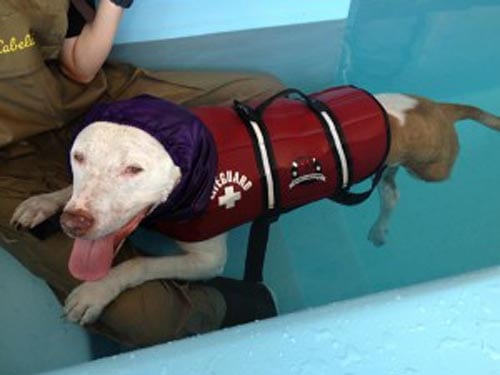 Henry
Henry, a 13 year old pit mix, is a survivor. This guy has been through a lot, including a cruciate ligament tear and several cancer diagnoses. In 2012, Henry's left hind limb was amputated due to bone cancer and 11 weeks later he came to IPC. His mom had already made a few modifications for Henry, adding recycled tire tread to the stairs in their home and a harness to assist him. We started working on strengthening Henry's core and remaining 3 legs with targeted Therapeutic Exercises and walks in the Underwater Treadmill. Henry eventually transitioned to swims in the Resistance Pool and continues to receive Massage and Acupuncture treatments to keep him moving comfortably.
"He's an incredibly strong dog to start with, so I knew once we began targeting his core muscles and working on his balance he'd respond well. I feel like he's more confident on the stairs, which is huge since we live on the third floor of a walk-up!  IPC gave me the great idea of covering my hardwood floors with yoga mats, and now he can zoom around the house without worrying about slipping."  –Christine, Henry's mom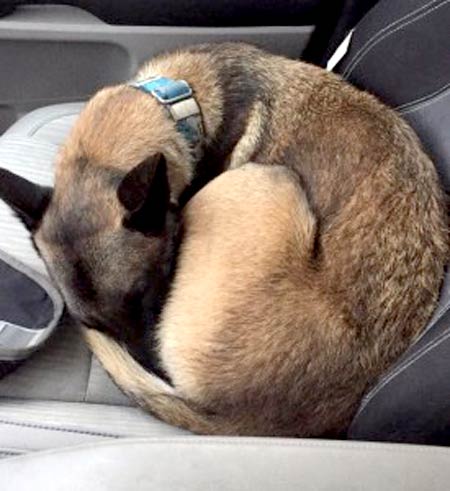 Falcor
IPC regular and dog-trainer, Emily Stoddard, recently added a new member to her pack- Belgian Malinois, Falcor. At 6 months old Falcor had a partial front limb amputation due to trauma of an existing congenital abnormality. Falcor has adapted well to being 3-legged and his swims in the pool keep him strong. To manage the tension he gets from compensating for his amputation, Falcor has Veterinary Spinal Manipulation Therapy (VSMT or "Chiropractic") as well.
"Don't know what to say other than my tri is awesome! Everyone that meets him feels bad for him, but what they don't know is that he is the smartest problem solver of my crew with a personality to match. He doesn't miss his leg one bit! Falcor is busting stereotypes training to do agility, nose work, and protection sports, so you can see it also doesn't prohibit him from doing the things he loves. Three legs and he still out runs most every dog he comes across! Out smarts them too! People gave up on Fal, thinking he wouldn't amount to much due to his birth defect. We've taken it upon ourselves to prove them wrong!" -Emily, Falcor's mom
Bopper
Bopper, a young English lab, sustained a traumatic injury while in his original household that required a left front limb amputation. A month after surgery, he found his forever home and his owners brought him to IPC for an evaluation and to learn what maintenance therapies he would need to stay strong. Some modifications to Bopper's lifestyle helped him to increase his mobility, including a weight loss plan. Maintaining a slim physique is extremely important for all pets, but particularly for three-legged ones. A good harness, booties for traction, a ramp for getting on and off the bed and a therapy plan including Therapeutic Exercise, VSMT and Hydrotherapy were recommended. Bopper has since lost weight, goes for longer walks and has a smoother gait!
Rocky
In September of 2014, Rocky had his left hind leg amputated after a soft tissue injury. About 2 months later, he was evaluated at IPC. Rocky was a happy 1 year old poodle mix who loved to run and chase squirrels. However, he occasionally had trouble getting up, especially on slick surfaces.
"I knew that because he had his surgery at a young age he still had a lot of muscle mass to be developed and I wanted to make sure I could help him support his weight comfortably. Even though he gets around just fine, I wanted to take it to the professionals who could help him strengthen the right areas to prevent any other injury. Working on his core strength helps stabilize him and build muscles that he otherwise wouldn't be training. I know he is a lot less wobbly because of the therapy he's had. Not only have I learned so much about his physical needs, but he loves it! He won't get off the obstacle courses!"
-Mia, Rocky's mom
Therapists at IPC started Rocky on a program of focused Therapeutic Exercises to improve his strength, endurance and coordination. Currently Rocky continues maintenance therapy at IPC, working out in the gym as well as receiving much-deserved Therapeutic Massage.
"He was around 7 months old, and was extremely active and he wasn't going to let anything slow him down. Not even major surgery. I have a distinct memory of the moment I took off his surgery cone, and he looked down at his incision and was kind of surprised, like "wait a minute…," and then that was it. I realized animals don't have an emotional attachment to their limbs like humans do. He knows he is a little unbalanced but he doesn't mind. " -Mia, Rocky's mom
About IPC
Integrative Pet Care is dedicated exclusively to the physical rehabilitation, fitness and holistic wellness of our patients. We can assist in recovery from surgery or injury, loss of mobility, weakness or pain. Integrative Pet Care's team is comprised of veterinarians, physical therapists, animal rehabilitation therapists, massage therapists and assistants. Proper training and certification in animal rehabilitation ensures that we provide the highest quality of care for your pet.

NOTE: The Tripawds Foundation is offering reimbursement for a limited number of three amputee dog rehab sessions through the Maggie Moo Fund.