A lot has been going on behind the scenes here at Tripawds lately—an awful lot!
New Responsive Website Design
Updated Resources Lists
Newsletter & Blog Subscription
New Help Videos for Bloggers
New Forums & Live Chat
Migration to New Server
Social Media Growth
New Ways to Support Tripawds!
Ever since our website makeover that made the blogs and forums much easier to navigate and more user friendly on mobile devices, we have been adding some finishing touches and preparing for a much needed server upgrade.
With the migration to our new server now complete, we are happy to officially announce the new and improved Tripawds 3.0!
This video now welcomes all visitors on the new Tripawds Community home page, Youtube Channel and Facebook Page. It offers a quick overview of the top features found throughout the Tripawds network.
What's New at Tripawds?
Have you visited the Tripawds Resources page lately? We have cleaned up the list, removed bad links, and organized the page for easier access to more than 100 helpful websites, support groups, clinical trials, financial help resources and more! Jerry's original Health Tips page has also been updated, with lots of basic tips about diet, nutrition, helpful harnesses and exercise for Tripawds. Download the Tripawds e-books for even more!
For Tripawds Bloggers, we've added many more helpful tutorial videos to make your blogging experience easier! Learn how to publish posts and pages, add photos, or change your blog theme and add widgets.

Newsletter, Blogs & Social Media
Did you know you can now subscribe to receive updates from the Tripawds News blog? The Subscription page includes details about how to receive email notification of new blog posts.
Or, you can opt in to receive the Tripawds News email newsletter. Unsubscribe from either list any time, and keep your free gifts!
Speaking of the newsletter, have you subscribed yet? It is sent only every other week and includes updated from favorite blogs and popular forum topics. Read all past issues here.
While you're at it, check us out on your favorite social media network to see how the Tripawds Nation has grown. The Facebook page has more than 10,000 fans with more than 3000 followers on Twitter. Follow @tripawds on Pinterest and @tripawdscommunity on Instagram for the latest photos.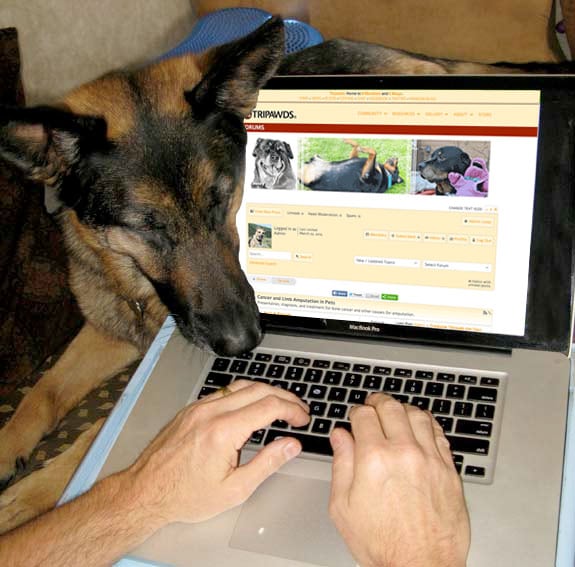 Why a New Server?
We first moved the Tripawds Blogs network to its own dedicated web server in 2009. Over the years, the growing needs of this community—and the increasing amount of traffic it receives—have overloaded the system's available resources.
Tripawds now hosts more than 1,000 three legged dog and cat blogs, with 8,600± registered members—and that number is growing daily! The popular discussion forums currently include more than 11,000 topics with nearly 150,000 posts by members—and that number grows by the minute! Add in a new and improved Live Chat, and ever-growing photo galleries, and you get some pretty serious database activity with an exponential need for more speed, storage space and bandwidth.
Thanks to your support of the Tripawds Foundation, this website and its vast resources will remain available, stable, and free for years to come!
How Can You Help?
We are still ironing out the final few kinks following the recent server migration. It hasn't been easy, but we're getting there! If you experience any unexpected behavior, want to report any problems, or just give us a pat on the back, please leave a comment below or post in this tech support topic.

Major upgrades like this are not easy, nor are they cheap. You can help cover expenses and ongoing maintenance costs by reviewing the various ways to support Tripawds. For a tax deductible contribution that will help keep keep this community online, and fund other projects to help Tripawds and their people everywhere, please consider a charitable gift to the Tripawds Foundation.
The best way you can help, is to tell your friends! Use the social buttons below to share this news about Tripawds. Or, take a minute to send your vet some free Tripawds brochures, so other concerned pet parents can find the help they need here.
Any Questions?