Far too many Tripawds lose their leg from neglect. Thankfully, many of them find forever homes with loving humans who keep them protected for the rest of their lives. Tripawd Kaai is one of these lucky dogs. She lost a leg but found a pawesome pawrent in Bob Carr, who recently shared Kaai's story on the Tripawds Facebook Page. Here it is: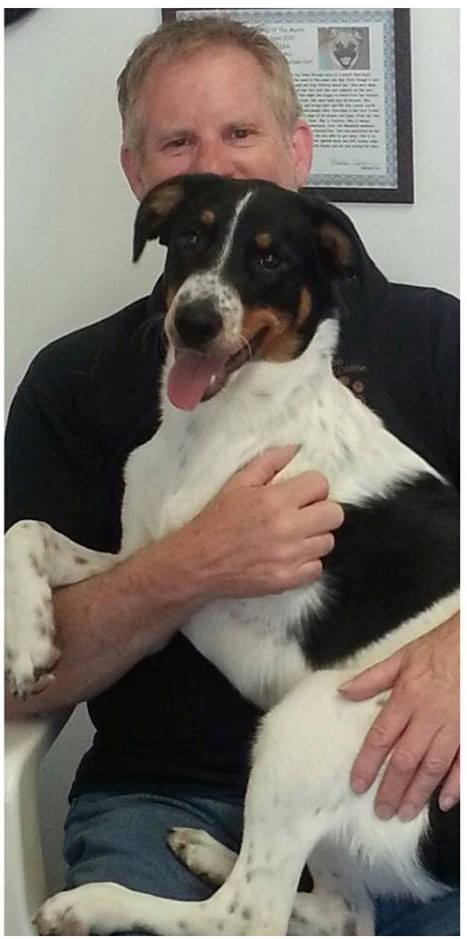 "This is Kaai (rhymes with pie). At about 6 weeks of age she needed to have her L front limb amputated.
Some people found her with fishing line so tightly wound around her limb that it was severing it. They took her to our local shelter and her leg was completely void of circulation. It was amputated and I saw a picture of her on FB and decided to foster her until she healed and was able to be spayed. She was spayed in April of 2013 and I was able to then 'legally' adopt her.
Kaai is one happy dog, full of playful energy, a friendly spirit and so much goofy fun to have around.
I am using a Ruff Wear harness to get in and out of the car, and on hikes where the terrain is a bit rough. She is usually harness free at the house (no stairs), the dog park and the doggy day care.
Kaai is now approx. 6 months old and runs with the pack."
How to Get Featured on Tripawd Tuesday
Each Tuesday, Tripawds from around the world can enter for a chance to be "Tripawd of the Week." Just share your Tripawd's story and you're entered to win!
On every Tuesday of the week, tell us about your three-legged hero here in the Tripawds Discussion Forums or on the Tripawds Facebook page. Just follow these easy steps:
In a few short sentences, describe your three-legged hero's story.
Include a photo or video.
Include a link to your Trpawds Facebook page, Forum topic and/or Tripawds blog (if applicable)
All entries must be received by Saturday at 11:59 pm Pacific time.