Today we celebrate Sassy Sugar Bear, who's been beating the osteosarcoma odds for eight months, even with lung metastasis. This is Sassy and her mom, Michelle with happy expressions after getting great news from Sassy's latest vet appointment: Sassy is kicking cancer's butt!
Today July 14, 2013 I feel we have hit a huge milestone.  Who says a dog with Osteo can't live beyond the odds.  Especially one who has had mets for 5 months.  This is so great.  I treasure every day I have with her.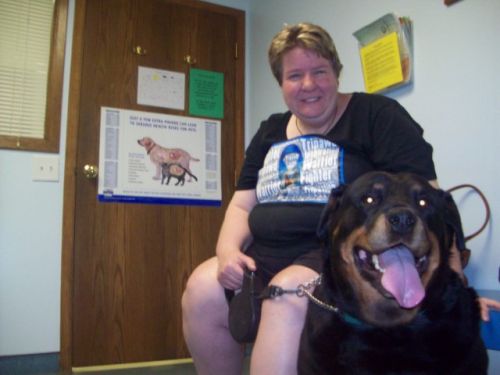 Sassy started her official Tripawd journey on November 14, 2012. She did really well after surgery and although she had some appetite challenges during her first chemotherapy sessions, she and her mom Michelle proved there was nothing that they couldn't overcome together.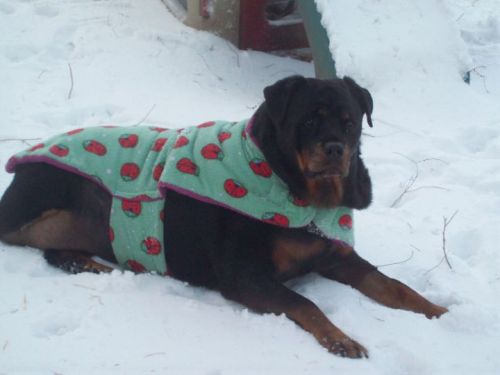 Then, in March of this year, just three short months after her amputation, Michelle and Sassy got the bad news: lung mets. Michelle wrote in Sassy's blog, "It wasn't just one there were multiple and one large one.  He said if we do nothing she could have 2-6 weeks."
Well apparently, cancer didn't hear that, because now, four months after that heartbreaking day, Sassy Sugar Bear is here to say "Pow! Take THAT cancer!"
[youtube]http://youtu.be/JoAoFTLNfME[/youtube]
She is loving life, feeling great, looking good and living each and every day to the fullest. Read about her inspawrational fight against osteosarcom in her blog, Sassy Sugar Bear.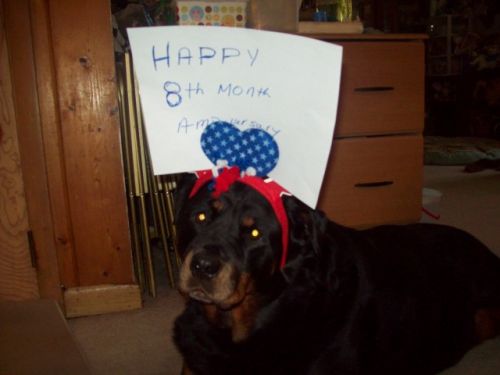 Please join us in celebrating Sassy's eight month ampuversary. Words cannot begin to describe our joy at watching her stick it to this disease. YAY SASSY!
How to Get Featured on Tripawd Tuesday
Each Tuesday, Tripawds from around the world can enter for a chance to be "Tripawd of the Week." Just share your Tripawd's story and you're entered to win!
On every Tuesday of the week, tell us about your three-legged hero here in the Tripawds Discussion Forums or on the Tripawds Facebook page. Just follow these easy steps:
In a few short sentences, describe your three-legged hero's story.
Include a photo or video.
Include a link to your Trpawds Facebook page, Forum topic and/or Tripawds blog (if applicable)
All entries must be received by Tuesday at 11:59 pm. One Tripawd story will be selected at random to be featured the following Tuesday.