Today's Tripawd Tuesday featured member is TJ, a retired racing greyhound and THREE YEAR osteosarcoma survivor!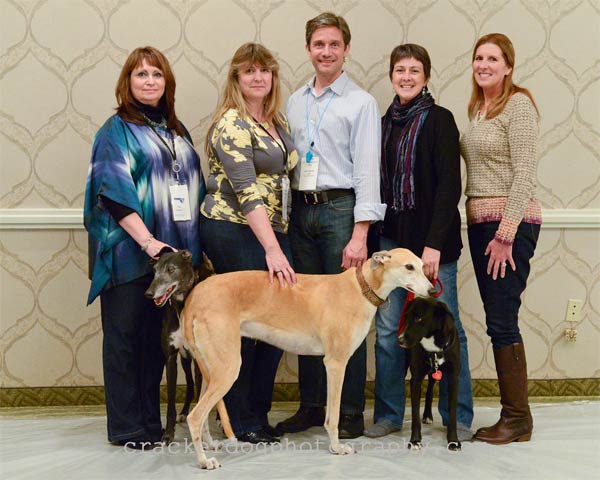 We had the pleasure of meeting TJ last year when he was working at the Greyhounds Rock "Take a Bite Out of Canine Cancer" event (pictured in front with Greyhounds ROCK and guest Fabien Cousteau) and have been smitten ever since.
TJ is currently in the running in the annual American Humane Association's Hero Dog Awards and would love your daily votes!
Here is TJ's story as told by his mom, Kim:
"We adopted TJ at the end of a successful racing career. He came to us as a foster but after a week with us we took him to Mary Washington Hospital with our other two Therapy Dog Greyhounds as we didn't trust a greyhound just off the track in our home alone.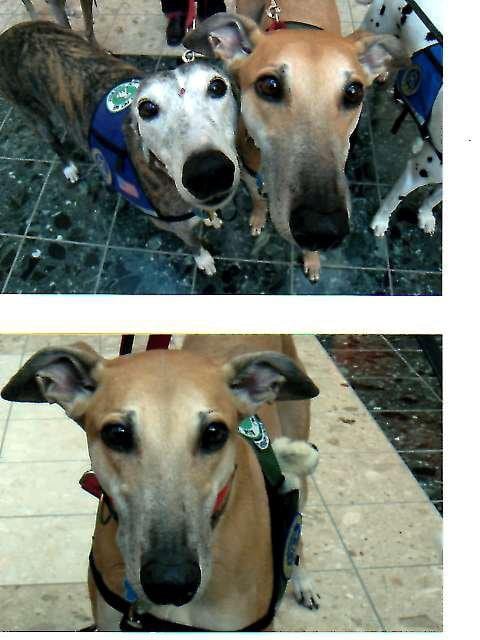 TJ was a star! He greeted each and every person who came into the lobby like an old pro. It was then that we decided to add him to our family and soon afterwards he became a Therapy Dog.
A natural extrovert, he has visited hospitals, nursing homes, schools, and has participated in local events for over 7 years bringing smiles to all whom meet him.
In July 2010, TJ was diagnosed with bone cancer which resulted in the removal of his left front leg. Not to be deterred by this handicap, he was again visiting his patients and resumed an active Therapy Dog schedule.
Recently, he was asked to participate in a local day program where siblings of children with disabilities were to learn about the difference between the duties of Service Dogs and those of Therapy Dogs. The lesson went on as planned but turned into a teachable moment when as one child said, "Just because you have a disability doesn't mean you can't have a job too." That idea has become the basis of a book ("TJ Has A Job") about TJ we hope to publish soon.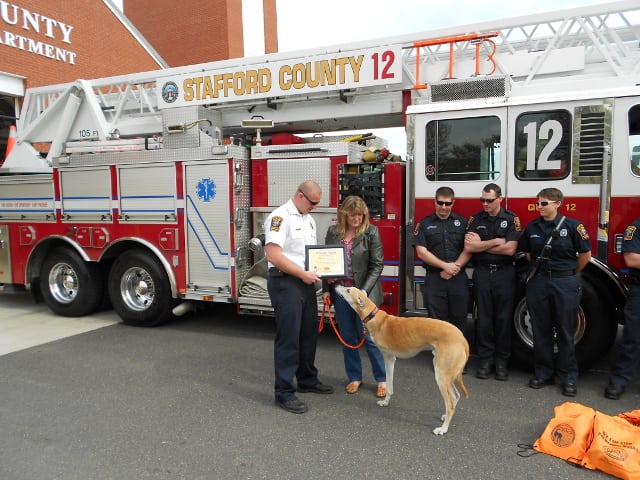 Since his diagnosis of cancer and amputation, TJ has added another duty to his already full schedule and that is as a spokesdog for Canine Cancer Research for Greyhounds ROCK. He has helped to raise thousands of dollars for Canine Cancer Research through "Take A Bite Out Of Canine Cancer" Benefit and is currently undergoing an experimental cancer treatment that may one day be used in humans.
He has met many, many people who can't believe how happy and outgoing he is.
He still loves to run, still plays with his toys, and still love to go to new places. We take him everywhere. He is almost 3 years cancer free and he is an inspiration to all who meet this "happy-go-lucky" dog.
We are so glad he is in our lives and once again TJ has been nominated for the Hero Dog Award. Please vote for TJ and spread the word that it's better to hop on three than to limp on four!
How to Get Featured on Tripawd Tuesday
Each Tuesday, Tripawds from around the world can enter for a chance to be "Tripawd of the Week." Just share your Tripawd's story and you're entered to win!
On every Tuesday of the week, tell us about your three-legged hero here in the Tripawds Discussion Forums or on the Tripawds Facebook page. Just follow these easy steps:
In a few short sentences, describe your three-legged hero's story.
Include a photo or video.
Include a link to your Trpawds Facebook page, Forum topic and/or Tripawds blog (if applicable)
All entries must be received by Tuesday at 11:59 pm. One Tripawd story will be selected at random to be featured the following Tuesday.