Today is Tripawd Tuesday and we're celebrating the inspawrational story of Happy Hannah, a 123 pound, 8.5 year old Mastiff.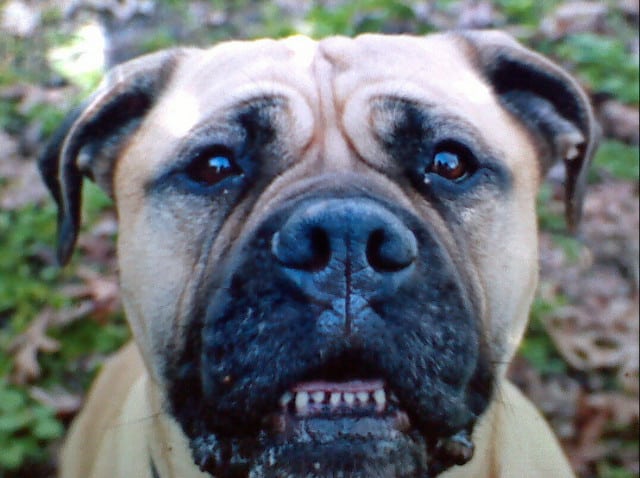 We bring her story to your attention because Hannah's story is so full of hope. You wouldn't know it based on when she first arrived at Tripawds, and her Mom posted this:
Was concerned she wouldn't be able to walk after surgery, now I fear she may not recover from it.

Has anyone experienced where it looked like two/three days after surgery things were going fairly well and -boom–just didn't,t want to get up and completely stopped drinking. ….Soooooo scared and cannot believe this is happening –should not have done this—at least not at this hospital.

Has anyone had similar situation and what was done to get back on to recovery. I can't stand to see her let Suffer from this. Must pull her through and get her in good shape for successful chemo. Sorry to ramble. I respect and value everyone on this journey and thank you for helping me not feel so excruciatingly alone.

Sally and. My beloved Hannah
Read more in Sally's first Tripawds forum post, "Six Days After Rear Leg Amp and Getting Worse-Very Scared Made Horrible Decision."

Less than three months later, Sally writes:
Now, o e reason I think it's good is probably a who.e lot of people who are facing the amputation decision go to that site……see it can be a rough start…..see all the great I formative support….and see how wonderfully well everything is conti using to turn out:-) clap, clap, clap:-)
Congrats to Happy Hannah and Sally for overcoming adversity and showing everyone what's possible!
If your vet ever tells you your animal is too young, old, big, small, whatever, for amputation, just remember Happy Hannah's story and then get a second opinion.
How to Get Featured on Tripawd Tuesday
Each Tuesday, Tripawds from around the world can enter for a chance to be "Tripawd of the Week." Just share your Tripawd's story and you're entered to win!
On every Tuesday of the week, tell us about your three-legged hero here in the Tripawds Discussion Forums or on the Tripawds Facebook page. Just follow these easy steps:
In a few short sentences, describe your three-legged hero's story.
Include a photo or video.
Include a link to your Trpawds Facebook page, Forum topic and/or Tripawds blog (if applicable)
All entries must be received by Tuesday at 11:59 pm. One Tripawd story will be selected at random to be featured the following Tuesday.