Did you know the King of Portugal is a Tripawd?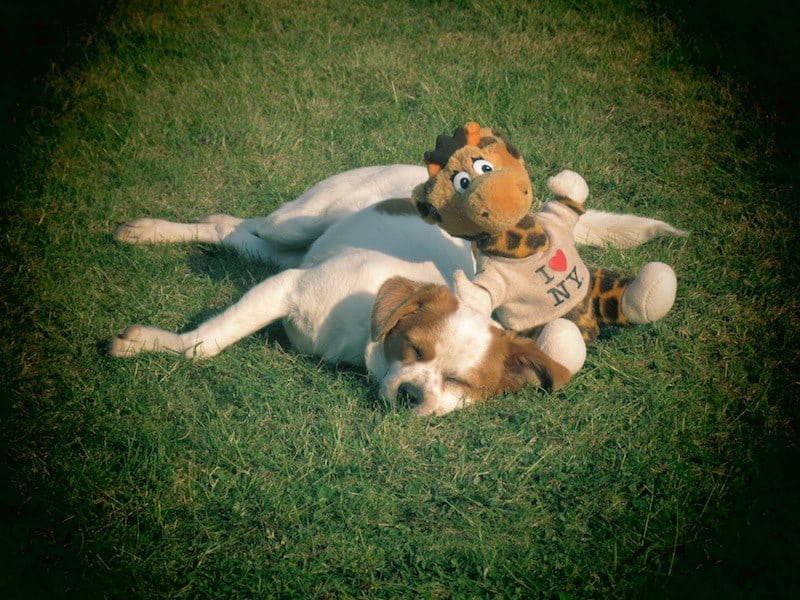 King is a Tripawd who ruled over Bianca Charity in Sesimbra, Portugal until last March when he was adopted by two wonderful pawrents, Anne and Teeniee. King is today's featured Tripawd because of his tireless efforts to get the word out about a terrific organization, Bianca Charity.
The King's loyal servants wrote to share his story:
"Anne and I adopted King after volunteering at Bianca Charity in Sesimbra, Portugal in March. This was the most rewarding holiday of our lives. The energy that Ana, the staff and the volunteers have at Bianca, is indescribable!  We're planning all our next holidays with the babies at the Bianca shelter ;-)

[youtube]http://youtu.be/LPLxl-fNo6E[/youtube]
The photo of little King is used in the article (below) to show people how he's doing after his front leg amputation when he was only 3 months old. King suffered a severely gashed and broken leg when he was hit by a car. His former owner did nothing but wrap his leg in an old piece of gauze and by the time he was dumped by the Bianca shelter 8 days later, gangrene had set in and the leg had to be removed.
Thanks to the good care at Bianca shelter he's doing fine now on 3 legs and since April 14 he's living with Anne & me in Belgium."
Bianca Charity is holding a big fundraising gala this weekend in Aberdeen Scotland. King was recently featured in this article about the event:
How to Help Bianca Charity
According to the Friends of Bianca Charity English website;
"Bianca is a Portuguese charity that rescues, treats, cares for and then re-homes stray and abandoned dogs and cats in Portugal, where there are no government supported animal shelters. Many of the animals, which are left in the streets to fend for themselves or found tied or chained to the fence of the Bianca compound, have suffered severely through neglect and abuse and, without Bianca, some would simply starve to death or die of treatable diseases. Established in 2002 in Sesimbra, south of Lisbon, and run solely by volunteers, Bianca now takes 600 animals into its care every year.
The shelter currently looks after over 250 dogs and in addition fosters 30 cats and works diligently to find loving, permanent homes with responsible owners for the animals in their care. This re-homing takes place not only in Portugal but in many countries around Europe such as Denmark, Germany, Sweden, Holland, and Norway, through a network of animal associations. An exciting new opportunity to re-home even more animals in Bianca's care is opening up in the United Kingdom, due to the changes in regulations.
The best life for these animals, who through no fault of their own have found their way to the Bianca shelter, is to be adopted into a forever home. Funds raised through Friends of Bianca are being used to not only support Bianca in Portugal but to assist in their current re-homing program and hopefully in early course to assist in bringing dogs to the UK.
King would like you to visit the Friends of Bianca website to see the many ways in which you can help this wonderful group.
How to Get Featured on Tripawd Tuesday
Each Tuesday, Tripawds from around the world can enter for a chance to be "Tripawd of the Week." Just share your Tripawd's story and you're entered to win!
On every Tuesday of the week, tell us about your three-legged hero here in the Tripawds Discussion Forums or on the Tripawds Facebook page. Just follow these easy steps:
In a few short sentences, describe your three-legged hero's story.
Include a photo or video.
Include a link to your Trpawds Facebook page, Forum topic and/or Tripawds blog (if applicable)
All entries must be received by Sunday at 11:59 pm. One Tripawd story will be selected at random to be featured the following Tuesday.