Here is a brief video and excerpt from the Tripawd Awareness Day story Tripawds member Hannah posted in her blog…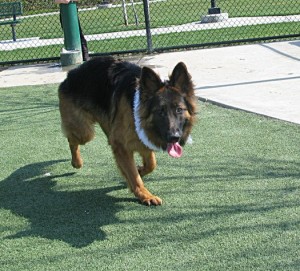 I was rescued 12/21/11, I was 3 mos old, I was born with a disability with my rear legs and one of them had to be removed and I became a Tripawd 2/16/12, I was only 5 mos old…
…Now I am happy, healthy and hopping on 3 legs! I am so happy that there is going to be  a Tripawd Awareness Day! We are going to show the world that 3 legged dogs ROCK!
Read Hannah's Blog for more information about her amputation and recovery. See all forum posts by hannah to follow her progress And don't miss all the photos from Hannah and Wyatt's Tripawds Wedding!
Use the Share This! buttons below to share Hannah's story.
[youtube]http://youtu.be/Sykbc3T6sIc[/youtube]
Read all Tripawd Awareness Day Stories, share your own in the forums, or start a free Tripawds blog to help us prove to the world that dogs are born with three legs and a spare!