When my pack hit the road in 2007, we had grand dreams of starting an old dog sanctuary. My folks wanted to name it "Jerry's Kids" and we would welcome senior dogs who had no place to go.
But then we worked at a real rescue in North Carolina, and saw what extreme dedication it took to run a rescue. Suddenly we knew; it takes very special people to do this! We had to admit; we weren't as brave or courageous as these folks.
For example, folks like Jodee and Dan Stahmer of Hundenruhe Haven Senior Dog Sanctuary and Terrier Town in Wisconsin.
The Stahmers are two school teachers who started a sanctuary to help old dogs that had nowhere else to live out their remaining years. They live on a beautiful farm where they can help up to 18 dogs at one time, live wonderful lives that they deserve.
Recently, the Stahmers adopted their first Tripawd pup. The following story is about this special girl, who they call "Pearl" and how she is fitting into their pack. We know you'll enjoy reading about this lucky girl as much as we did!
The Pearl of the Pack at Hundenruhe
by Jodee Stahmer
Hundenruhe Haven Senior Dog Sanctuary and TerrierTown
Read the Hundenruhe Blog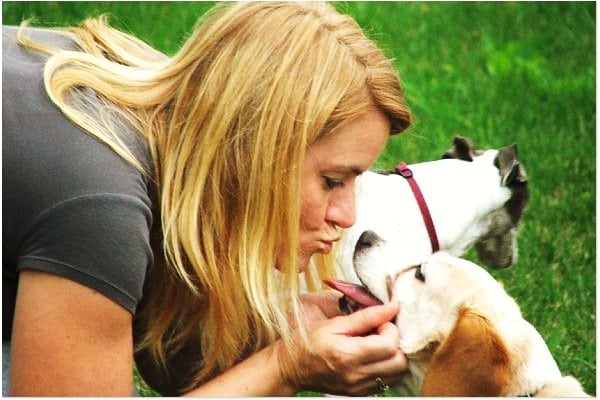 The sun streams through the sliding glass door, as I wade through the river of pups on my way to open it. Excited snuffling begins to escalate as the pack realizes what is about to happen.
I reach out to open the door, and the atmosphere explodes with joyful yips, playful shoving, and excited chasing as 67 little paws go charging out the door to start their day.
Just another blessed day at Hundenruhe Haven Senior Dog Sanctuary and TerrierTown.
Wait…67 paws? Not 68? That's right…one of those little pups is our tripawd, Pearl. Pearl is a 10-12 years young toy fox terrier/Chihuahua mix, according to our beloved vet, who has come to be so very skilled at caring for all of our seniors over the years.
Pearl was purchased at a slave auction – a "dog swap" – in Iowa, where puppy mill breeders come to exchange their breeding "stock" and old dogs are passed from one hell into another. But not this time, for five lucky little dogs, whose freedom was bought by a kind and brave rescuer.
Pearl's hind leg was horribly twisted – turned nearly backwards – and useless, probably from a former injury. The compassionate rescuer who freed her got her all the veterinary care she needed – vaccinations, spay surgery, dental, blood tests…and the removal of that pesky back leg. After a plea for a home through another mutual friend, we agreed to have Pearl join our pack and live out her retirement here at the Haven. Less than two weeks after her surgery, Pearl was running joyfully in the secure three-acre field with the rest of the pack.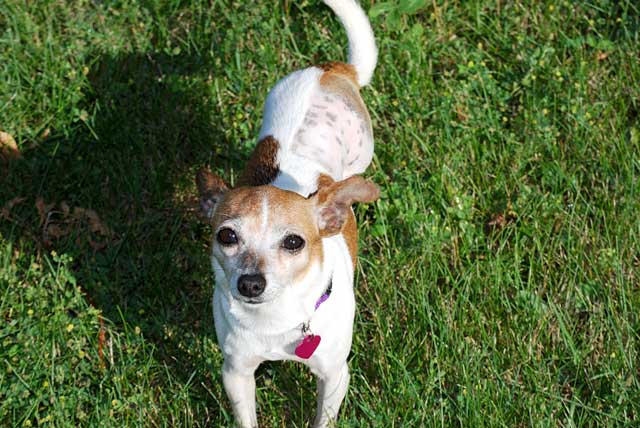 Whenever a new soul joins our crew, there is a subtle shift in our day-to-day routines to accommodate the new fur-kid, and the structure of our day evolves to integrate the needs of our newest family member.
Pearl is the first tripawd to come to live with us, and she brings her own flavor and character to our group.
Because our dogs live in our home with us, confined only for eating and safety when we are away for short periods of time, there is a constant movement through our open-concept house.
Pearl has adapted quite easily to our routine. She runs with the pack, plays with stuffies, waits patiently to be lifted into her crate for breakfast and dinner, and navigates quite well even with some jostling and wiggling that happens when a group of happy dogs gets together.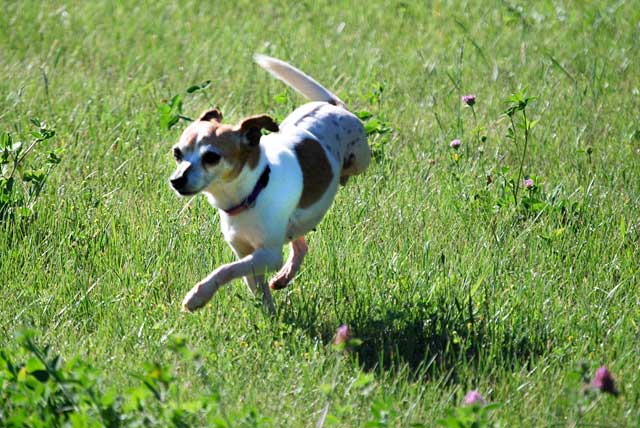 The only accommodation that we have had to make is that half of the house has textured vinyl flooring, which is great for Pearl, but the other half has vinyl flooring that is shinier, and a bit more slippery. Pearl resolutely refuses to walk on that floor!
So when we go from one area to another, we have had to remember to carry Pearl to one of her "safe zones" – either on the textured floor, or to one of the many dog bed "islands" in the other room that she uses to hop around and not touch the evil slippery floor. If by chance we forget to bring her along, she is quick to give a very loud and vehement reminder!
Pearl is a remarkable daily inspiration to us. She is proof incarnate that a disability is nothing more than a chance to become a good problem-solver. Within days of her coming to live at the Haven, she was out greeting children with our Ambassa-Dog Baci at a speaking engagement, inspiring the next generation to see obstacles as opportunities. I feel so blessed to have this wonderful little soul to love and be loved by me.
About Hundenruhe
Hundenruhe Haven is located on a forty-acre hobby farm in rural northeastern Wisconsin. Hundenruhe is a German word – Hunden [hoon'den] means "dogs" and Ruhe [roo'a] means peace. Hence, "Dogs' Peace". We accept dogs from other rescues that are 12+ years old (sometimes a little younger) and they live with us in our home (not in kennels), safe and loved, until they pass away.
We have a special love for the smooth-coated terriers, beagles, chihuahuas and greyhounds (of both sizes), as that is where our expertise lies. In order to keep order and make sure everyone gets plenty of lap time, our limit is eighteen dogs at any given time.
We have been involved in dog rescue for the past 20 years – Jodee is a former humane educator for a small humane society, and we owned and operated a dog training academy for several years. Occasionally, we are asked to help find homes for needy pups, which we gladly undertake if we have room. Those animals will be listed here on Petfinder. We hope that you will contact us to provide one of our "kids" a warm forever home!
Support Hundenruhe, visit their Petfinder website today!
 This blog post was originally published in the Hundenruhe Sanctuary blog. Please visit their site and support this amazing rescue.