Tripawds canine amputation handbook, "Three Legs & a Spare" is currently being revised for a new edition to be published sometime this year.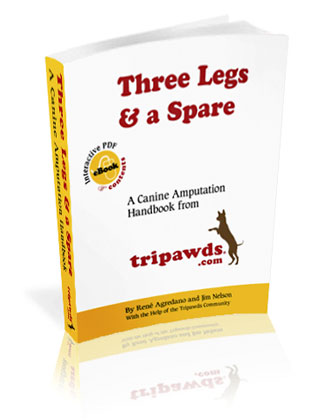 If you have purchased and read our first e-book, we would love to hear your suggestions in the comments field below and in this accompanying forum post, about how we can make the second edition even better.
Readers, please tell us:
what was the most / least useful content in the book?
what you did / didn't like about the material
which book sections need improvement or editing
did we give enough examples for each type of Tripawd? For example, did we share enough information about senior dogs, puppies, dogs with or without cancer, etc.
what can we do to improve the book layout
We would also love to hear which forum posts and Tripawds blog content published after October 2010 (the book's publication date) would be most helpful to include in the new edition.
Since Three Legs & a Spare is essentially a compilation of the best material found throughout the Tripawds community, we want to know which newer Tripawd stories, anecdotes and blog posts you feel would help potential new Tripawds pawrents. Don't be shy, we're happy to include your Tripawd's story too!
And of course, feel free to share anything else about your experience with this canine amputation guide. We want to ensure the next edition of the book is better than ever. Thanks.