For many humans, the closest comparison to the unconditional love of one's Creator is the beauty of Dogs. As the video GoD and DoG illustrates, the similarities are uncanny.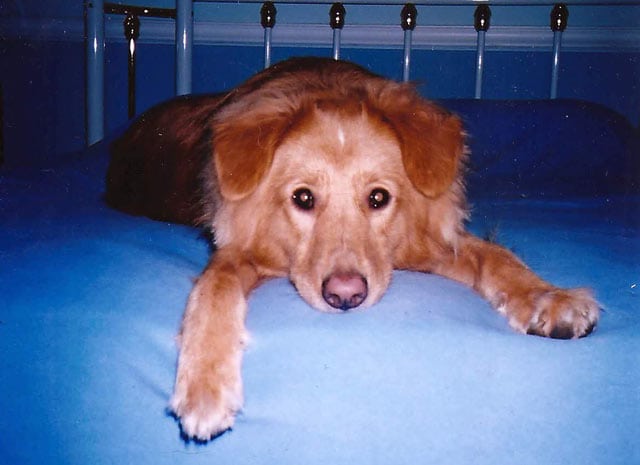 We thought about this recently when Karen from Connecticut wrote to us to tell us the heartbreaking news about the tragic death of her dog, Molly.
Molly passed away immediately following her amputation surgery, the same afternoon her Webmaster harness arrived from Tripawds. Grief stricken and heartbroken, Karen shared the devastating news with us. We were heartbroken to say the least.

In her grief, Karen sent us this beautiful letter reflecting on the afterlife of animals. With her permission, we are sharing it with you today. We think you'll find it as touching as we do.
"I know that so many people have their own concept of what happens to animals when they die. I'm sure we've all heard of "Doggie Heaven."
Well, I've been a born again Christian now about 20 years and in all that time I've never heard any real positive talk about animals or pets and Heaven. I've just mostly heard that dogs don't have spirits and so I assumed they can't go to Heaven. The Bible talks about there being animals in Heaven. . .
The Lord Jesus Himself is to return on a horse, so you know there must be animals in Heaven. . . . . so why not our pets?
I was speaking with my Pastor's wife today about Molly and how I had this funny image of Jesus with Molly. It almost looked liked the old 38mm home movies where everyone waves into the camera. I couldn't hear what the Lord was saying, but Jesus was waving at the camera and was talking to Molly as if to say "Look! There's Mommy!"
The image went away, but then it came again. I thought that it must have been something that I just created out of my own heart because that's what I wanted to believe. But, then I remembered that God gives us the desires of our hearts and so I thought that perhaps He really did give me that picture.
After telling my Pastor's wife about that experience she said,
"Well, animals don't have spirits because they're not made in the image of God, who is Spirit, but they have souls.

And just like our souls are our will, emotions, memories and who we are, their souls are the same. And although our soul goes with our spirit when our body is gone, their souls go to Heaven – back to the Creator, when their bodies are gone."
I may not have chapter and verse to prove it, but in my heart it just seems right. God's so good so why wouldn't He make a way for them to be alive in Heaven? Our pets have souls and souls never die!
That's really something you can hold onto!"
 – Karen L., Southbury Connecticut
Rest in peace Molly. You will always be an honorary Tripawd in this community.
[youtube]http://www.youtube.com/watch?v=H17edn_RZoY[/youtube]