Building your Tripawd's strength through gentle stretches, balancing games and core strengthening activities are an ideal way to deepen your bond while decreasing the risk of injury, aches and pains related to growing older on three legs.
Lobo is an older rescue dog who's made an amazing recovery from years of neglect and abuse, thanks to the loving care of Dr. Lisa Swan, a veterinarian in Pasadena, California. Dr. Swan adopted him after animal control authorities rescued him from a neglectful human.
When Lobo arrived at Dr. Swan's clinic, he could barely walk. He was incontinent, had a bum wrist, severe arthritis, muscle atrophy and a slew of other injuries from years of neglect. Dr. Swan was asked to "patch him up" so he could be held as evidence to prosecute his former abuser.
Despite his defensive, cranky attitude, Lobo won the heart of Dr. Swan, who adopted him when the case was over. Lobo became a regular at California Animal Rehabilitation (CARE) in Los Angeles (see our ongoing video series about CARE).
Lobo began receiving acupuncture treatments, participating in active exercises and therapy stretches with CARE's team of professional therapists. After only about 12 sessions, he showed amazing improvement. Lobo's recovery is proof that with the right kind of trained therapists and "homework" exercises, senior Tripawds can get around beautifully.
[youtube]http://www.youtube.com/watch?v=MrlgBzuP4c8&feature=player_profilepage[/youtube]
Every CARE patient is evaluated by a team of trained veterinary rehabilitation therapists, like Josh Arellano, who began his career as a physical therapist for humans and then transitioned to canines.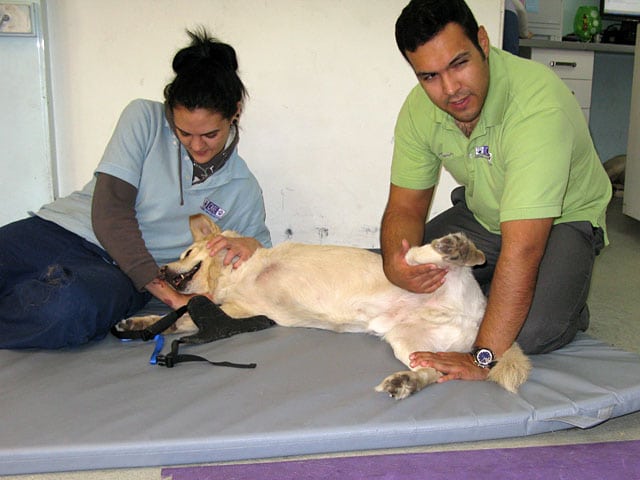 Any pawrent who's considering taking their Tripawd to canine rehabilitation therapy should be aware that even with the best therapy, it won't live up to its potential without the commitment and dedication of the dog's human.
CAREs team of certified technicians gives each pet pawrent homework assignments to do at home.
Pawrents learn how to do stretches properly. All home exercises and recommendations need to be followed, like not letting the Tripawd jump off furniture, out of cars, or overdoing it at the dog park.
Most importantly, pawrents learn how to avoid injuring the patient, which, according to Rehabilitation Technician Catherine Shields, is one of the hardest things for newcomers to figure out.
Today Lobo continues to receive regular treatments as needed. To manage his chronic back pain, he gets ongoing acupuncture treatments and stretches. Stay tuned for another segment of Lobo's acupuncture session with the good folks at CARE.
Many thanks to everyone at California Animal Rehabilitation Center in Los Angeles for helping us bring this series to you. If you are lucky enough to live nearby, be sure to visit their facility and see how staff can help your canine amputee stay strong and live hoppy!
Our apologies for the low audio levels of this video, CARE is a busy place, making it an extremely challenging environment to record interviews!