What a great time it is to be a Tripawd. With the increasing number of animal rehabilitation practitioners, or what humans call "physical therapists," three legged dogs can now take advantage of the same life-changing therapies that humans do.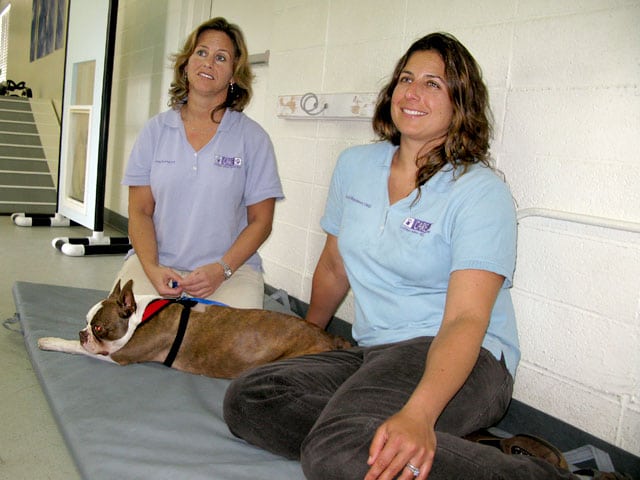 Tripawds recently visited Southern California, and were lucky enough to spend the afternoon with one of the most respected animal rehabilitation centers in the region, California Animal Rehabilitation (CARE).
The founders of CARE, veterinarian Jessica Waldman, VMD, CVA, CCRT, and physical therapist Amy L. Kramer, PT, DPT, CCRT, are partners at one of the few rehabilitation centers in the country that has a vet and a physical therapist on staff, both certified in canine rehabilitation.
Drs. Waldman and Kramer were kind enough to spend time with us to answer Tripawd member's questions about rehabilitation. And here in part 1, "Stretching and Exercises with Happy Face," they demo conditioning exercises on this two year old pup who was hit by car. Happy Face is just a few weeks post op and is in therapy because he has neck, lower back, pelvic pain and phantom pain caused by the accident.
[youtube]http://www.youtube.com/watch?v=FGrj41FGCdk[/youtube]

CARE's Exercise Tips to Remember:
Be creative and find new activities to do together, such as creating homemade obstacle courses and playing new games that can help with mobility.
Create body awareness by doing things like playing with your Tripawd's paws to help her connect her leg movements with her brain.
Research canine physical therapy to show you different activities that are both fun and rehabilitative.
Many thanks to everyone at California Animal Rehabilitation Center in Los Angeles for helping us bring this series to you. If you are lucky enough to live nearby, be sure to visit this incredible facility and see how their staff can help your dog stay strong and live hoppy!
Catch Part II: Canine Rehabilitation: Amputation Recovery Advice with CARE
Catch Part III: Canine Rehabilitation: Pain Meds and Supplement Tips from CARE