Many pawrents come to Tripawds looking for reassurance that their dog can live a hoppy life on three legs, especially if they've had hip or leg issues, like Chuy, who underwent a FHO surgery after becoming a Tripawd. While nobody can guarantee how surgery will affect a dog's remaining limbs, with activity regulation and physical therapy, most Tripawds will do fine.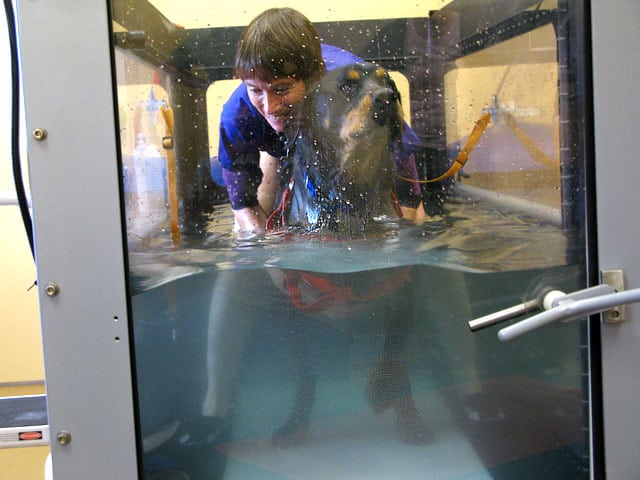 Take for example Max, an eight year old Rottie who had bilateral hip replacements prior to becoming a Tripawd.
We met Max during our visit to Santa Fe Veterinary Cancer Care and Veterinary Emergency & Specialty Centers of Santa Fe (VESC).
Max was diagnosed with osteosarcoma in February of this year. After sailing through chemo, he entered physical therapy to help him improve his gait and learn better balance.
During Max's hydrotherapy sessions, the buoyancy helps take pressure off his joints for up to 20 minutes at a time. The warm water also helps relax his muscles and provide pain relief too.
Watch how well Max does in swim therapy, and hear what his people have to say:
[youtube]http://www.youtube.com/watch?v=WnO6I0P9h1I[/youtube]
Dr. Laura Hady, a veterinarian certified in canine physical therapy who sees patients at VESC, says that she begins to see most Tripawds about two weeks after amputation surgery. She advises new Tripawd pawrents:
"the first two weeks are rough. It's like bringing a baby home from the hospital. You have to be prepared for all sorts of things, like watching how they urinate, how they defecate, or if they need more pain meds."
After building trust with her Tripawd patients, Dr. Hady will play games that teach them how to re-learn where their center of gravity is, and work on gait and coordination issues. In swim therapy, his cardiovascular system will get a workout, without stressing his joints.
She encourages potential Tripawd pawrents who have a dog with mobility issues to remain hopeful for a good life on three legs. While amputation surgery recovery is rough, she says the pain from osteosarcoma is far worse than the pain from something like arthritis.
Dogs with arthritic limbs learn to manage their pain over time, while dogs who have osteosarcoma are dealing with acute, severe pain. By removing the diseased limb, regular physical therapy by a board certified practitioner like Dr. Hady can get a Tripawd feeling good again.
Many thanks to the good people at the Veterinary Cancer Care and Veterinary Emergency Specialty Center of Santa Fe for sharing this information with us. Catch our other VCC and VESC interviews:
"Veterinary Cancer Care P.C. is committed to providing compassionate, high quality treatment to all pets with cancer. Using state of the art therapies, nutrition and kind care, we treat the whole patient, not just the cancer. To alleviate the hardships of cancer, our staff provides a positive family atmosphere, filled with love and hope. We hold a great respect for the human-animal bond, and will always honor your relationship with your pet above all."
"Veterinary Emergency & Specialty Centers of Santa Fe is a state-of-the-art veterinary hospital that provides emergency care for injured and sick dogs and cats as well as specialty medical and surgical treatment by skilled doctors on a referral basis. "