Jerry was our first dog, and even after his leg amputation in 2006, we knew zilch about canine rehabilitation (known as "physical therapy" in the human world). It's only recently that we've become aware of this life-changing therapy, and we want to start sharing what we are learning with all of you.
Connecticut-based "Wizard of Paws," Dr. Debbie Gross Saunders was brought to our attention by our friend, renowned dog behaviorist and trainer Sarah Wilson.
Dr. Saunders is a certified canine rehabilitation practitioner who is well regarded in the performance sports dog world. She is one of the founders of the first and only university based program in canine rehabilitation – University of Tennessee's Canine Physical Rehabilitation Program. Along with her therapy services, she teaches  and has a variety of DVDs to help dog parents practice safe and effective therapy at home.
Dr. Saunders was kind enough to send us a copy of her newest video, "Osteoarthritis and Your Dog" for review.
Osteoarthritis and Your Dog: What it is, and How to Help
Osteoarthritis is a painful, degenerative condition that affects dogs of all ages. When one of these arthritic dogs is told that a spare leg  has to be amputated, pawrents agonize over the amputation decision more than others. They wonder:
Can a three legged, arthritic dog have a good life?
After watching Debbie's video, we think that for most dogs, consistent therapy exercises like the one in Dr. Saunder's video will go a long way in providing a great quality of life as a Tripawd.
The first half of the video will hit you with a lot of information. Be sure to have a notepad ready to take notes. Although we wished it had informational graphics to study, Dr. Saunders does a fantastic job conveying what we need to know about osteoarthritis if your dog receives an osteoarthritis diagnosis.
The rest of the video is an awesome instructional guide to performing canine massage and range-of-motion exercises at home. Dr. Saunders discusses why these exercises are important, and how to tell if you're working your dog too hard.
She also gives tips to great therapy products that we like, such as Bella's Pain Pack. Lastly, she kindly provides cost-saving ideas for making your own therapy exercise tools at home.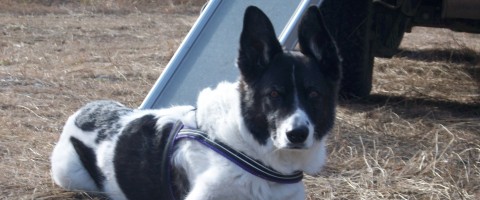 Catch a glimpse of "Osteoarthrits and Your Dog," here on the Wizard of Paws You Tube Channel.
Tracy Snow-Cormier, pawrent to Tripawd Maggie, and Tripawds Supporter, is a fan of Dr. Saunders, and loves this DVD. Tracy says that  "I had an interest in Debbie's new DVD because I have one of my dogs with start of arthritis in her wrists. I wanted to have a safe way to exercise and strengthen her, and know that I wasn't going to do further damage to her wrists."
About the DVD, Tracy says that
"The low cost to do most of her exercises for the dogs is great. From doing basic obedience flatwork to doing theraball work, to low cavaletti work. It is easy for someone to do the exercises with your arthritic dog with very little cost…with the exception of the treadmills!"
We think you'll find "Osteoarthritis and Your Dog" just as informative and useful. If you order it on Debbie's website, let us know what you think!