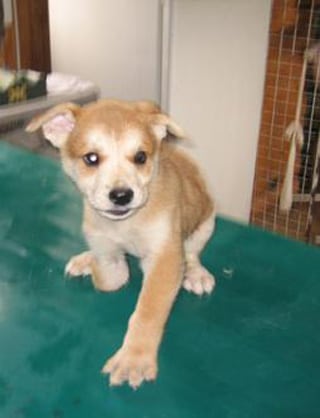 Sometimes we hear about a courageous pup and just have to share his story! Some wonderful people in Los Angeles just told us about Koa, a lucky little tripawd who's made it from the worst of all puppy "mills" – dog meat farms in Korea – to the streets of Los Angeles, where he's now seeking his forever home. Here's what his kind foster folks had to say …

We are happy to introduce you to Koa.
Koa, like all of our rescued dogs, is a very special little guy. He was rescued from a dog farm in South Korea that breeds and sells dogs for their meat. At only 2 months old, a healthy Koa was attacked by other dogs at the farm. The attack left Koa with a terribly damaged front leg. The injury was beyond repair or concern of the meat farmer, so his leg was amputated.
Because of his condition, Koa could no longer be sold as "healthy" dog meat, so in June of 2008 the dog farmer voluntarily turned Koa over to our partner shelter in South Korea. The American rescue organization now representing Koa is based in Los Angeles, and they are called Happy Ending Rescue. They adopt dogs who are rescued from meat farms in Korea. Many have been abused and have special needs. You can read more about this wonderful group  at happyangelsdogrescue.org.
Our now 4 month old Koa has healed beautifully. "Koa" means "strong" in Hawaiian.  He now has three names; Koa Ku-won Tipo (translates to Strong, Saved, Tripawd). As best we can tell, Koa is a Korean Jindo and a Shepard dog mix, and will be about 90 pounds when full grown.
Koa loves playing tug-of-war, and acts like any other puppy his age. He is such an amazing, playful, loving, smart puppy. We are so lucky! He seems unfazed with the loss of his leg, bouncing around and wrestling with other dogs. When he does take a tumble, he quickly rights himself by pushing off the floor with his chin; he's quite the little gymnast.
Koa has find a loving home. Coincidentally … we just received a notice from Dogster about this Humane Society petition to stop Petland from supporting puppy mills. Please take a moment to support the cause.