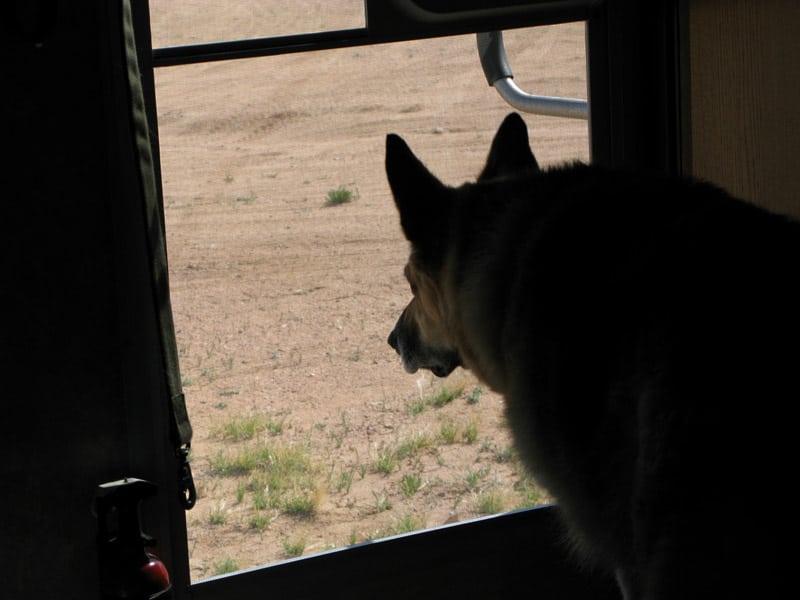 Before my recent appointment in Santa Fe, we camped out overnight in the parking lot of Rancho de las Golandrinas.
My people checked out the vast living history museum during the day while I gladly rested in the rig. This was just fine with me really, considering I didn't care for the canon fire from the civil war reenactment going on!
But we did meet some new friends who worked there and arranged for us to stay overnight. And that evening, we were visited by Spirit Dog.
While we were all sitting around like the calm submissive pack creatures we are, a beautiful brown husky dog suddenly appeared at our screen door without a sound. My people were as surprised as I was and didn't even have time to grab their camera before he disappeared. I for one, was no longer calm.
I admit it, I'm a whiner. And I wouldn't let up. This pup was out there somewhere, and I wanted to play! (This was before we knew about my ACL injury.) So we went out to look. But this mystery dog was gone with the wind. Nowhere to be found.
I dutifully marked my territory all around the trailer, and tried to calm down a bit. We went inside and within minutes our visitor appeared again. Right at the door. Silent. Stoic.
Somewhere in the deep blue of his one white eye, ran the souls of all my canine brethren who have passed before. And then he was gone again. I spent the rest of the evening – and the next morning – standing watch.
We never saw our mystery mutt again. And when we left, we saw the three dogs who supposedly lived nearby. None of which matched the description of our Spirit Dog.
I can't explain why we were privileged to have this visit. Perhaps he was there to tell me all would be well at my Vet Cancer Care Clinic appointment the next day. Which it was. Or perhaps he was bringing a message from Daisy – a fellow cancer survivor – who we later learned was put to rest later that week. Regardless, we feel honored. Thank you Spirit Dog, wherever you are.