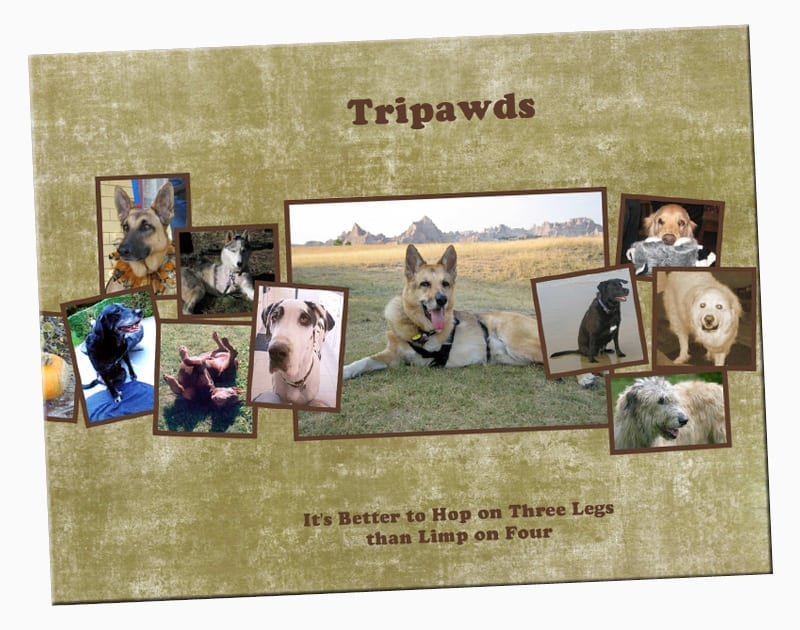 You might have heard . . . the first Tripawd Heroes and Tributes book was a great success! Today, we are looking for more stories, for the second edition of this special coffee-table tribute book that's all about Tripawds, both past and present.
We want to show the world that it's better to hop on three legs than limp on four, and we want you to be in the book too! Just send us photos and a short bio of your Tripawd pal. Help us shine a light on the amazing qualities of thee-legged dogs!
Just send us your story with a few high resolution photos, and we'll publish a custom version featuring your furry friend on the cover.
With every purchase, $5 will be donated to my pal Luke's "2 Dogs 2000 Miles Campaign." Luke and his two dogs, Murphy and Hudson, are on a 2,000 mile walk from Austin Texas to Boston Massachussets, to raise money to fund the first ever study of what exactly causes canine cancer. Please read more about Luke and the Boys' incredible journey here.
This is an going project, which we hope you will want to be a part of. Our ultimate goal with it, is to mass market a published book with many stories, to increase awareness about the amazing ability of three legged dogs everywhere!
NOTE: This Tripawds book is no longer available. Please see the new Tripawds Books page for options.