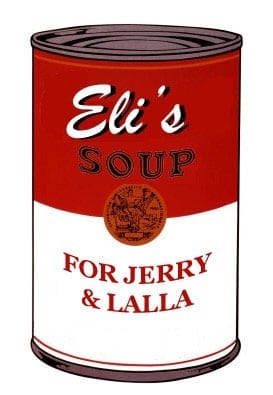 Here is a great way to introduce your dog to a home cooked diet, if you haven't already. My pal Sasha, Lalla's mom, sent this to me:
This is the recipe for Turkey Neck Soup that my father Eli cooks for Lalla; he thought Jerry might enjoy it too. Lalla's vet Andre says that Turkey necks are the best food for dogs, and that as far as he's concerned, Lalla could live off 'em alone – an opinion she definitely shares with him as she is transfixed by the result, and refuses to eat anything else as long as it's available. Easy for them – they're into meat. It is also very, very economical.
Ingredients:
Large turkey necks, cut into pieces

3 carrots

3 celery sticks or celery root

A piece of pumpkin (optional)

Parsley
Place turkey necks in large soup pot. Cover with water. Boil for 15-20 minutes. Scrap and discard any froth. Bring to a boil and simmer on medium for 1 hour. Add pumpkin and parsley and cook for another 2 hours on a low light. When cool, strain soup and store in necks and soup in separate containers. Soup can also be poured over kibble.