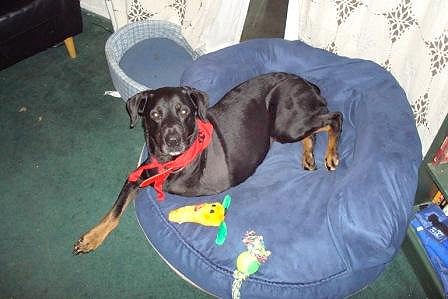 My people just received an email from another new tripawd owner who found this site helpful. That always makes them feel good… and I always like hearing from fellow three-legged friends.
Madison is sure a Cutie, and she had her surgery at the same great hospital where I had mine! Here is what her person had to say:
My sister just sent me a link to your website, how wonderful a find!!! Two days ago I adopted my very own tripawd from the SPCA in Sacramento, CA. Her name is Madison, "Maddie" for short", and she was surrendered by a very neglectful owner who never had her treated for a leg fracture when she was younger. The volunteers at the SPCA saw how much pain she was in and fretted over what to do. Finally, she was sent to the UC Davis Veterinary School where the amputation was performed. It's been three weeks since her surgery and she is adapting beautifully. In the short time I've known her, its already obvious just how sweet a dog she is: mellow, friendly, and ready to run again soon.
I'm sure Maddie will be running again soon for sure. And I highly recommend the UC Davis Veterinary Hospital for anyone in California who might be going through the difficult decision of amputation for their four legged friend. If you know of any great hospitals or resources in your area, please share them with others by commenting below.
And keep those letters coming! We always like to hear stories of triumphant tripawds and share them with others.