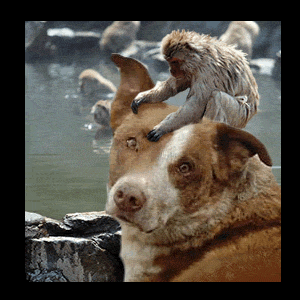 Life is good. Lately I've been living with my people in the woods near Eau Claire, Wisconsin, just soaking up the sun and loving life. But recently, I heard from a fellow Tripawd, Sammy. He was looking for some ideas for a back and ear scratcher for dogs without the use of back legs. Got any? Scratching ideas, not legs, silly!
See how Sammy tries to scratch:

Sammy is blazing through his amputation recovery like a Rock Star, even though he has faced some really big health problems. He found me because he went to the wonderful people at the University of California at Davis' Vet Teaching Hospital too. Sammy even met my girlfriend there, Theresa Varland!
You can read all about it on his Dogster page, but here's the short version of what 10-year old Sammy has battled. Ha, you think you've got it bad sometimes?
1997
Sammy was abandoned at 5 months old in an auction yard in California's Central Valley. Some jerk left him there after an auction, he had a cattle prod burn on his side. He found his forever home that day, thanks to Jacqueline and David Gonzalves.
2006
Total hip replacement on left rear leg
Dislocated front wrist due to too much weight bearing. Had 2 surgeries to fix it
2007
Broke left rear leg, badly. Had 2 surgeries to try to save it
Sammy lost the battle to save his leg. Amputation was the only option.
Tooth abscess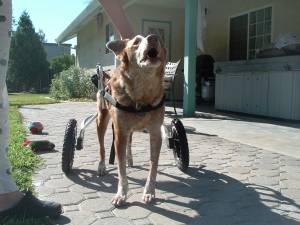 Now, Sammy is doing much better, getting along in a special Doggie Cart, and still as spunky as ever. He is really proof that canines are the ultimate species. We never give up, live each day to the fullest, and when life gets hard, we roll with the punches and make the best of it. If only humans could remember that!
Please visit Sammy's Dogster page, read his incredible story, and look at the crazy canine artwork he's featured in!