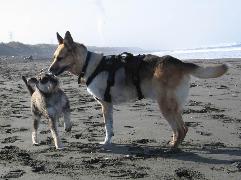 My fur's coming back, and now that the temperature outside hasn't been as cold, my Mom says I don't have to wear my dog coats as much. I'm really starting to feel like the rugged dog I used to be!
Mom also lets me hang out in the yard by myself when I want to, she's not as paranoid now that I've shown her how capable I am!
I get to go to the beach pretty often now. Be sure to check out my latest movies and photos to see how I can still tear apart the kelp and play in the surf.