It's now been over two full months since my big surgery. We've proven at least one prognosis wrong. The first thing my people were told is I could be expected to live 2-3 months after being diagnosed with canine osterosarcoma with or without the surgery. Well here I am feeling my best going on my third month.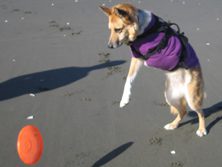 I haven't dog blogged for so long because I have been having to much fun at the beach … and developing this website to help people better cope with palliative care with their bone cancer dogs.
I've added web resources and health tips, and added two discussion forums for everyone to post their questions, answers, tips and treatment suggestions.

Be sure to check out my latest tripawd videos and see just what great shape I'm in. I visit happy my friends at Happy Dog, play with my new friend Zeus and catch frisbees on the beach.