Join The Discussion
Learn about life on three legs in the forums below. Browse and search as a guest or register for free to take advantage of member benefits:
Instant post approval.
Private messages to members.
Subscribe to favorite topics.
Join the Live Chat and more!
Best Dog Beds for Tripawds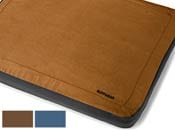 Give Tripawds the comfort they deserve! See which dog beds are best and why.
A
A
A

Forum Posts: 3
Member Since:
11 September 2017

Offline
I'm finding fabulous information in these posts, but all seem to be "big" dog parents.  Fred, my angel, is a 17-pound, nearly 12-year old shih tsu.  He was diagnosed with osteosarcoma last week and had his right rear leg amputated today.  Doc says he's doing great and is comfortable.  I pick him up late tomorrow morning, no doubt, drugged up, cute pink tongue sticking out.  Doc also says "don't worry - you'll be surprised how fast he figures everything out".  Well, I'm pretty sure Worry is my middle name.  Add the fact that I inherited Fred after my mother passed away and I can assure you, I'm a complete mess.  I'm trying REALLY hard to not be a mess in front of him - I do know they pick up on these things.
Fred is the most mellow, easy-going creature on earth. We call him a "flob".  He had a rather large bone deformity that practically happened over night and he did not complain once.  No panting, no whining, no complaining, TREAT??? DINNER???  Count me in!  You could push on it, pull on it, move it and still, not a peep.  Only occasionally did he favor that leg.  He was bouncing out in the yard with his sister (the one in the sweater with the broken leg - yeah, this is not a good leg year) this morning.  He has never told me he hurt - which makes this whole thing so much harder.  So how do I know if he won't tell me?  That beast in the sweater (Izzy - AKA "the izzinator"... SHE'D tell me if she had an eyelash out of whack.  Not Fred.  Rub my belly.  Give me kisses.  I'm good.
What should I expect?  Obviously, he's portable - if he can't do it, I pick him up!  I've been carrying him up our hardwood stairs for over a year - he slips and slides on 4 legs, much less 3.  He's never been around boy-dogs, so he pee's like a girl - no troubles there.  I've found that pumpkin is good to help things move along in the pooping department.  I'll add that to his diet immediately.  Fred has never turned down a meal (he was 30-pounds when we got him - mom had a pork chop; Fred had a pork chop) so I'm not particularly worried there.  But what's it really going to be like for him?  How loopy will he be?  Since he's not going to tell me he's in pain, how do I get this whole thing figured out?  
And then there's chemo.  He has a consult on Monday.  Questions to ask?  He's a senior - where is the line between quality of life and extending it.  Is it for me or for him?
Thank you so much for any thoughts and advice you can give (and if prayers are in your repertoire, I'll take those, too!)
b.

The Rainbow Bridge

Forum Posts: 23385
Member Since:
25 April 2007

Online
Hi B, welcome! I'm on my phone now but wanted to get your post approved so others can see it. I'll return in the AM to give my thoughts but in the meantime check out Jerry's Required Reading List and the Tripawds Start Here Page for insights. Back in a bit and stay tuned for feedback from others!

Canada
Forum Posts: 1054
Member Since:
7 July 2017

Offline
Hi Fred & B.
you have found an incredible site, with a whole bunch of incredible people who, like you (& I for that matter) had & still have lots of questions.
I'm sorry, but yes, Stewie is a big dog, but little dogs think they are big too!
My husband & I learnt that dogs do not like to show their pain... they will get left behind in their natural pack! It's just an instinctual thing for them. In hindsight, Stewie had indicated a few times over the last few months that he was in pain, but we always thought it was a joint problem, or the time that Stewie was licking his leg obsessively one night, we thought it was a bug bite. I only saw him doing that once. Otherwise, by the time he was limping full time, the Osteosarcoma had already set well into the bone. An X-ray shrewd that the tumour had shattered the bone in his forearm. Admin will give you some excellent links to read in regards to what to look out for when it comes to dogs & pain indicators.
That is  excellent that Fred is such a food hound, that will come in handy over the next couple of weeks... have everything that he LOVES  on hand cause he will have days that he won't want to eat. This being a big pain indicator! The first couple of weeks really are the worst! Be prepared to stay close to your boy, he will need a lot of comforting. Keep telling him that you are doing this FOR HIM & NOT TO HIM? We all know going into this journey that we are doing it for the right reason... it gets rid of their pain IMMEDIATELY! On this site, there is never a stupid question, so vent here all you like, people listen and we truly care. We have all been in your shoes and they are tough shoes to walk in for a while.
Fred is now a Tripawd hero! He is going to show you that life can be tough, but hey it's gotta be figured out, so let's just do it! As long as they know that they are making you happy then life is GOOD! Start living your life in Fred's shoes and just live in the moment. Love, Food Sleep & Treats. They don't ask for much...
Paul & I found that 4-6 treatments of chemo is the typical norm... Stewie has gone through 3 rounds (every 3 weeks) of Carboplatin and he has 3 left to go. He is our Super Tripawd hero and has recovered amazingly well. But most of these beautiful pups do! He has taught me a lot over the last couple of months and I continue to learn, especially with this incredible bunch of cheerleaders helping us along! 
Please keep us posted, we know what a rough journey this can be. But please know that it is truly worth it. Stewie doesn't have a frown on his face anymore and is far more relaxed than we have seen him in a long time! Take care.
Sloppy kisses from Stewie👅🐾
& all the very best from his adoring pack,
Petra, Paul, Mr. Spike, Chester Molester & Miss Lily 🐾🐾🐾❤️
http://stewie20.....pawds.com/

Livermore, CA


Forum Posts: 3089
Member Since:
18 October 2009

Offline
Hello and welcome.
I'm sorry you are dealing with OSA- its an unusual cancer in small dogs. 
My pug Maggie was about 17.5 pounds when she lost her left rear leg to mast cell cancer.  Mag was a lot like Izzy, I called her my drama queen.  She would always let me know when she was uncomfortable or unhappy.  Maggie was stubborn and set in her ways- she did not bounce right back like most pups do after her amputation. All the vets told me was that dogs do fine on three- I was convinced I had the only dog that would not adapt!  But she got used to things on her own time line, and hopped happily through life for almost 4 years.
You may want to put carpet treads on your stairs- and cover any slippery floors with rugs or yoga mats.  Traction is really important for Tripawds.
Maggie was never able to go up more than 3 or 4 stairs after her amp, not a big deal since I lived in a single story house.  She did spend a lot of time at my parents house which has stairs, she had to be carried up but she would go down on her own.  My current Tripawd is a little pug mix who is a bit smaller than Maggie was.  Elly lost her right rear leg at 7 months old after being hit by a car.  I now live in my parents house and Elly flies up and down the stairs!
I would get information on treatments from the oncologist and maybe see a holistic vet so you know all your options.  Is Fred an old 12 or young 12?  My quad-pug Obie is 11.5 years old now and he acts much younger, I can see him living several more years before he even gets 'old'.  There are no right an wrong answers with chemo- be aware that most dog's don't have side effects or very minor side effects.  But you have to decide what is best for Fred and you.
Karen and the Spirit Pug Girls
Tri-pug Maggie survived a 4.5 year mast cell cancer battle only to be lost to oral melanoma.
1999 to 2010

The Rainbow Bridge

Forum Posts: 23385
Member Since:
25 April 2007

Online
You and Fred are quite a team! Don't worry, you're in good company, we have many dogs his size and smaller in our community. And the advantage is that a smaller dog like Fred generally has an easier time getting around on three legs. Sure he'll still need some accommodations, like traction on floors, elevated feeders and things like that which will make his life easier. But overall I think you'll be pleasantly surprised at how well he does. The main thing to keep in mind is that he will look to you for guidance. So the stronger, more optimistic you are, the better off he will be. Our dogs mirror our emotions so when you show Fred that you know he can do things, he will prove it to you. 
Here's a post that will help you prepare your house for his arrival as a Tripawd:
As for chemotherapy, your oncologist will give you a better idea of what to expect. All dogs are different in how they handle it but most do pretty well with minimal side effects. I agree that looking at all treatment options will help you feel better about whatever path you decide to take. 
I hope this helps. Be sure to let us know what other questions you have, we're here for you and your guy.

Virginia


Forum Posts: 16024
Member Since:
22 February 2013

Offline
WELCOME FRED THE "FLOB"!!!!   Cannot wait to see pictures of your cute adorable self!!   You jad me grinning ear to ear as you were describing all his great little quirks! 🙂
As you can tell, YOU ARE NOT ALONE!
You've gotten spectacular advice from everyone!  Continue to stay connected and let us know how things are going! 
I looooove that your Mom ate a pork chop...and Fred Flob got a pork chop!   Clearly she loved him very much.  I also had the privilege and ho kr of inheriting my Mom's dogs when she passed.  Something very, very special about hugging a dog that was your Mom's.....kinda' like hugging her at the same time 🙂
Love and hugs
Sally and Alumni Happy Hannah and Merry Myrtle and Frankie too!
PS....While Fred is eating his pork chops, you may wa t to keep lots of CHOCOLATE on hand for you during recovery...it helps!!
Shhhhhh......shhhhhh......little dogs usually have an easier recovery  time with mobility than big dogs do!!   Shhh...don't tell the big dogs!
Happy Hannah had a glorious additional bonus time of over one yr & two months after amp for osteo! She made me laugh everyday! Joined April's Angels after send off meal of steak, ice cream, M&Ms & deer poop!

Forum Posts: 3
Member Since:
11 September 2017

Offline
Fruity Fred the Flob is home and boy is he loopy.  It's the first day of a new "adventure".  Baby steps.  We've (sort of) successfully pee'd and we got our afternoon medicine shoved down our throat (wouldn't take it with the food) but had a follow-through of some cheese, a bit of liver sausage and some pumpkin.  He didn't want anything he had to chew (we had a little ground beef, too, which he turned his nose up on).    I was able to entice him with a little beef broth flavored water.  He just seems to be uncomfortable and wants to be held - but that's not comfortable either.
Thank you for all the encouragement and tips.  Please keep 'em coming.  
And Hannah's mom - you are absolutely right - it's like hugging my mom (who by the way, was a 7-toed diabetic - so this is just fitting).  And wow what a great last meal!  I think Fred would appreciate eating the deer, not the poop but Izzy sure loves to roll in it.


Forum Posts: 1176
Member Since:
27 July 2014

Offline
Your pups are adorable! Here's a tip - since dogs like to eat foods that are forbidden, now's the time for cat food! Yup, canned kitten food is delicious (so I hear) and may be something Fruity Fred will devour. My tripawd cat Mona loves it, she even smacks her lips. Some vets do suggest it for dogs during their recovery.
Hope it all goes well. Hugs from me and my cats.
Kerren, Eli, and Tripawd Kitty Mona
Forum Timezone:
America/Denver
Most Users Ever Online: 597
Currently Online: admin, jerry, Michelle, dobemom, henleygirl
66 Guest(s)
Currently Browsing this Page:
1 Guest(s)
Devices Used: Desktop (65), Phone (6)
Member Stats:
Guest Posters: 1000
Members: 12161
Moderators: 2
Admins: 3
Forum Stats:
Groups: 4
Forums: 23
Topics: 14806
Posts: 207870