Join The Discussion
Learn about life on three legs in the forums below. Browse and search as a guest or register for free to take advantage of member benefits:
Instant post approval.
Private messages to members.
Subscribe to favorite topics.
Join the Live Chat and more!
Looking For A Harness?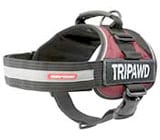 Shop Tripawds Gear for the best harnesses for three legged dogs!
A
A
A
I'm not sure if this is the best place to start since I'm feeling a little overwhelmed at the moment, but my 10.5 year-old Cocker Spaniel (with a bit of Golden Retriever) rescue pup Rocky is scheduled to join the Tripawds community on Valentine's Day. 
He was abandoned (I assume) when he was about 3 years old. He was found on the side of the road in terrible shape and taken to a shelter. He tested positive for heartworm there and was just a couple of days away from being euthanized when a rescue group bailed him out. My parents ended up fostering him and ultimately I adopted him. It's the best decision I've ever made, bar none. 
Going back as far as five or six years ago, he would sometimes limp on his right front leg, but it would always go away after 24 hours. In recent years, it became a little more frequent, but still cleared up within a day. I mentioned it to his vet a few times, and he said as long as it cleared up that quick it was nothing to worry about. Last month, it flared up again, but it didn't go away the next day. After several days of watching him walk with a slight limp, I got it checked out. His vet put him on Deramaxx, but after several more days nothing had changed. So his vet took X-rays and found a spot on Rocky's right shoulder that concerned him. He sent the X-rays to Auburn University for a second opinion, and they agreed the spot was cause enough for concern to do a bone biopsy. Last week a specialist performed the bone biopsy and CT scan and, unfortunately, the biopsy came back this week as Osteosarcoma. Fortunately, the CT showed no signs of the disease spreading. 
Both his vet and the specialist have assured me that amputation is the best option for Rocky, and that he'll do just fine on three legs. But I'm still struggling with the idea of removing one of his legs, even if he can barely walk on it now. I know it's the right decision, but it's still not easy. 
The first few days last week as Rocky recovered from the bone biopsy procedure were pretty tough. I imagine the first few days after the amputation will be even tougher. They're keeping him overnight for observation after the surgery, and the specialist says Rocky should be up and walking just fine the next day. But, reading some of the posts here, it sounds like it may take a little more time than that. Do I need to get a sling/harness to help him up? Is there anything else I should be prepared for next week? I'm really dreading next week, but I'm looking forward to the day when we can play ball again. Even with a bad leg, he wants to go play now, and it kills me that I have to tell him no. 
Thanks for reading,
David
Hi David, thanks for joining. I'm sorry you had to find yourself here, but I hope we can help make this journey easier.
We're with you as far as having a difficult time picturing our pup walking on three legs. It almost seems cruel to decide that for them. But rest assured, what we have learned is that the pain from the cancer is far greater than anything he's feeling now. Oh and the bone biopsy is actually pretty painful. Most people who went through that procedure with their dog agree. See, Rocky's still feeling that painful leg, and the biopsy mark, so yeah, ouch. But once that leg is gone altogether, look out! If he wants to play now, imagine how he'll be when that bad leg is gone!
Have you had a chance to check out Jerry's Required Reading List or the Tripawds e-books library? Please do, it will put your mind at ease, and prepare you for what's ahead. 
As for slings and harnesses. Most dogs will need some sort of support during the first days after surgery. Some won't let you help even though they need it, some will. You can try a homemade grocery bag sling harness to see how Rocky feels. Later, a harness is useful if you have many stairs in your home, and if you and he travel together to many places. It helps you help him into and out of the car. And to assist if you encounter slippery floors. 
Okay, some deep breaths.... B R E A T H E.....B R E A T H E.....SLOOOOWLY..
This IS scary to hear! This is frightening and full of uncertainty, exhausting emotionally and physically. We sure do understand!! We also understand how happy Rocky will be to have that painful leg removed! Sure, recovery is no picnic for a couple of weeks, but we are here by your side the whole way, okay??
And ya' know what? ROCKY isn't worried about a thing! He doesn't care about statistics, or diagnosis. He doesn't care about days on a calendar and sure doesn't have a timeframe stamped anywhere on that cute butt of his! 🙂
It sounds like the Vets think Rocky is a good candidate for surgery. AND YAY for good scans!!! And as painful as the biopsy is, at least it came back with a conclusion. Soooo often they come back inconclusive and all that owwee is for nothing.
Most dogs are up and walking within 24 hours or less. Some take a bit longer and need help with a towel sling getting up. They're pretty drugged from the hospital meds for a couple of days, so mobility may be a bit woozy. I'm pretty sure though, that you will be amazed at how quickly Rocky adapts!!
If you have hardwood floors or vinyls, you'll want to get non slip scatter rugs or cheap yoga mats for traction.
You are giving Rocky a pain free life full of loving and spoiling and lots a dd lots of play time!! You will have a grrrrreat time!
STAY CONNECTED! Again, recovery can be a little rough and you may not get much sleep for a few nights. But when Rocky's sparkle starts to come back bigger and brighter than before, you'll know this is the right decision!
Hugs....and we'd love to see more pics of that cute boy!
Sally and Alumni Happy Hannah and Merry Myrtle and Frankie too!
Happy Hannah had a glorious additional bonus time of over one yr & two months after amp for osteo! She made me laugh everyday! Joined April's Angels after send off meal of steak, ice cream, M&Ms & deer poop!

Forum Posts: 1926
Member Since:
14 February 2016

Offline
Welcome to our community, although I am sorry that you and Rocky find yourselves here. 
The first two weeks of recovery are intense.  Short leashed potty breaks only, and lots of rest.   Make sure that he has a good supportive bed, and no furniture jumping - block off any stairs or the couch.  Many of us slept on a mattress to be on the floor near our dog.   There will be lots of meds, so keeping a log book is a good idea.   It helps you keep track of what to give when (you will be sleep deprived that first week) and to track food, water, pee and poop.  Make sure you have lots of yummy things to hide pills in - cheese, hotdogs, liver pate, peanut butter, etc.  You might want to get a harness - as a front legger, he won't be able to use it until the staples come out (about day 10 - 14), but they are really helpful.   We are big fans of the Ruffwear Webmaster Plus harness - you can see pictures in the gear blog.   It helps to have a sling (or a towel you can use like a sling), but many dogs (including both of mine) just freeze when you put a sling under them.   Also, many of us with front leggers used a t-shirt to cover the incision so that we can get rid of the dreaded cone of shame.   Not sure how big Rocky is, but it your's don't fit him, you might want to buy or borrow at least 2 (1 will get peed on!).   Recovery for every dog is a bit different - many hop right out of the vet, some take more time to get their balance and adjust.   Expect lots of sleeping for the first few days, which is great for healing.
And rest assured,  Rocky will be fine without the painful leg.   Dogs do not sit around thinking about the missing leg, nor do they consider themselves disabled.   They just figure out how to do whatever it is they want to do.   My Otis was 106 pounds pre-amp, and had mild arthritis in his hips.   His walks were much shorter, but he could chase cats and squirrels, play with his sister Tess, steal food off the counters, climb our stairs and get up on the sofa.   And we had great quality time together - although he did ultimately die of osteo, I have no regrets at all for the amputation.   It gave us almost 7 wonderful months together. 
Otis - 106 pound lab/Dane mix, lost his right front leg to osteosarcoma on Febuary 9, 2016.  Four rounds of carboplatin completed in April, 2016.  Lung mets August 25, 2016.  Said goodbye too soon on September 4, 2016.   Lost his adopted sister, Tess, suddenly on October 9, 2016. likely due to hemangiosarcoma.  
Wherever they are, they are together.
Thanks for the responses. I appreciate it. I've got some reading to do. Thanks for the links to the reading list and e-books. 
I guess the good news is we kind of got a trial run for the amputation recovery with Rocky's biopsy recovery last week. The biopsy surgery was last Monday; he was pretty miserable Tuesday and Wednesday before perking up a little Thursday. I think the anesthesia was hard on him since he had some vomiting/sinus/breathing issues the first two days. I called the vet and he put Rocky on antibiotics in addition to the pain meds and that seemed to help. He started to get back to being himself last Friday and was fine through the weekend, save for the limping. 
Stairs/furniture have been blocked off since the vet saw the spot on the X-rays. I made a makeshift bed out of a sleeping bag, extra pillows and blankets next to his doggy bed so I could sleep next to him while he recovers, but he insists on sleeping at the foot of my bed as usual. So I struck a deal with him that I'll allow it as long as he lets me pick him up/put him down. That's worked so far. He does have a cone too to keep from licking the incision from the biopsy, but he hasn't had to wear it. I did put a t-shirt on him when I went out to keep him from scratching at it. And I've received permission to work from home next week after Rocky's amp surgery. 
I'm still dreading it, but I'm sure once we get past the recovery stage (and the chemo after that) we'll be fine. And I'm sure Rocky will wind up taking it better than me.
Thanks again. 
Rocky, you are a really good boy! You are not bothering your stitches and you made a great deal with your Dad so you could sleep at the foot of his bed. Brilliant agreement!
Rocky is showing you already he can handle three legs just fine! Such a good boy!
Another suggestion, when you go to pick Rocky up after his amputation, don't even bother to look at his incision! He won't be. Just look into his druggy eyes and tell him what a good boy he is! He'll be ready to go home and get through this recovery phase and get on with being loved and spoiled!
A d remind the surgeon abojt the tissues hr had with the anesthesia. It also could have been that the tubing irritated his esophagus.
Pictures.....we're still waiting for pictures 🙂
Hugs
Sally and Alumni Happy Hannah and Merry Myrtle and Frankie too!
Happy Hannah had a glorious additional bonus time of over one yr & two months after amp for osteo! She made me laugh everyday! Joined April's Angels after send off meal of steak, ice cream, M&Ms & deer poop!

Norene, TN
Forum Posts: 1068
Member Since:
21 October 2014

Offline
Howdy and welcome!
Even though Harmony's cancer was different, I can totally relate to the off-and-on limping accompanied by an off-and-on vet diagnosis. It wasn't until Harmony was limping badly that the vet finally found something in her second set of xrays. Her limping had gone on for 2 years before getting a definite diagnosis. Hers was in the shoulder as well.
Yes, recovery is (or can be) tough. However, it's so much easier when the pain of the shoulder is eliminated from the equation. The biopsy recovery was complicated by Rocky's cancer pain, like a double-punch.
Just to add to everyone else's advice; take advantage of the time Rocky is in the hospital. Get plenty of rest. Detox your heart, mind and spirit. When Rocky comes home he will reflect your emotional well-being and to me that's a huge first step in the healing process.

pam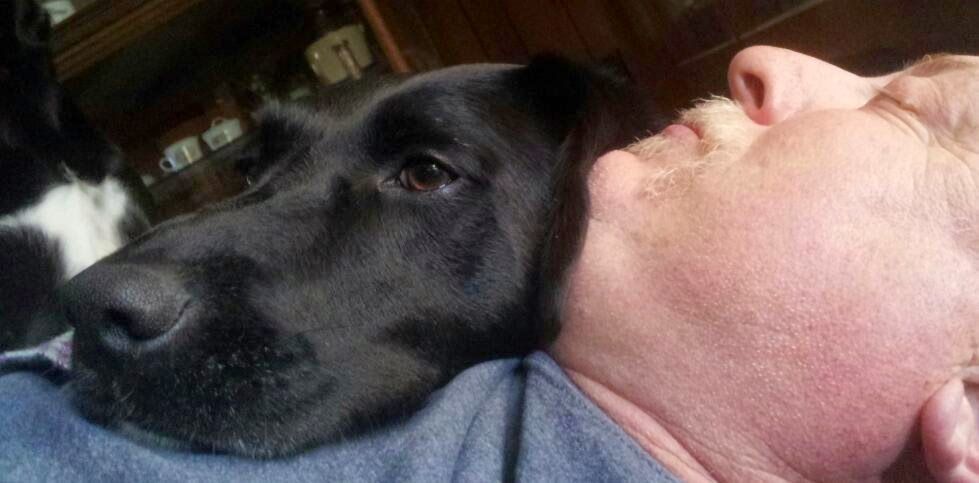 Harmony became a Tripawd on 10/21/14 (MCT). She left us way too soon on 11/1/14.
"We miss you so much; our love, our heart, our Harmony."
- Pam, Ron and Melody, Meesha and DoubleStuff
I made a makeshift bed out of a sleeping bag, extra pillows and blankets next to his doggy bed so I could sleep next to him while he recovers, but he insists on sleeping at the foot of my bed as usual. So I struck a deal with him that I'll allow it as long as he lets me pick him up/put him down. That's worked so far.
Yup, exactly! Dogs always wonder why the heck their humans are suddenly sleeping on the floor with them. Our Jerry reacted the same way when we tried it. Many people will try to sleep on the floor, and many dogs will be OK with it. But we're not crazy about sleeping on the floor with a new Tripawd. In the end, the more you can normalize your life together, the more normal your dog will be when he recovers and adjusts to life on three legs. Good job to both of you!
Best wishes to you both. Please keep us posted OK?
Thanks again for the well wishes. I am trying to mentally prepare myself for what's to come so that I can be strong for both of us next week. Honestly though, Rocky will probably be tougher than me. He's a pretty tough guy. Three times a vet did the range of motion tests on his hurt leg trying to find out what was wrong, and Rocky never flinched. 
I can't find a way to attach photos. Let me find a place to host some and then I'll post them here. 
Here's a post about adding images. Holler if you'd like help OK? Can't wait to see 'em!
Rocky's final night as a four-legger. I'm a nervous wreck thinking about him going in to surgery tomorrow, although I'm sure he'll come through it OK. The rest of the week will be tough, but we'll get through it. 
Let's see if I figured this photo thing out. The one of him in the Vols shirt is from a few days after the biopsy. I don't know if you can tell or not, but he's got a choker collar on in that photo. That belonged to our first dog years ago. Our second dog was diagnosed with a cancerous tumor on his rear end 13 years ago. The initial diagnosis for him was two weeks. I put the collar on him for good luck, and he wound up living nearly two years before crossing the bridge due to old age. So I'm hoping it brings Rocky some good luck now. 
Oh my goodness! Look at your cute adorable self!! 🙂 Such a precious boy!
Sounds like Rocky has a vood Guardian Anvel watching over him and a magical collar to protect him! 🙂
STAY CONNECTED! We are all right here by your side and ready to answer any questions you may have.
When you do go tomoick Rocky up after surgery, don't even bother to look at the incision. He won't be! He'll just be so happy to see you and all he'll want is to go home! Just kiss his mug and tell him what a good boy he is!
Update us when you can, okay? And we look forward to more pictures of sweet Rocky! 🙂
Hugs
Sally and Alumni Happy Hannah and Merry Myrtle and Frankie too!
Happy Hannah had a glorious additional bonus time of over one yr & two months after amp for osteo! She made me laugh everyday! Joined April's Angels after send off meal of steak, ice cream, M&Ms & deer poop!
Forum Posts: 59
Member Since:
23 May 2016

Offline
Good luck today David and Rocky. Rocky will be absolutely fine playing with those flying pink elephants, its you that needs to keep distracted and try to keep it together! The waiting game is tough.
Rocky is jus the most gorgeous boy. And I love that he has a lucky collar!! What a story of triumph for your 2nd dog, your 1st dog must be still watching over you all, taking good care of you.
Stay in touch, I imagine you'll be quite busy tomorrow but we'll all be thinking of you and looking forward to an update
Karis and Zuki with wings 
Zuki Wuggafer 30/09/06 - 11/11/16. Right hind tripawd due to Osteosarcoma. He had a strong 5 and half months as a tripawd but unfortunately a secondary issue with his spine ended our battle. He loved life, loved our family and was the best dog I could ever ask for. Truly my first love, forever in my thoughts and heart.
Read our story: http://zuki.tripawds.com/

Los Angeles, CA

Forum Posts: 3482
Member Since:
13 June 2013

Offline

Good luck Rocky!!! You will be great!!! You sure do have a cute face!!! 
Keep us posted and we'll all be sending PAWSitive vibes your way!
XOXO
alison with Spirit Shelby in her heart 
Shelby Lynne; Jack Russell/Shiba Inu mix. Proud member of the April Angels of 2014.
October 15, 2000 to April 8, 2014
Our story: Broke rear leg in June 2013 - non-conclusive results for cancer so leg was plated and pinned. Enlarged spleen in September 2013 and had it removed and was diagnosed with Hemangiosarcoma and started chemotherapy. Became a Tripawd January 8th, 2014 and definitive Hemangiosarcoma diagnosis. Three major surgeries in 7 months and Shelby took them all like a champ only to lose her battle to cancer in her brain. We had 8 amazing extra months together and no regrets. #shelbystrong #loveofmylife
Fight on Rocky! We're thinking of you and your adorable self. Keep us posted!
Forum Timezone:
America/Denver
Most Users Ever Online: 597
Currently Online:
54 Guest(s)
Currently Browsing this Page:
1 Guest(s)
Devices Used: Desktop (50), Phone (2), Tablet (2)
Member Stats:
Guest Posters: 957
Members: 10129
Moderators: 2
Admins: 3
Forum Stats:
Groups: 4
Forums: 23
Topics: 13688
Posts: 189702