Tripawds members are raising Tripawd awareness throughout the world. We are thrilled that Tripawds UK leader Vader and his pack recently attended Crufts 2013, which is the United Kingdom's biggest and most celebrated dog show. If you've ever wondered what it's like to attend a prestigious event like this, read on!
Vader, Yoda and Mum Caroline (seen here sporting her fabulous Tripawds UK apparel) sent in this special report about their pawesome experience:
"Crufts 2013 was our second year representing the Kennel Club as official reporters, Mummy took Yoda and I along in our red chariot of doom (which others call a pram) and we had the time of our lives!
As a tripawd I find it quite difficult to hop for a full day and not get trampled on by the crowds, so I was very happy to be higher up, surveying my domain for the day from the comforts of my chariot, not that many people recognised me as a three legged dog until Mummy pointed it out!
We had a fantastic time and were able to meet many of the businesses that provide equipment suitable for three legged dogs, including Dog-Games-Shop.co.uk who hosted us for 2 days as star guests where Mummy answered questions on Tripawds.com and owning a three legged dog (or two!), as well as demonstrating the harnesses we swear by!
Sally Hopkins of Dog Games designed the Perfect Fit harness which is the only harness we have found so far that doesn't slip on a front leg amputee.
We also met up with Ruff Wear who many of our members use for boots and the Webmaster harness which has proved extremely popular with those who need a little more support and help when being walked and the handy strap on the back helps us get into cars and onto the vet's table etc. They were lovely people and even had many of the boots and harnesses for people to buy on the day.
Tango (the Turkish tripawd) was even there in spirit as the Fings for Fido stand had his picture on their wall after sending him a free box of treats when he arrived in the UK. We didn't know his picture would be up there and were so happy to see him as we went to visit them!
Wandering around perusing the stands took quite some time with everyone wanting to get pictures of me and Yoda but we are used to the limelight and posed every time a camera came out, enjoying the cuddles and treats we were given before Mum took us back to the press room for regular naps.
Crufts is an excellent place to meet dogs of all shapes and sizes, rescue as well as pedigree, and to meet the people behind the companies that support us in life, often not knowing it until we appear and thank them and explain the reasons we use them.
You can also find a wide range of things that you didn't even know existed! Mum was fairly good this year, she bought us a bed cover for our raised pet bed, and some toys and our favourite flapjacks.
Our fellow Tripawds UK members Haatchi and his owner Owen were up for an award at the event and we are pleased to announce that on Sunday the Friends for Life competition was held, and they only went and won!
Friends for Life celebrates partnerships that inspire and owner and pet pairs that rely on each other in life, be it mentally or physically. Owen and Haatchi are the best of friends and it was wonderful to see that celebrated and commemorated with this award.
You can watch Haatchi and Owen in action here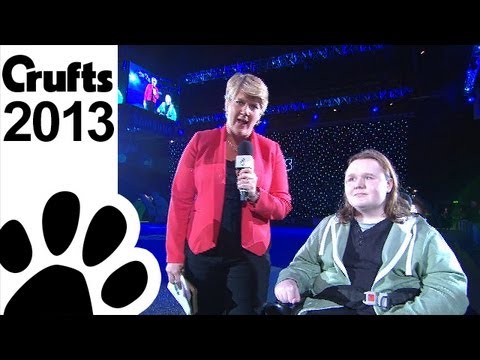 We hope to be invited back again for the third year running to report in 2014 and spread the word about tripawds again as we have yet to meet another three legged dog (apart from Haatchi) at the event, but we know they're out there!
Huge thanks to the Kennel Club for being so accommodating once again this year, and happy anniversary to Samsung in their 20th year of sponsoring the event (who gave us a lovely camera to cover the event on and keep!)
Woof woof,
Vader xxx