Caring for a Three Legged Dog or Cat
Tripawds is the place to learn how to care for a three legged dog or cat, with answers about dog leg amputation, and cat amputation recovery from many years of member experiences.
JUMP TO FORUMS ↓
Join The Tripawds Community
Learn how to help three legged dogs and cats in the forums below. Browse and search as a guest or register for free and get full member benefits:
Instant post approval.
Private messages to members.
Subscribe to favorite topics.
Live Chat and much more!
Attn brand new Tripawd parents, did you know that hydrogen peroxide is the worst thing you can put on your Tripawd's wound (or any wound that needs healing, for that matter). Our friend at The Preventive Vet explains why:
What many people don't realize is that the bubbling you see when you add hydrogen peroxide to a cut isn't just an indication that the peroxide is killing the bacteria present, it's also an indication that the peroxide is killing the very cells that the body is counting on to actually heal the wound! These cells are called fibroblasts, and they are truly crucial to proper wound healing.
Read the entire Preventive Vet Tip here.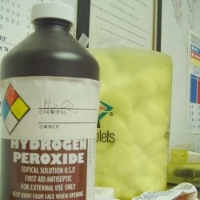 Dang, I had no idea. Guess I'll have to keep mine just for my hair.
However, it's great at getting blood out of materials such as couch cushions (thanks hub-a-dub) or bath mats (thanks Meesha and your turbo-tail).
Harmony became a Tripawd on 10/21/14 (MCT). She left us way too soon on 11/1/14.
"We miss you so much; our love, our heart, our Harmony."
- Pam, Ron and Melody, Meesha, Doublestuff and Mariah Carey
Hydrogen peroxide, for hair? Isn't the developer used for hair color processing different?
You're right, it has lots of other great pet-related uses though.
Yes and no. I use it from time to time to help take the "yellow" out of my grey. However, if it gets on any of my dark hair, it will lighten it just a little. It's what "Sun In" is made out of. Once it's on your hair you can either go out in the sun or use a hair dryer to "activate" it. I can tell you Sun In smells much better! LOL!
Harmony became a Tripawd on 10/21/14 (MCT). She left us way too soon on 11/1/14.
"We miss you so much; our love, our heart, our Harmony."
- Pam, Ron and Melody, Meesha, Doublestuff and Mariah Carey

Martinsburg, WV
Member Since:
3 June 2014

Offline
Omg…we used peroxide to clean Leland's wound after the initial TPLO procedure.  And the surgeon directed us to do this. Now I have to wonder if this contributed to the infection that led to my boy's amputation. 
Thanks for sharing this!
Sahana and her Angel Leland and Lucian too 
November 17, 2009 - June 30, 2014
May you finally be healthy and running free at the Rainbow Bridge. Until we meet again my sweet boy!


Member Since:
27 July 2014

Offline
Thanks for the reminder. I've also read of vets suggesting it's use for wounds – what are they thinking? I keep Hibitane on hand as a skin/wound cleanser.
One thing hydrogen peroxide is safe for is to induce pet vomiting when they swallowed something dangerous. Only use the 3% kind – not the hair colour kind. Here are some directions: http://healthyp…..-pets.aspx
Also hydrogen peroxide expires and fairly rapidly after opened.
I hope no one needs to ever use it for their pets!
Kerren
Y'all are a wealth of information, thank you for adding these tips.
I knew about inducing vomiting but didn't know the amount to give. Had no idea that it expires quickly, I've had ours in the medicine cabinet for over a year. Doh!

Virginia


Member Since:
22 February 2013

Offline
Really interesting..thanks everyone. And I remember "Sun In" well!
Sahana, I know when you hear something like this makes your head start spinning and second guessing like crazy.
I think almost all dog owners have used this at some point on a doggy or kitty. And I'm sure in many cases it was at a vet's directive. I really, really doubt cleaning Leland's wound caused the infection. At the most, it may have delayed healing, but not "create" the infection.
Sending love to all…
Happy Hannah had a glorious additional bonus time of over one yr & two months after amp for osteo! She made me laugh everyday! Joined April's Angels after send off meal of steak, ice cream, M&Ms & deer poop!
I missed your reply Sahana. I agree, doubtful that it would have caused such problems for Leland. Don't look back, he never did.
I learned about this from a piercer. Drug store gun slingers generally send kids home with peroxide, but proper needle piercers (good ones, anyway) are very strict about avoiding it. 
I have another question about cleaning, though….I've soaked a soft cloth in warm damp water and pressed it very gently to the incision to try to clean up some dried seepage, but I don't want to rub (he's only a day post op),and it doesn't seem to have much affect. Is it ok to just leave it? There's not tonnes. I can post a picture if that helps…
Drug store gun slingers
Haha I love that phrase! Too funny. I'm so glad you are aware of the dangers of it.
I would leave the incision alone till your vet looks at it during the next recheck. Unless you smell odors, it's discolored seepage and it's leaking tons, then it's probably OK. As with anything though, if it concerns you, let your vet know.
We're all over-protective once we've gone through an ordeal like this. Glad things are good with the incision!

Member Since:
4 November 2016

Offline
I worked as a helping hand for a vet for two years and he always recommended to even leave dried seepage where it is, as long the incision doesn't require any cleaning cause of any infection – then your vet should give you instructions how to care of it.
Scabs might look like something that should get soaked up and removed, but in fact it's a great shield against bacteria sneaking in and it will fall off from alone as soon new skin is building up under it.
Jimmi's incision looked crusty due to natural discharge drying up after a few days. The vet said as long there is no excessive dried blood, reddening, swelling or bad odor this is part of the healing process.
Two days later, after Jimmi was sleeping in bed, I found a finger-long piece of scab on the sheets. It had fallen off and revealed a smooth thin pink line, a sign that everything is healing perfectly. I just needed to be patient.
The shaved area around the incision  I once cleaned with a wet wash cloth cause it had some spots of dried discharge that still resulted from the surgery. But most of it Jimmi cleaned himself.
I don't know about dogs, but that cat's saliva is full of bacteria is a myth. Of course they shouldn't nibble excessively on the wound, but briefly licking over it when they groom themselves won't automatically cause an infection.
I just wanted to bump this up so that anyone whose animal is in recovery knows why hydrogen peroxide on an amputation incision is a bad idea. 
Forum Timezone:
America/Denver
Most Users Ever Online:
946
Currently Browsing this Page:
1
Guest(s)
Member Stats:
Guest Posters: 1214
Members: 15751
Moderators: 2
Admins: 3
Forum Stats:
Groups: 4
Forums: 23
Topics: 17769
Posts: 247010
©
Simple:Press
—