Join The Discussion
Learn about life on three legs in the forums below. Browse and search as a guest or register for free to take advantage of member benefits:
Instant post approval.
Private messages to members.
Subscribe to favorite topics.
Join the Live Chat and more!
T-shirts, Cards & Gifts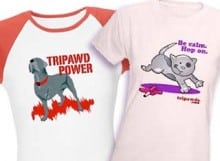 Visit the Tripawds Gift Shop for fun three legged dog/cat t-shirts & more! Browse all designs.
A
A
A
We can't wait to see photos! Glad Smiley is getting around!
It's 10 days post op.  Smiley is hopping around and seems really happy.  She's a little stiff in the mornings but as soon as she's up and after her meds she is doing great.  We get staples removed next Tuesday.  YEAH…  I promise to post pics soon.  May have to do it in a blog.
Hoping she can go out in the yard next week without her sling.  She loves laying on the deck.  It's been so hot here lately I only let her stay out a few minutes.  Her companion Rudy stays by her side when she's out.  He really seems to understand.  My other one Shadow is a younger dog and all he wants to do is play.  So it will take time to get him use to her.
Keep SMILING

Hey how did Smiley's big stitch removal day go? Has she played with Shadow yet? Update when you can, we're hoping for hoppy news!
All went well except for a few staples were left in.  When I picked her up to put her in the car I noticed a wet spot on her chest.  Apparently there was fluid trapped and when I picked her up it started draining.  So they left the staples in that are until the 5th.
I noticed this morning that her elbow on the remaining leg is swelling.  She doesn't go back to her oncologist until the 10th.  Has me worried.  Hope the MC didn't move into that leg.
Shadow is walking cautiously around her.  Smiley is the alpha in the pack so he keeps his distance.  There's been no growling or barking but he knows somethings different. 
I have a video of her on my phone would like to get it on here. 

Thanks Jerry
smileysmom said
I have a video of her on my phone would like to get it on here…
The easiest/quickest way to share videos in forum posts is to upload the movie to Youtube first, or Vimeo, etc. Then you can just paste the share link in your post and the video will automatically embed here for all to see. You can also feel free to start a free Tripawds blog anytime if you need somewhere to host your photos.
smileysmom said
I noticed this morning that her elbow on the remaining leg is swelling.  She doesn't go back to her oncologist until the 10th.  Has me worried.  Hope the MC didn't move into that leg.
I'm so glad to hear she's been to the vet, sounds like a good game plan to wait a while until the staples come out.
Typically fluid drainage is a seroma and the fluid can spread to other parts of the body. While I'm sure the elbow swelling is from the left over fluid, I would let your vet know what's going on just in case. Whenever you are worried, let your vet know, that's why you pay them. 
Give Shadow lots of love from us, what a good boy for giving Smiley the space she needs to recover.

Virginia


Forum Posts: 16365
Member Since:
22 February 2013

Offline
Oh boy, hope you can get that video on here!  
Yeah, as Jerry said, the elbow swelling  is most likely  fluid related, so no worries.  You can still  ask the Vet about it though for your own peace of mind.
Give Shadow an extra treat  for being such a good boy ❤  And…shhhh…..give Smiley an extra one for being  such a good tripawd❤
Photos and video on the way, right????  It took me months before I learned  how to post pictures, so do not hesitate to ask for more direction. Tavlets with android don't  always have the same screen as "regular computers ", so ot can make things "interesting".
Hugs
Sally and Alumni Happy Hannah and Merry Myrtle and Frankie too!
Happy Hannah had a glorious additional bonus time of over one yr & two months after amp for osteo! She made me laugh everyday! Joined April's Angels after send off meal of steak, ice cream, M&Ms & deer poop!
So I called my regular vet cause I hadn't heard back from the surgeon in Nashville.  She said bring her in lets take a look.  (I LOVE MY VET)   She put her on Clavamox.  Said to watch it last night and let her know if any change.  When I got Smiley home I fed her and let her out to do her business she seemed ok.  Later in the evening I checked on her and her elbow was tender when I touched it.  She really didn't want to walk very far so I got the sling and helped her outside.  I didn't get to sleep til around 2AM.
This morning she is stiff but walking on it.  Going to try and get in touch with Nashville vet to see if they can get her in before the 10th.

Oh I hope the antibiotic kicks in soon. Good job staying on top of this and getting her to your vet! Keep us posted.
Awww I'm so glad you figured out how to post a video! Smiley is gorgeous, I love that brindle fur.
One trick you may want to do to make her life easier, is raise that water dish. Put it on top of a milk crate or something that won't allow it to slide off. Elevated food and water bowls are a Tripawd's best friend, so they don't have to lean down so far to get there.
Was that an elevated bed I saw? good job! those things are great!
smileysmom said
This is the location of the youtube video.   Wouldn't let me add said it has a frame…
Yup, iFrame embedding is not allowed, for security reasons. All you need to do is pate the video share link URL in your post, and the movie will auto-embed here for all to see. As you an see…

Forum Timezone:
America/Denver
Most Users Ever Online: 597
Currently Online: admin, Rocky's dad, purrson
74 Guest(s)
Currently Browsing this Page:
1 Guest(s)
Devices Used: Desktop (65), Phone (10), Tablet (2)
Member Stats:
Guest Posters: 1005
Members: 12586
Moderators: 2
Admins: 3
Forum Stats:
Groups: 4
Forums: 23
Topics: 14965
Posts: 210694