Join The Discussion
Learn about life on three legs in the forums below. Browse and search as a guest or register for free to take advantage of member benefits:
Instant post approval.
Private messages to members.
Subscribe to favorite topics.
Join the Live Chat and more!
Looking For A Harness?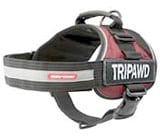 Shop Tripawds Gear for the best harnesses for three legged dogs!
A
A
A



Post-amputation biopsy revealed that tumor was lymphoma, not osteosarcoma

Add Reply

Add Topic
Hey no apologies necessary, it's nice to hear from you.
I'm so glad he's getting around well. You most definitely are giving him a great quality of life and happy days without that bad leg. I'm sorry that the lymphoma is the big issue but for now, Paka Tom is enjoying a pain-free existence and that counts for everything.  You have a pawesome attitude yourself about the whole thing. What a great parent you are to him!
Holly has given you wonderful tips and information about chemo and lymphoma, I hope your vet will check it out to see if any of it is a good option for you and Tom.
Keep us in the loop, we are thinking of you both and sending lots of love for many great days ahead.
Thank you all

The dose of Prednisolone they were giving Tom was really high – they wanted to pump in a high dose for 2 weeks to see if it would make any changes/stall growth at all. Depending on how he responded they would adjust and supplement it with other medication to manage the cancer. Unfortunately he hasn't responded well at all – over the past 4 days he's deteriorated massively.. he's stopped moving around and eats tiny portions. He drinks a lot of milk, and I have been giving him treats and even cheese just so he can get something in his tummy. His ears were heating up, so we went to the vet two days ago, but there's no fever. His breathing has also become harsh – he makes grunting sounds everytime he exhales. He hasn't responded to antibiotics, and the vet says it's pretty much certain that the cancer has spread to his lungs. The vet said any tests or x-rays we do now are just going to confirm what's pretty much certain, and Tom is so weak we are reluctant to stress him out.
The second opinion vet is popping in this evening to do a quick check up, but I think we are close to the end of the road.. he's starting to suffer and we don't want to let him go through this for long.
I'll keep you updated on what the outcome is, but in the meantime, are there any suggestions for things we can do together to make the most of our remaining time?
Hugs to you all

Jambo Mama & Mrembo Paka Tom
My sweethearts, I am with you in spirit Right now and I hope you can feel my hugs across the many miles!!! 

Im sorry I can't offer any advice, but to hold him close and pray that the 2nd opinion holds more hope! You have both been so very brave throughout this journey thus far… you're allowed to feel scared and hurt!
Paka Tom is a very special kitty to all of us and we are praying for you both Mama. Please keep us updated on your very mtanashati boy and give him very special hugs from us.

Kwaheri for now Mama. Much Upendo coming your way!

Petra, Stewie and his pride, Spike, Chester & Miss Lily 

Ohhhhh what sad news, I'm really sorry. We will hold out hope that the other vet has some ideas that may help get Paka Tom back to good health. It's sooooo hard to see our fur kids' health declining. My heart aches for you.
The best thing you can do is to find a quiet place together and have a heart to heart talk with him. Let him know what's going on with his health, and reassure him that no matter what you will make sure that you will stay by his side. Our friend, animal communicator Stacy Krafczyk, has good communication tips and coping strategies in this Tripawd Talk Radio podcast if you feel like listening.
We are keeping our paws crossed for good news. Let us know how things are going OK?
Yes, ae are all with you in our loving and supportin Spirit.  We hope you can feel it
I'm glad you're having another Vet take a look later today.  It could be….and you can ask the Vet this…it could be that some of the symptoms you are seeing are from the huge amounts of Pred.   And if he has stopped the larger doses, it could be that some of the symptoms are actually from the withdrawal.  It has to be graduated.  While Pred. can be a miracle drup sometimes, it can also jave some harsh side effects while it's trying to do its job!   So…maybe, just maybe, some of whst you're seeing is related to the Pred. 
Obviously, giving Tom the gift of staying in the present with him and continuing to spoil him in the way he has bedome accustomed while  savoring every moment is all he really wants.

Does he like sunbathing, chin scratches?  Any really special food he likes,…human junk food perhaps?.  Anythi g that he was never allowed to do….let himdo. 

Basically though, just sitting quietly with him and conveying through your silent words spoken with your heart how much yoy love him. Revisit some of your most special times with him a d let his heart feel the smiles from your heart.  

Surrounding you with our kove and support
Sally and Alumni Happy Hannah and Merry Myrtle and Frankie too!
Happy Hannah had a glorious additional bonus time of over one yr & two months after amp for osteo! She made me laugh everyday! Joined April's Angels after send off meal of steak, ice cream, M&Ms & deer poop!
Hi all

This vet has the same ideas as the other one did – that it's evident what's happening, and not worth putting him through the stress of tests and xrays. He has been put back on Pred because his face has swollen up a lot –  his cheeks are so puffy, and the vet said it's lymph node related. That discomfort might also be what's preventing him from eating. Although his neck swelling started before he stopped the previous dose, we are hoping this will help with the inflammation.
He's also getting a warm compress massage on his cheeks to try help drain the fluid. He seems to be enjoying those, he sits and lets us do it, and then pushes his face away when he's had enough. He got some fish from his favourite human take-out joint last night, and he ate so much it made us all so happy! He's moving around less and a little more irritable now. He's also lost a lot of weight.. Hopefully all this junk food will help steady it for a while!
As scary as this is sometimes, it's such a powerful reminder to enjoy every moment with the ones we love. I'm working on a food bucket list, and planning a memorial tattoo as well. I hope he knows that he is so loved and we cherish every moment we've had with him.
We're sitting in bed together now, and can both feel your love from across the ocean wrapping us in a fuzzy blanket

sending immense love and gratitude to all you Mamas, Papas and fur babies

Oh Tom KNOWS how .ich he is loved! He KNOWS everything you have done is because you love him so much.  That's why he chose you…so he could know how delightful it felt to be so loved

I love the idea of a FOOD BUCKET LIST! 🙂   I did that with my Happy Hannah and let her pick what she wanted in it.  If I can find the video I'll repost it for Tom.  It may give Tom some ideas.
You're doing an excellent job of staying focused on the here and now.  It's one way pf not letting that piece pf

disease win.  You will NOT let it deprive you of enjoying every sacred moment with Tom…..and he sure isn't letting it interfere with his rime with you either! 🙂
Glad you can feel our love wrapping arou d you and Tom like a warm fuzzy blanket!   It's not your imagination……we're right vy your side

Hugs
Sally and Alumni Happy Hannah and Merry Myrtle and Frankie too!
Happy Hannah had a glorious additional bonus time of over one yr & two months after amp for osteo! She made me laugh everyday! Joined April's Angels after send off meal of steak, ice cream, M&Ms & deer poop!
Jambo Mama & darling sweet Mtanashati Paka Tom!
We Are honoured that you are sharing your very precious moments with your boy, with us. Asante Sana! We understand how very difficult and yet so precious this time is! Not a second goes by that you want to lose with him and he with you!
The care you continue to give him is incredible and brave! I hope you realize this? Paka Tom knew right from the beginning that no matter how rough things got for him, you would be his human to be there for him! He is now giving you all that love back tenfold! 
Dear Mrembo Mama! Your an angel with hidden wings! This journey has not been easy for you. You have had to deal with many challenges that we are not faced with. The availability of services gives us the major advantage. You have persevered and Paka Tom is living a life of pure sweetness with you now! Again, I say that he will repay this love tenfold! 
Your Watu Wazuri will always be here for you! We are surrounding you with much Upendo

Kwaheri for now Mama. We are keeping you close to our hearts! 💕 Across the miles and around the world

Enjoy your bucket of food little fella! Tell Mama we would love to hear more about the tattoo. She is having done for you…
Hi Watu Wazuri.. Paka Tom's journey is coming to an end tomorrow.. We tried putting him back on Pred for about 3 days but either way there seems to be no change.Today his eyes are swollen shut, he is throwing up anything he eats, and he has hardly moved. His breathing is so harsh and laboured. I think he can't see us, because he meows when we enter the room and call his name, as if he thinks we can't see him too.  The vet came by today, and said that we really need to decide fast. I'm taking him in tomorrow morning, about 12 hours from now.
My heart is breaking. I know this is the kindest thing to do for him at this stage, but I wish I could tell him that I'm doing it, and why. He really doesn't deserve this. Unfortunately cremation is nearly impossible on this side of the world, but the local SPCA does a special burial and we can visit the site whenever, and the payment proceeds go to deserving animals, so we have decided to do that.
Paka Tom and I are sending you all so much love and gratitude

thank you for keeping us so strong during this journey. Your reassuring words and loving thoughts kept us going for so long, and without your advice we may never have considered amputation, and might never have had the extra months that we got to spend together. You are all so wonderful, kind, patient and selfless. Asante sana from the bottom of both our hearts


Forum Posts: 6476
Member Since:
21 May 2016

Offline
Oh sweetie 🌺
I am very, very sorry to hear Paka Tom's time to earn his wings has come 😔
You know he could not have had a better Mom and your time together was so, so precious 💗
You definitely mastered the art of being more cat and gave him but happy days for as long as you could and your boy knows it. 
Where he is heading now is a happy, happy place, fishing is already taking place, his welcoming menu will be outstanding and he'll be telling everybody what a lovely Mom he had 💓
This life is just a passage, he'll be flying on 4 legs and will surely be with you every day. 
Love never dies, sweetie 💗
😘😘🐮💫✨🌟🌹
Eurydice 77kg/170lb Great Dane limping end of April 2016, amputation (right front leg/osteosarcoma) 4 May 2016 6 courses of carboplatin followed by metronomic therapy, lung mets found 30 Nov 2016. 3 courses of doxorubicin, PET scan 26 Jan 2017 showed more mets so stopped chemo. Holistic route April 2017. Lung X-ray 5 May 2017 showed several tennis ball size mets, started cortisone and diuretics. Miss Cow earned her XXL silver wings 12 June 2017, 13 months and 1 week after amputation and 6 1/2 months after lung mets, she was the goofiest dawg ever and is now happily flying from cloud to cloud woof woofing away :-) 
Our hearts break with yours.  We are so very, very, very sorry.
But please know this.  Paka Tom would not trade places with any of kitty in the world if it meant he could not have you as his partner while in his earth clothes!  Animale have a "knowing" that this is merely a transition and not an end.  Tom u understands he needs ro shed himself of an earthly body that no longer serves him.   Tom nas no fear. 
What I'm gping to say I hope brings you some comfort and I certainly don't mean for it to be upsetting.  Since there is no cremation, perhaps it will bring you some comfort to make a little imprint of Tom's paw on a sheet of paper.  Perhaps you could use some food coloring, something like that if you don't have an ink pad.  You could also save some of his fur.  You could also clip a bit of your hair and tape it over his heart, along with a picture of you.
Tom is showing you he's ready.  He already has his sites set on the Wellcoming Committee ready to greet him at the Bridge!
As Eurydice said (and she knows), there will be a feast waiting for you like you wouldn't believe!  Tom will be soaking up the sun rays and eenjoying all the joys of being pain free!
Tom is very special to us.  Your devotion is very special to us.  Tom will ALWAYS be one of our bravest little heroes and will never be forgotten here!

Stay connected.  We are sending love and support, peace and strength.
Lots of love
Sally and Alumni Happy Hannah and Merry Myrtle and Frankie too!
Happy Hannah had a glorious additional bonus time of over one yr & two months after amp for osteo! She made me laugh everyday! Joined April's Angels after send off meal of steak, ice cream, M&Ms & deer poop!

Forum Posts: 1660
Member Since:
1 October 2017

Offline

My thoughts are with you. You CAN tell him, and why. I believe he will hear you with his heart. Call me crazy but I do believe they have the capability of understanding us by the feelings that are shared. Don't be afraid to talk to him, his heart will hear you. You have been a wonderful pawrent and care giver. So selfless and so loving. Sending you long distance hugs.
Jackie and Huckleberry


Hugs,
Jackie, David, Mitchell, Andy Oscar, and the coolest feral tripawd kitty Huckleberry


Michigan

Forum Posts: 1618
Member Since:
11 July 2016

Offline
We are so very sorry to hear Paka Toms time has come. Our hearts break with yours! You are giving Tom the ultimate gift we can give our animals! PakaTom will no longer suffer you gave Tom the longest quality of life possible.
He thanks you for all the special time you guys have had. Tom understands so please tell him how you feel, whats happening and thank him for all he has shown you and the love you have shared.
You will see each other again some day! Until then you will carry him everyday in your heart!
Much Upendo to you both!
Chin Scratches to our Mashujaa Paka Tom!
(((((HUGS)))))
Holly & Purrkins❤️
Jambo Mama & Paka Tom,
my prayers are with you at the deepest level right now. I know that you are mere hours away from saying goodbye to you very special and Mrembo boy… know that we will be with you in spirit across the miles, hugging you at your very painful time!

Yes, you can tell him everything in your heart, he understands at a level that would surprise us all! Tell him a million times over why you have done all of these incredible things for him and how much you love him! He's telling you too Mama that he has finished his earthly duties and he will be eternally grateful that you, his Mrembo Mama, took the very best care of him in order for him to complete his journey here on earth with you loving him deeply! We will tell you what can't put into any language… Thank you for being so brave! Thank you for taking such incredible care of him! Thank you for having the faith that you could do that much more for him! Thank you for loving him enough for him to gain his mtanashati Mashujaa Wings!

Much Upendo and more to you Mama. Know that you are in all of our hearts and we feel very deeply for you. Know that you can reach out and touch base with us here. If you start a new forum, just put a note here telling us the title and we will be alerted in our emails.
Paka Tom won't mind what you do with his earthly clothes, it's more important that you keep loving his spirit! You know that will never change right!

 Asante Sana for introducing this incredible boy into our lives, he will always be remembered as our Mashujaa Tripawd! 
May Paka Tom feel all the spirit kisses from around the world as his wings take flight! 

 Kwaheri Brave Paka Tom!

And Fare Well Mama! 💗
Massive hugs from Petra, Paul, Stewie and his feline family, Spike, Chester & Miss Lily💕
You are in our thoughts and hearts, we are truly sorry. Paka Tom knows how much he was loved, I have no doubt. 
Heaven has a beautiful, happy and healthy kitty now, and the skies are brighter and more beautiful than ever. As your heart and head come to terms with his physical absence I hope that knowing his spirit is strong and eternal will help you heal. In time it happens. For now, grief is the price we pay for having such a beautiful creature in our lives. I'm so sorry you are going through this.
Thank you so much for allowing us to be on the journey with you. It's been an honor to meet you and Paka Tom, you've taught us so much and this community is even better because of it. We are eternally grateful.
Asante sana to you as well, much upendo is coming your way from all of us.
xoxo
Forum Timezone:
America/Denver
Most Users Ever Online: 597
Currently Online:
52 Guest(s)
Currently Browsing this Page:
1 Guest(s)
Devices Used: Desktop (45), Phone (7)
Member Stats:
Guest Posters: 1005
Members: 12751
Moderators: 2
Admins: 3
Forum Stats:
Groups: 4
Forums: 23
Topics: 15021
Posts: 211499