Join The Discussion
Learn about life on three legs in the forums below. Browse and search as a guest or register for free to take advantage of member benefits:
Instant post approval.
Private messages to members.
Subscribe to favorite topics.
Join the Live Chat and more!
Help Your Tripawd Swim!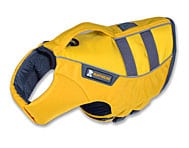 Three legged dogs swim safer and have more fun with the K9 Float Coat from Ruffwear!
A
A
A

Harrisonburg, Va
Forum Posts: 118
Member Since:
29 July 2009

Offline
I've been reading as many posts as I can but was wondering in general what the ratio of people who chose chemotherapy/metronomics is to those who have chosen holistic therapy (diet, supplements) on this forum. Some pick both. I'm hearing and reading a lot more against chemotherapy and how successfull/worth it it really is, but I want to do all I can. For my dog who is 13, I'm leaning holistically. How much weight does an oncologist or other specialist's opinion bare on what you ultimately decide?

Kirkland, WA
Forum Posts: 739
Member Since:
2 June 2009

Offline
My dog, Jack, is only 5, so we chose to do chemotherapy since if it did work, he could still crank out a couple good years or even more. However, I do feed him holistic Blue Buffalo salmon food which is high protein, has fruits and vegetables, and is full of omegas. I also give him k-9 immunity, transfer factor, and have him on astragalus extract, pau d'arco, and flax seed oil. Once mets show up our Oncologist plans to switch to Carboplatin (we're on adriamycin now) and I plan to give Jack shark cartilage which may help reduce the blood vessels in tumors.
I figure, supplements can't hurt (but be sure to check with your doctor as some herbs can have reactions with certain medicines)! Metronomics seems really promising, but for some reason our oncologist doesn't recommend it (something about toxicity levels in the kidney??). Our oncologist's opinion matters greatly as she is the expert, but at the end of the day, you have to do what you think is right so you don't regret your decisions or wish you had done something different.


Forum Posts: 1897
Member Since:
22 August 2008

Offline
I did chemo on Tazzie since most dogs live longer after getting some form of chemo. We did carboplatin every 3 weeks for 5 treatments with minimal side effects. I tried metronomics for Tazzie but had to stop after 6 weeks due to a bad bladder infection (common with Cytoxan). Now we are using artemisinin as well as fish oil, Power Mushrooms, and antioxidants.
I would take the advice of your oncologist since they have more experience with drug outcomes and follow-ups than surgeons do.
Pam and Tazzie
What a great question, we'll be sure to use this in our Tripawds Survey.
We chose both metronomic therapy and herbal supplements, because like Dr. Dressler, we believe in tackling any health issue with a "Full Spectrum Care" approach. We just felt that covering all of our bases was the way to go.

Forum Posts: 224
Member Since:
4 December 2008

Offline

Hi–
I guess we are falling into the category of doing both. Tika eats definitely better than my husband and I (well, except for the once weekly treat of MickeyD's french fries

, hey, you would too if you saw her reaction)
We have her on Innova Evo (high protein-low carb), and we are doing metronomic protocol. We just started the IL-2 therapy (immunotherapy) to help stop the lung mets from growing.
Even though her horde of doctors haven't said no, they did suggest we wait until IL-2 stopped before adding the K-9 Immunity. It does make sense.
Our big teddy bear Malamute is only 5 years old and we are trying as hard as we can to prolong the inevitable. Of course, we need to be careful that our attempts are working against each other!
Good luck!
Kim

Forum Posts: 930
Member Since:
26 November 2008

Offline
We fall more into the camp with Pam and Tazzie. Cherry's chemotherapy started literally hours after the amputation, a total of 4 treatment of carboplatin 3 weeks apart, but did have complications. Cherry lost all appetite during the treatments and I had to stuff nearly every morsel of food during the treatments. There was a desire by the oncologist to reduce the dose to help the appetite problem but since small reductions in the dose result in large reductions in the effectiveness, I resisted with all my strength. This clearly was the correct choice for us. As the treatments and examinations continued other issues arose regarding potential tumors in the kidneys and para-thyroid. In both cases the treatment was the chemotherapy that we were already doing so we did not have additional exploratory surgery or biopsys to confirm the potential diagnosis. We are less that a week from our nine month ampuversary and things could not be better. The appetite is very good (not excellent), the spirit and activity levels are excellent. I have not started additional supliments yet because of the tenious appetite problem but probably will soon.
Good Luck,
Bob & Cherry

Forum Posts: 1216
Member Since:
20 May 2009

Offline
We followed the chemo route with Emily. I wanted to start K-9 Immunity but because she is in a drug study they want us to wait on that. We absolutely took the oncologist's advice on what to do because we had no idea and took comfort in thier expertise. We did change the Emily's food to Innova Evo with no grains.
Debra & Emily, a five year old doberman mix, who was diagnosed with an osteosaecoma. She had a right rear leg amputation on May 19, 2009. On November 10, 2009 she earned her wings and regained her fourth leg.

Harrisonburg, Va
Forum Posts: 118
Member Since:
29 July 2009

Offline
I had a really long talk today when I picked up Mac from the hospital with the internal specialist. She doesn't outright go against chemo, she is just skeptical how much it outweighs the side effects in the end. She pointed out that while an oncologist is very gung ho with chemo and will almost always recommend it no matter what, an internist is more occupied with the side effects on the various organs and appetite and overall damage so comes at the matter with extreme caution. Since a lot of the chemotherapy drugs can wreak havoc on the kidneys and he's fighting against kidney damage, we will have to wait to see if it's even an option. If his numbers come up then chemo can be discussed. One of the drugs that begins with a "c", I wish I remembered which she said, causes really bad kidney damage and wouldn't be an option at all. You guys seem to have mostly good stories about chemo in general with mostly minor expected side effects.
As for the holistic approach, she said that most studies done on herbs aren't done very professionally and that she worries about the quality of some of them, especially the ones that come out of China, for toxicity. She even said that the whole "cancer diet" consisting of high-protein, low-carb was based on a very small study by one guy that was very unprofessional and subjective and thinks the whole thing is totally unproven. That made me feel great for putting him on that kind of diet just a couple weeks ago lol. She does however recommend the fish oil supplements and thinks that mushroom immunity boosters can't do any harm. I'm not familiar with the IL-2 Therapy that Tikaani mentioned. Google time!

Here and Now

Forum Posts: 11460
Member Since:
25 April 2007

Offline
Interesting take on the low carb canine cancer diet … never heard that viewpoint before. It sure worked for Jerry!
But then, that's whay we started these forums in the first place – not enough data exists. The more real case studies and results we can share here the better!


Forum Posts: 1897
Member Since:
22 August 2008

Offline
The chemo drug that you want to avoid is cisplatin since it can harm the kidneys of even a healthy dog. Carboplatin is much safer and I gave it to Tazzie even though she had pre-existing liver disease and she had no problems.
One of the big proponents of high protein/low carb diets is Dr Greg Ogilvie and he helped develop the N/d lymphoma cancer diet so I would not say that it hasn't been studied professionally. If your dog does have kidney issues this might not be the safest diet, though. Because of Tazzie's liver she can't have high protein either so she gets California Natural Lamb and Rice supplemented with veggies and chicken. Evo has a protein content of about 45% but I wouldn't go much higher than the 30% range depending on the status of your dog's kidneys.
I would still see what an oncologist has to say.
Pam and Tazzie

Forum Posts: 1216
Member Since:
20 May 2009

Offline
Pam, are you the vet? Your advice is always so well informed and helpful and I know someone is a vet so I am wondering if it is you If so, thanks for sharing so much information and if not, thank you for so much information anyway. I always appreciate your view point.
Love this whole community. Everyone is so encouraging. I am so grateful to all of you. Oh m gosh, is that too sappy?!
Debra & Emily, a five year old doberman mix, who was diagnosed with an osteosaecoma. She had a right rear leg amputation on May 19, 2009. On November 10, 2009 she earned her wings and regained her fourth leg.

Livermore CA
Forum Posts: 684
Member Since:
24 January 2009

Offline

And, there are a few of us for whom chemo wasn't an option because of the cost. I'm there, but I lean toward a holistic diet and supplements program anyway. That's how I take care of myself.
Since the last discussion, I've switched Cemil to Nature's Variety Instinct (grain-free ) Rabbit, because it seems to be less warm than chicken or beef. I learned that here! And he gets vegetables and a handfull of supplements with each meal, a spoonful of probiotic powder, and a dose of Hoxsey formula.
I asked Dr Williams about artemisinin and now I have more things to consider. I think she was right, though, with the "bottom line": There is no Silver Bullet. So (in answer to the original question), I relied on her advice and did a lot of research myself and came up with a program that suits us.
Cemil and mom Mary, Mujde and Radzi….appreciating and enjoying Today
Too sappy? Never! We love you guys back!
AKElliot
Just had a 7 year old miniature schnauzer diagnosed with lymphoma. I have decided not to do chemo but I need a diet plan to start feeding him. I have been reading about the no grain, high protein, low carb, no sugary and high fat diets and Hills Science Diet N/D is being promoted by my vet. But it is for dogs on chemo and I fear the high fat content. Anyone have any ideas about what to feed him to help him out the most? It would be greatly appreciated.
Thanks
A K Elliot
Hi A K, thanks for visiting us. We're so sorry about your schnauzer's diagnosis. You sound like a great parent who will do everything to keep him healthy.
Unfortunately we don't know a lot about lymphoma. Most of us are here because of bone cancer, and most of the diet recommendations we have here are targeted at dogs battling this kind of cancer. You can check out our Health Tips page for some ideas, but I really suggest reading Dr. Damian Dressler's Dog Cancer Blog to find out more about lymphoma-specific diets. He's a wonderful doctor who has a lot of extensive, cuting-edge information that can help.
Good luck to you and you pup.
Forum Timezone:
America/Denver
Most Users Ever Online: 597
Currently Online: jessiemurrenus, Bear
46 Guest(s)
Currently Browsing this Page:
1 Guest(s)
Devices Used: Desktop (44), Phone (4)
Member Stats:
Guest Posters: 1005
Members: 12757
Moderators: 2
Admins: 3
Forum Stats:
Groups: 4
Forums: 23
Topics: 15023
Posts: 211539