Caring for a Three Legged Dog or Cat
Tripawds is your home to learn how to care for a three legged dog or cat, with answers about dog leg amputation, and cat amputation recovery from many years of member experiences.
Learn how to help three legged dogs and cats in the forums below. Browse and search as a guest or register for free and get full member benefits:
Instant post approval.
Private messages to members.
Subscribe to favorite topics.
Live Chat and much more!


Prednisone and Dog Cancer Tips

Read the original blog post
Add Reply
Add Topic
Prednisone is the topic of many conversations here at Tripawds, since lots of our members with cancer, like Ajax, are including it in their cancer regimen.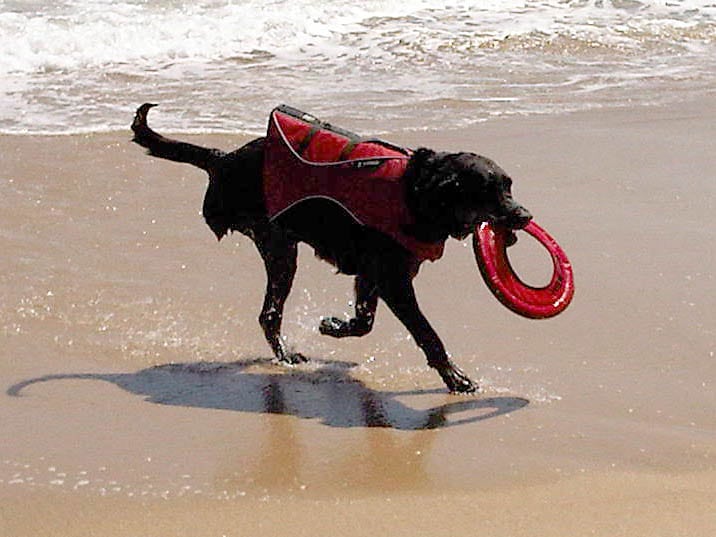 Because, prednisone is a serious drug that can have mild to serious side effects, let's take a minute to discuss how you can make the most of this therapy without putting your Tripawd at risk.
What is Prednisone?
This steroid drug, usually prescribed in pill form, is used to reduce inflammation, redness and swelling in the body caused by auto-immune disorders, cancers and other diseases affecting the immune system. Prednisone is not a chemotherapy drug, but is used in conjunction with chemotherapy protocols to treat dog cancers such as mast cell cancer, lymphosarcoma and lymphoma. The dosage will vary depending on the disease being treated.
Prednisone works fast by decreasing the immune system's response to inflammation and pain. It affects nearly every system in the body and should be used with extreme care, only when necessary and rarely for long-term use.
When to Take Prednisone
Recently Dr. Demian Dressler, author of the Dog Cancer Survival Guide, stated in this blog post that veterinary overuse of prednisone has given this class of cortisone drugs a bad rap. Many diseases can be better managed with less serious drugs, but some vets are too quick to reach for this fast-fix. Consequently, a significant number of dogs experience prednisone's serious side effects when they really don't need to.
While prednisone can cause serious side effects such as poor wound healing, thinning fur and skin and even diabetes or Cushing's Disease, prednisone does provide many benefits, such as managing cancer's side effects in dogs. However, prednisone should always be used with caution and only under direct veterinary supervision.
To reduce your dog's risk of experiencing the downside of prednisone, always get a firm diagnosis of the condition you are trying to treat and ask your vet to give you a definite time-frame for starting and stopping treatment. You'll also want to use the least potent form possible to alleviate symptoms.
What to Expect
Many dogs will experience insatiable thirst and frequent urination while taking prednisone. Since your dog will want to drink more water than usual, and in turn, urinate more often, give your dog the prednisone in the morning. Allow as much water as your dog wants, but adjust your schedule so that your dog can eliminate outside. To avoid nighttime indoor accidents, don't hesitate to remove water a few hours before bedtime.
Your dog may be hungrier than usual. Keep your dog's weight in check by only feeding healthy, low-cal treats such as green beans and celery inbetween meal times. Baby-proof your house; your dog may eat weird things that he normally wouldn't.
A rarer but more serious side effect can include stomach ulcers and personality changes. Do not give your dog predinisone if she is also on an anti-inflammatory medication such as Rimadyl or aspirin. Watch for black tarry stools or vomiting, which can be signs of stomach ulceration. If you notice a severe personality change in your dog, call your vet.
The sooner your dog can complete treatment with prednisone the better, but never, ever change or stop the prednisone dose without consulting your vet first. Doing so may put your dog's immune system into shock. For dogs battling cancer, your vet may want to keep your dog on a long-term, low dose regimen which usually requires regular monitoring.
Jerry's Prednisone Story: Share Yours Too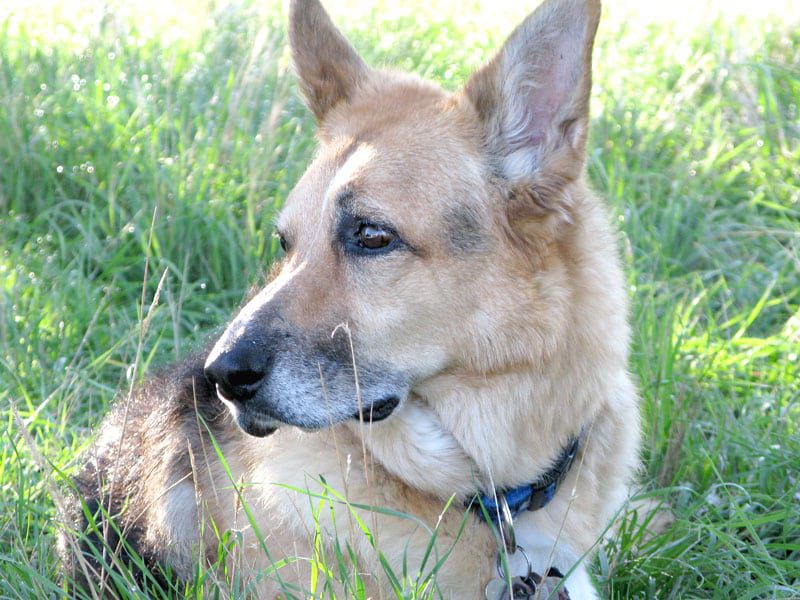 Back when I was being treated for later stages of my osteosarcoma lung metastasis, my oncologist prescribed prednisone and albuterol, a  bronchodilator, to help alleviate lung inflammation. I was coughing so much that my lungs hurt, and the predinsone was supposed to help make me feel better. Well, it did and it didn't. It made me hungry again and I also stopped coughing so much, but at the same time my pawsonality changed so much that I just didn't feel like the same dog. I didn't continue on this therapy once my pawrents and I decided that we wanted to live out the last bit of my time on earth without experiencing side effects from drugs.
If you have experience using prednisone as part of your dog's cancer regimen, please share it in the comments section below or in this Discussion Forums post. Thanks for sharing your story so that it may help others.
Recommended Reading
Dr. Demian Dressler: Prednisone for Dog Cancer
Veterinary Partner.com: Prednisone / Prednisolone
The Bichon Frise Club of America: Prednisone, the Good and the Bad
Tripawds News Blog: Stop the Presses, I'm Feeling Good Today!
Tripawds News Blog: Saying Goodbye: How We Knew (Part 1)

Member Since:
13 June 2011
Offline
Bo's OSA had obviously spread to his lungs because of the coughing and tiredness. We never had xrays to know for sure, but we knew it was there. His appetite had decreased, but he still seemed happy. We were close to making he decision to set him free, but after his final trip to the beach, he showed us that he wasn't quite ready to go.
We made the decision with our vet to try Prednisone. We gave him a dose that evening. It was miserable... Bo's heart was racing, he was panting, he was thirsty. His body was so tired and it felt like we were trying to amp it up. We decided not to use it anymore.... Until the next morning when Bo got up on his own, went out to potty, scarfed down his breakfast, and had a genuinely good day. We talked to the vet and lowered the dosage and the Prednisone use gave Bo about 2 extra, high quality of life weeks with us.
For use in Bo's situation, it was important to realize that although on the outside he looked and felt great, his insides were still deteriorating. It was hard not to think that he was getting better. But, Bo's final weeks were happy, pain free, and "normal", thanks to the help of the Prednisone.
We've had prednisone prescribed for a lot of different conditions during our many years of pet cohabitation: from skin rashes to allergies to cancer. But this year is the first time that I've ever questioned its potential for side effects.
Rio was prescribed prednisone during her chemotherapy regimen two years ago. The purpose was to minimize the side effects of a potentially toxic chemo drug. Pred was supposed to speed healing to the tissues, and to help alleviate inflammation and pain. Last fall, before this most recent round of cancer drama, I started noticing Rio's hair was thinning. I chalked it up to aging, although she really didn't seem like she was having much else in the way of "old dog" symptoms. Not much in the way of joint pain or weight gain, although when she laid down, she looked a little bloated. She also seemed hungrier than normal, and was occasionally wetting the bed. As we went into winter, the hair loss became more noticeable -- to the point where I bought her a fleecy to keep her warm when she went outside. You could see skin through her hair.
When we finally got brave/scared enough to go to the doctor's for "the" lump in January, I asked them about thyroid disorders or other causes behind Rio's hair loss. We did a full blood and urine work-up, and her numbers came back with some anomalies. Her alkaline phosphatase was sky-high and her cholesterol, triglycerides and microalbuminuria were high as well, and her T4s were low. She also had an elevated pH in her urine. While none of these findings screamed Cushing's, they indicated enough of a system imbalance to do some additional testing. We did a creatinine/cortisol ratio test to check for elevated cortisol, and followed it up by an ACTH stimulation test. By this time, we were already into our chemotherapy regimen (see our blog for more details about this). I had questioned the use of prednisone during Rio's chemo, because we were pretty sure that she did have Cushing's, but our oncologist thought that the risks outweighed the benefits. She said she'd never had issues giving Cushingoid cancer dogs Pred in the past.
Cushing's is one of those diseases that is kinda tricky to nail down. It can be caused by a benign tumor in the pituitary gland, by a cancerous tumor in the adrenal glands, or by overusing steriods such as Prednisone. There are a number of tests to determine Cushing's, however many of them simply rule out other causes, rather than a definitive diagnosis. However, when Rio's skin started developing raised bumps and peeling off in sheets, we took a few punch biopsy samples and the diagnosis was clear -- calcinosis cutis -- calcium and other mineral deposits in the skin -- a side effect of only one known disease. At that point, although Rio's numbers were still borderline for Cushings, we went with the theory "walks like a duck, quacks like a duck, must be a duck." (Although we haven't truly nailed down the source of Rio's Cushings, we believe that it is originating in her pituitary gland.)
We immediately stopped using the Prednisone (usually you do a taper-off, but under doctor's orders, we just stopped) and started Rio on a drug called Trilostane. Within weeks, her hair started growing back. Where she had been shaved for her surgery, her hair had completely fallen out from the roots (she looked like a ham), but within just a couple of months on the Trilostane, her hair returned, soft and downy at first, but then completely filling in. Because Rio isn't just dealing with Cushing's, but also battling metastatic cancer, her internist wants to keep her cortisol levels higher than in a normal Cushings-only situation. This should help with her overall mobility, joint health and pain management , not to mention the pulmonary inflammation she's recently developed. Unfortunately, this also means that her patches of calcinosis cutis will likely never go away.
While I can't definitively point at Prednisone as being the cause of Rio's Cushings, as it is a relatively common malady in older dogs, I can say that the Pred definitely made it worse. She went from being this beauty, from having a silky-soft, glossy black and brindle coat to having naked, crusty, tortoise-shell skin in a matter of a month or two. Her high, narrow waist turned into a slack pot belly, and her well-muscled thighs looked sunken. Not to mention her excessive thirst, frequent potty accidents (while she was asleep) and raging appetite.
In hindsight, I probably should have pushed harder on the oncologist or spoken to the internist sooner. However, I know better now, and this knowledge will definitely color any future Pred usage in my household.
~ ~ Rio ~ ~
Forever in my heart...
April 2000 – January 20, 2012
Diagnosed with Mast Cell Cancer in June 2007. Left rear leg amputated Feb. 8, 2011.
Mets discovered Aug. 31, 2011. Read more of Rio's story here.
Poor Rio, I think you should be the headliner instead of Ajax ... speaking of which:  Admin, can you make that photo of Ajax above his avatar?  I am remedial.
Here is my promised longer post on Ajax's prednisone experience:
Ajax was diagnosed with a mast cell tumor, grade 2.  Surgical removal was complete with good margins and mitotic index was low (1 in 10), but because several of the other "markers" typically tested for showed a possibility of this being a "high" grade 2 (i.e., more like a grade 3), further post-op treatment was prescribed.
Specifically: 
3 mos traditional chemo (vinblastine)  + prednisone
then
3 mos Palladia + prednisone
Prednisone was given in a loading dose - 1.5 pills/day for the first week, 1 pill/day for the second week, .5 pill/day for the third week, and .5 pill every other day from then on.
We definitely noticed increased hunger and thirst and related need to pee.  Otherwise, he seems to feel better on the prednisone, and as the dose has stabilized so have his drinking and eating issues.  I don't know if this is because of the lower dose or just that he is monitoring himself.
He is shaved in so many places I can't tell if his hair is thinning, but he feels great, we're happy with the prednisone so far.  No other side effects though the vet did make sure that there was a week off of Rimadyl before starting the prednisone.
So far, so good ...
kazy55 said:
...can you make that photo of Ajax above his avatar?
Done. You may either need to clear your cache, force-reload the page, or give it ample time for your browser to stop loading the cached version of your avatar.

Ajax, we're glad this is working for you! It's good to know that things can stabilize when a dawg is taking Pred.
Micki and Rio, we're so sorry you experienced the harsher side effects from this drug! I have always had both fear and respect for this pill, which can do wonderful things and help dawgs feel better, as Ajax is showing, but I also know that is can be one of the worst things a dog (and human for that matter!) can take because of the way it affects the immune system without eliminating the real cause of the symptoms. So many doctors hand it out like candy!
I learned about the disadvantages of going on Pred after reading Dr. Marty Goldstein's book, "The Nature of Animal Healing." Dr. Marty is Oprah's vet and one of the world's leading experts on holistic medicine for animals. If anyone is at all interested in learning more about the ups and downs of pred, as well as other standard conventional medicine drugs, I highly recommend this book.
Glad you're doing so much better Rio, that's a really scary story. You have a GREAT team on your side!
Rio was on a similar regimen (minus the Palladia) to what Ajax is on two years ago when the previous MCT appeared. This time she alternated between Vinblastine and CCNU and initially, Pred.
I'm not saying that Pred isn't a valuable drug, but like Jerry said, it can also have very harmful side effects, and yet, the vets seem to hand it out like candy. In fact, when Rio's lung inflammation popped up, even with the Cushings, the first thing her vet said was that she was tempted to put her on a low dose of Pred. I love my vet, and I know that she loves Rio and would only do the best for her, but this is a case where she can't just do what she would normally do.
In my opinion, the use of Prednisone is very similar to the overuse of antibiotics (which has led to resistant bacterias). Doctors are busy folks, with many patients to see, and they tend to go with whatever has worked for them on their other cases. Additionally, patients tend to expect to get a pill (or drops or cream) to fix whatever ails them. It's our responsibility to question their doctors and get the whole picture rather than just taking the drugs that are prescribed. We have to weigh the positive effects of the drugs with their potential negative side effects.
~ ~ Rio ~ ~
Forever in my heart...
April 2000 – January 20, 2012
Diagnosed with Mast Cell Cancer in June 2007. Left rear leg amputated Feb. 8, 2011.
Mets discovered Aug. 31, 2011. Read more of Rio's story here.
I also meant to add, Rio's Cushings is not iatrogenic Cushings, or "caused by the over-administration of corticosteroids." She likely would have developed Cushings even if she had never been given any Prednisone. What the Prednisone did, in her case, was to push her body's own steroid production levels to critical, hence the calcinosis cutis. She will need to take medicine to control this disease for the rest of her life.
Here's more info on Cushing's Disease (which is different than Cushing's Syndrome) if you are interested in reading more.
~ ~ Rio ~ ~
Forever in my heart...
April 2000 – January 20, 2012
Diagnosed with Mast Cell Cancer in June 2007. Left rear leg amputated Feb. 8, 2011.
Mets discovered Aug. 31, 2011. Read more of Rio's story here.
Admin says "You're welcome!"

Member Since:
4 December 2013
Offline
Wow, just been surfing through tripods to find stories of neurofibrosarcoma, and found this.....explains a lot!
Pepper was put on prednisolone in December. She had a front amp in september due to chronic muscle wastage -unkown cause- then after a 2nd mri was done in december to rule out anything dodgy, as a nerve had looked abnormal, the nerves looked even more abnormal so a fluid sample was taken as well and 2 tumours were diagnosed. We were offered radiotherapy but for various reasons (my blog may explain this..well when I update it anyway!) decided not to go down this route. Peps is on 1 tablet a day forever with a recommendation for pain meds when and if needed in the future.
Now the explaining bit.......her fur from her amp site has grown back very wispy and thin (I did wonder if this was normal) and where they took the spinal fluid sample, this has also not grown back at all. She drinks loads of water and is getting me up every night to go out. I did change giving her the pill from morning to night due to her food being different at those meal times and she won't eat it with just dry food but I think I will change it back and she'll just have to eat it wrapped in ham!! She pants quite heavily in the evenings but we thought that was because we have the heating on then so she was hot....but maybe not......also after manically eating a raw hide chew!
Her appetite...OMG.....she has always been a scavenger but it has got much worse. She has even pinched food from our plates that we left on the coffee table, right in front of us!!!!! Our daily walks have to be strategically thought out and quite often we have to keep her on the lead as she'll go deep into the bushes to hunt out cat pooh and will go 'deaf' to being told to come. Anything on the path that looks like it might be food requires a divert and thorough sniff in case its edible. I do tend to get quite exasperated with her and find myself in tears sometimes because I just want to enjoy our walks while we still have them
Anyway reading this info has really opened my eyes and while I hope that maybe all these symptoms might even out as in some cases, I will be moving the pill to mornings again and feeding earlier in the evening. I'm not sure about taking up her water at night as I'm worried that if she has a massive drink in the morning she'll be peeing all day and we are out at work the majority of it but we'll see. I am also going to ring the specialist and ask about anything else we could try as she has all the side effects presenting.
Thanks for all the info.
Niki x
Niki we're so glad that you took the time to read and comment here. Every story, every experience, brings comfort and peace of mind to others, thank you for that
Please let us know what the specialist says. Hugs to you and Pepper.

Virginia


Member Since:
22 February 2013
Offline
Peppy! Gad to hear from you and glad you posted here! It was good to re-visit pred. as a "treatment".
Many of my dogs have been on and off it over the years for various "challenges". My vet is VERY cautious about prescribing it and only does so when e KNOWS it is necessary and will bring more benefit that harm. In most cases, it was for short term use and, if longer, a low dose. But everytime I was able to see the benefit. And oddly enough...and I've been lucky...side effects were almost non-existent...other than better appetite (which was needed anyway in most cases) and thirsty.. As woth everything else on this journey, EVERY dog is different!
I had to laigh about the STRONG desire for the delicacy of cat poop!! No, that has NOTHING to do with prednisone and everuthing to do withntheir taste buds!

My Happy Hannah is a sweet, gentle, squishy chunk of a girl. If she gets so ething she shouldn't jave, all I have to do is say very nicely, "give" and she drops it right then and there just a waggin'.......UNLESS it's CAT POOP Or deer poop!!

She has found Nirvana and will not give it up!! She puts her 120 lb. chunk of a body head first into that delicacy and you couldn't get her to give it up with a slege hammer

But ya' know what? She's happy and being a dog! That's ALL that matters to me. Her leg was removed for osteosarcoma.. Now, don't get me wrong, I certainly dn't want er to eat it and I'm aware it's not good for her. 'Guees it's sorta' like the prednisone in her case.....if the benefit (in her mind) outweighs the harm...chow down


So go on and let her enjoy her walks and don't worry if she sneaks a little "treat" every now and then! We humans eat "crap" that's not good for us all the time!! Well.....er.....not literally!!
Please update when you can! and you KNOW we want to see more pictures of Peppy Poo!!
Sending you all the best along with a whole lot of hugs!
Sally and Happy Hannah
Happy Hannah had a glorious additional bonus time of over one yr & two months after amp for osteo! She made me laugh everyday! Joined April's Angels after send off meal of steak, ice cream, M&Ms & deer poop!
Forum Timezone:
America/Denver
Most Users Ever Online:
946
Currently Browsing this Page:
1
Guest(s)
Member Stats:
Guest Posters: 1255
Members: 17274
Moderators: 5
Admins: 3
Forum Stats:
Groups: 4
Forums: 24
Topics: 18425
Posts: 254149
©
Simple:Press
—