Caring for a Three Legged Dog or Cat
Tripawds is the place to learn how to care for a three legged dog or cat, with answers about dog leg amputation, and cat amputation recovery from many years of member experiences.
JUMP TO FORUMS ↓
Join The Tripawds Community
Learn how to help three legged dogs and cats in the forums below. Browse and search as a guest or register for free and get full member benefits:
Instant post approval.
Private messages to members.
Subscribe to favorite topics.
Live Chat and much more!
(0

votes)
Honorary Tripawd Spokesdog, Nellie B. Dawg is Official!
Read the original blog post
Add Reply
Add Topic
We are total foster failures. Honorary Tripawd Spokesdog Nellie is here to stay!
Looking for Love (in the Wrong Dogs)
People say that when you stop looking for the love of your life, they'll come to you. Well that's exactly what happened when we stopped looking for what we considered the "ideal" representative of the Tripawds Nation. Several months after Tripawds Spokesdog Wyatt Ray got his wings, we created a criteria for our next rescue dog. It looked something like this:
must be a front-leg amputee, or ideally a Tripawd prosthetic candidate
must have pointy ears, preferably a German Shepherd but just about any herding breed would do.
must be friendly with people and other dogs
must love car rides, new places and adventures
It didn't matter if the dog was male or female, young or old. As long as the dog fit the other criteria, we were good with that. We even joined Pawdoption Guide (more about this service in a future Tripawd Talk Radio episode!).
Some dogs came really close, but none were the best match for us. It seemed like we were never going to have a dog again.
Then Nellie appeared. We were smitten.
With 48 hours to her euthanasia deadline at the shelter, we took her on as a foster dog for two big reasons. First, she needed out of the shelter immediately. Second, we wanted to find out more about that wonky leg she was lugging around. Something about her just called out to us.
Meet Honorary Tripawd Spokesdog Nellie B. Dawg
As our foster dog, Nellie impressed us with so many pawesome characteristics.
She has an easygoing personality, and loves traveling. New places? She loves them! This dog doesn't care when her house on wheels moves around.
As she showed us on her AAHA Day vet visit, Nellie also doesn't mind hanging out at the veterinary clinic. She also isn't bothered by getting her nails trimmed, or being groomed.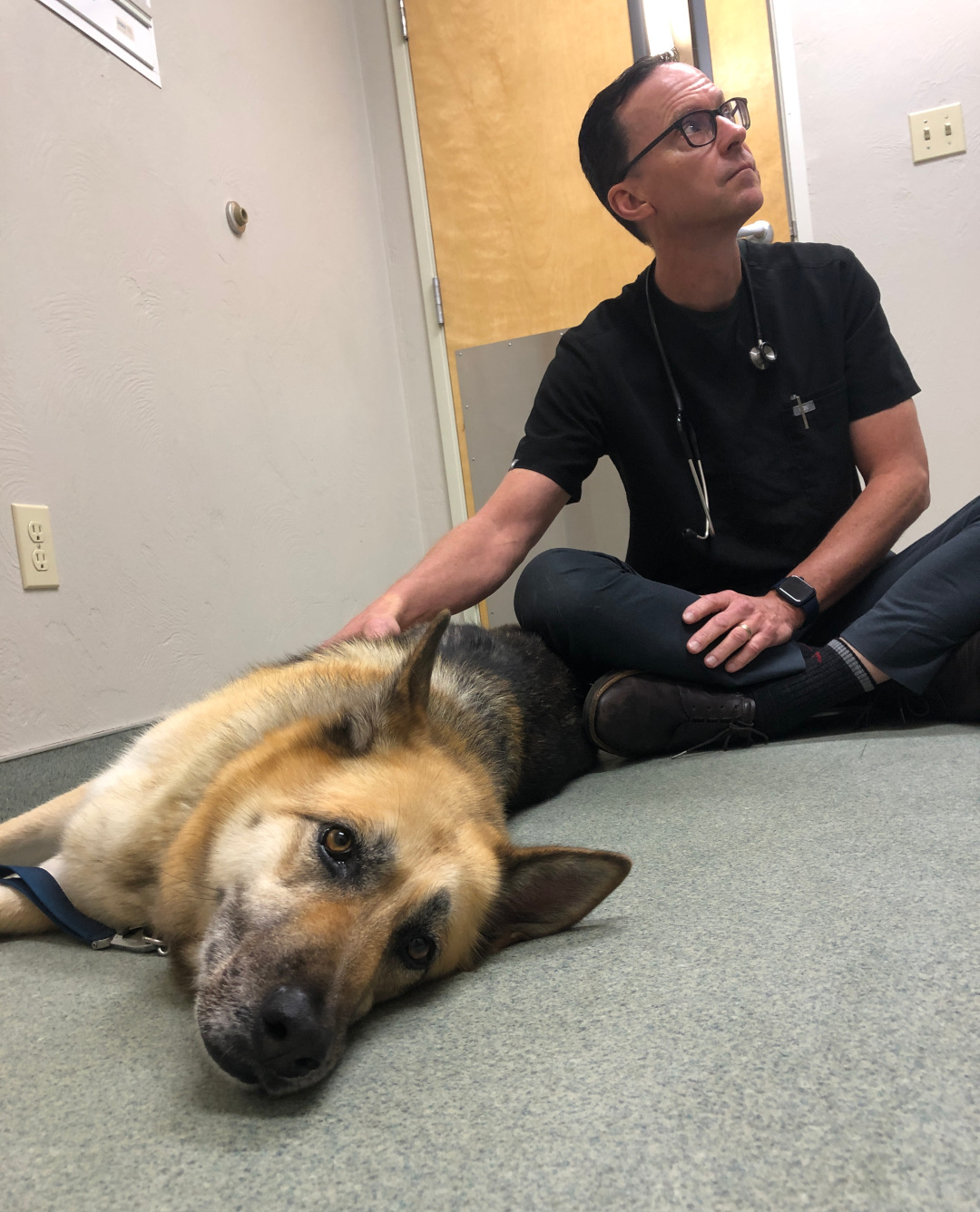 She seems to like other dogs too, but hasn't played with any just yet. We are taking that department real slow, until we build a stronger bond.
About That Wonky Spare Leg ...
Nellie's not an amputee. But her front left leg was broken at some point, and not properly cared for. Her rehab therapy visit revealed that she can use it for balance, but it's not serving her as a working leg.
For now, her leg stays. At her advanced age (estimated to be about 8), we don't want to put her through an amputation if she can wear a support brace to help her mobility. That's something we are looking into during the next few months.
Amputee or not, she's our honorary Tripawd spokesdog!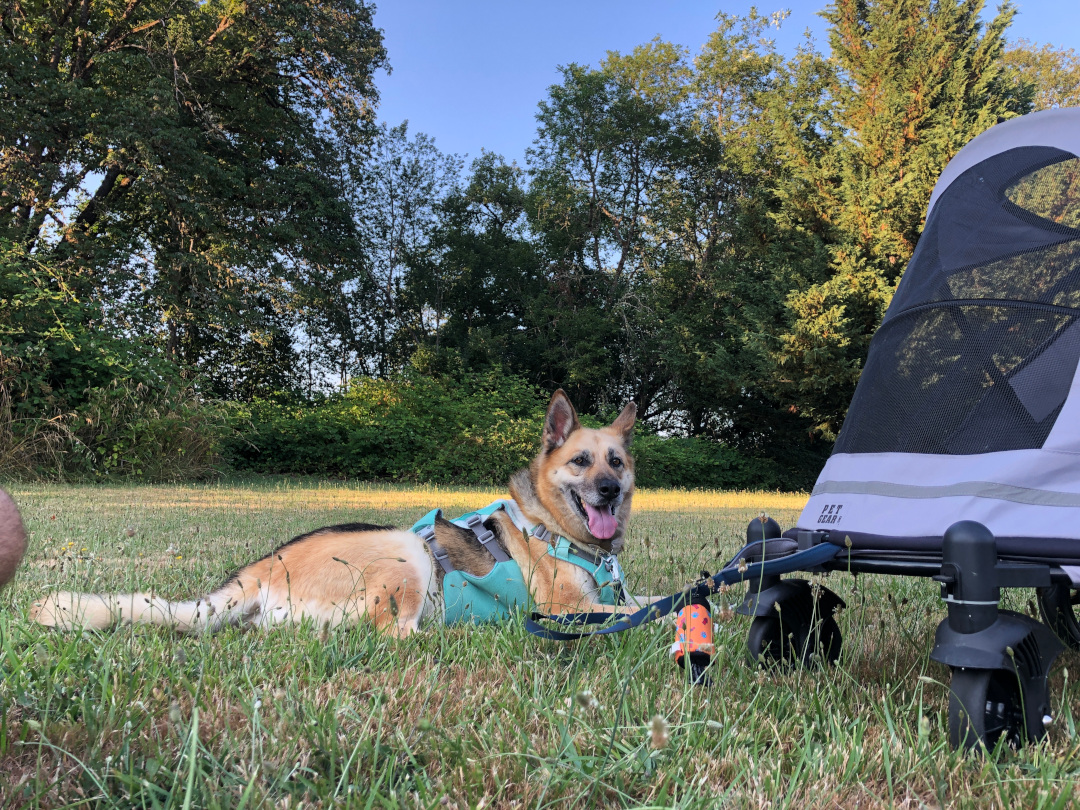 We couldn't be happier with this sweet pup. Nellie's affectionate, loving, and mellow personality feels like a gift from Spirit Jerry and Angel Wyatt Ray . She has all the personality qualities we could have hoped for, and then some. As of August 1st, Dogust Day (universal birthday of all shelter animals), she is now part of our family. Hopefully you'll get to meet her some day and be just as charmed as we are!

Michigan
Member Since:
11 July 2016
Offline
Official? really? 🤣😂 yes, she was officially the spoksdawg the day she came home:)
Good one trying on all of us, though! We rarely "choose" our furmily things align purrfectly in the universe just as they did here. Good job, Jerry & Wyatt RaY woof woof!
Congrats to your three and Miss Nellie B Dawg, our new spokes girldawg. 👏🏻👏🏻👏🏻 Whoo hoo!
I look furward to seeing how you all can help her carpus!
💝💝💝
Hahah well yes official in that all the paperwork is signed and our name is on her microchip now. We honestly took her in as a foster, not knowing that she was actually part of Jerry & Wyatt's master plan!
Thank you for the beautiful note! We will keep you posted on her wonky leg 🙂

Florida
Member Since:
23 February 2017
Offline

Member Since:
4 April 2019
Offline
Oh, this is the first I have heard about Nellie.  She is just beautiful.  And you saved two lifes.  Nellie and made room at the shelter.  I am so happy for all of you!
Jerry, I sent you a PM but don't know if you got.  I will email.
My Beautiful Beloved Brownie was diagnosed with Osteosarcoma on February 26, 2019.  With all odds against him he lived an additional one year and eight days with amputation, love, and prayer.  I was honored to be his mom, and I have never been so proud!  He will live forever in my Heart!
04/01/2007 - 03/05/2020
"March Saint"
OFFICIAL!!!    Already had your names stamped  on her hear the day she was born. She had to wait for the right time, and you had to wait for the right time, in a Universe  Jerry/Wyatt sort of way!!
Your criteria for adoption requiring pointy ears made me chuckle.  I know many of the photos of Jerry and Wyatt  were from behind their heads with the camera photographing  through the two pointy  ears.  Jist wouldn't be able to produce the same visual with a droopy hear doggy..
Add that to mist be front legger tripawd  (or prosthetic  possibility), etc,  what are the odds????   DEFINITELY  meant to be together right now and furever!!!!  The likliho of Nellie ever being adop....especially  with  a perfect match like this....impossible!
Also like what Nancynsaid about saving two lives...... beautiful ♥️
Okay, we'll be waiting  for more photos....especially  through those pointy ears!😎
Love
Sally and Alumni Happy Hannah and Merry Myrtle and Frankie too!
Happy Hannah had a glorious additional bonus time of over one yr & two months after amp for osteo! She made me laugh everyday! Joined April's Angels after send off meal of steak, ice cream, M&Ms & deer poop!
Haha yeah Wyatt and Jerry knocked some sense into us for sure. 
Some adventures she's had lately:
Nellie and her blind cousin Stanley (age 14!) get along pretty good. She wanted to play so bad but he didn't, so she let him be.
Then she showed us she can be OK around livestock. 
And finally, she posed in front of a beautiful sunset last night.
We are impressed by how easily she goes from place to place with us. Oh, and we also learned she is a bit of an escape artist. She managed to find the two openings in the fence at the place where we are staying, right under our noses. She returned right away when we called her, but it was still scary when I looked up in the yard and she was gone! That's why we are certain she is only part-Shepherd, since GSDs tend to stick by their people no matter what. But we are working on building that bond so she understands not to wander anymore.
Of course it figures she has a heart full of wanderlust, just like we do. A perfect match!
she has a heart full of wanderlust, just like we do
So perfect for you👍
And there it is folks....the first Nellie photo through the pointy ears!!  Love it!  The way her head (pointy ears and Happy smile)  is silhouetted with the sunset behind her is quite lovely.
So sweet that she wanted to play with Stanley.  Looks like she'll be good around other dogs. Her dispostion, her gentleness, her adaptability  to your lifestyle really is exceptional.  The fact that she took herself on a little adventure  outside the fence and came back when called seems like the tight bond is already formed.  Especially  since she's still adjusting  to a new name, new family, new routine, etc.  
Nellie is a very good girl♥️♥️♥️♥️♥️  Isn't it nice to not have a "project" that needed a lot more work and time and training to turn into the dog she is already is anyway.  And she has to feel comfortable  being with hoomans who understand  her and appreciate  who she is.
I'm just so Happy for you and her.
Hugs
Sally and Alumni Happy Hannah and Merry Myrtle and Frankie too!
PS.....to me, a GSD novice, she sure looks 100% GSD.  Appearance  wise, what makes you think she's got a little "something else" in her lineage?
Happy Hannah had a glorious additional bonus time of over one yr & two months after amp for osteo! She made me laugh everyday! Joined April's Angels after send off meal of steak, ice cream, M&Ms & deer poop!
Aww thanks Sally! Yes she is just perfect the way she is, and it's such a joy to adopt an adult dog who is so confident and at ease with herself. I don't think I ever want to adopt a younger dog again after this experience.
As far as something else in her DNA, she is definitely way more relaxed than the average GSD. I mean she has some Sheppie tendencies, like the telltale whine when she is excited or wants something, but she doesn't go bonkers when someone comes to the door, or even bark! Not that I'm complaining. 
Forum Timezone:
America/Denver
Most Users Ever Online:
946
Currently Browsing this Page:
1
Guest(s)
Member Stats:
Guest Posters: 1200
Members: 15411
Moderators: 2
Admins: 3
Forum Stats:
Groups: 4
Forums: 23
Topics: 17679
Posts: 246043
©
Simple:Press
—