Join The Discussion
Learn about life on three legs in the forums below. Browse and search as a guest or register for free to take advantage of member benefits:
Instant post approval.
Private messages to members.
Subscribe to favorite topics.
Join the Live Chat and more!
Tripawds Rule!
Name your price for a Tripawds Bandanna, and help keep this community online!
A
A
A



Does Good News Make You Feel Guilty?

Read the original blog post

Add Reply

Add Topic

The Rainbow Bridge

Forum Posts: 23910
Member Since:
25 April 2007

Offline
At Tripawds, many of us are three legged dogs because we are battling cancer. Sometimes it seems like we go through periods of time in the Tripawds Discussion Forums, when all we hear is sad news about our friends' cancer battles.
We all know that life has its ups and downs. We would not exist without both good and bad. Life and death are the yin and yang of the Universe. We dogs try not to focus too much on this though, and strive for that perfect balance of living in the moment.
But humans, on the other hand, don't often see life like we do. Many struggle with the conflict at Nature's core. Occasionally we hear from Tripawd pawrents who feel guilty about sharing the good news they have, when there's a glut of "bad news" in the Forums. When the current mood of discussions is somewhat somber, these kind pawrents feel as if they shouldn't shine a light on their own tripawds who are doing well.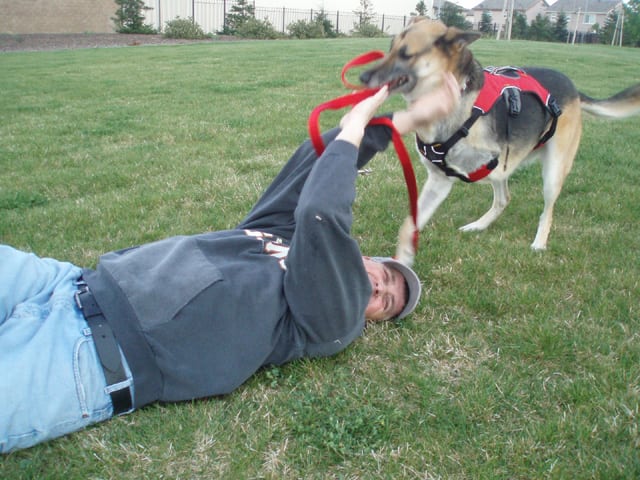 Silly humans, don't you know we need your pawsitive energy and happy thoughts here all the time? And when tears are being shed and it seems like life can't get any darker, that's when we need your pawsitivity most!
Tripawds Blogs members and guests alike want to read about your tripawd's triumphs and stories about overcoming obstacles, getting strong, and finding joy in life. These are the happy things that keep us all going when life gets ruff, and help newcomers see the pawsibilities of life on three legs.
Try to Be More Dog and remember, life is too short to walk around with angst and feelings of guilt. Share all your experiences and thoughts, whether you view them as good and bad, happy or sad. Please spread the love as much as pawsible, there will always be someone looking for uplifting inspiration.

Forum Posts: 930
Member Since:
26 November 2008

Offline
Starting tomorrow, November 11, 2009, there will be five of us who will be celebrating our one year ampuversary over the next twenty eight days. Each of these five is dealing with some extended complications or health issues and Cherry and I are sure that each has felt blessed with the additional time that we have been granted. Each time we loose one of our warriors from this community, the entire community morns more for the valiant story that has ended but too because of the "There but for the grace of God go I." When we bring these loved ones into our home, we know that their time is too short but make the choice to feel the pain when that loss occurs rather than pass on the wonderful experience.
Good news is very important to help the spirits to those that are just joining this community. It truly was inspawrational to read of any and all successes. It let me know that what I was asking of Cherry was not just my selfish holding on too tight. It let me know that I had a good chance of having Cherry return to the quality of life that had defined her life up to that point. This new "normal" is different, but it also is great.
I do not believe that guilt is the correct way to describe the empathy, sympathy and grieving that we all feel as we lose on of our great warriors. I do not believe that guilt is the correct way to describe the joy, celebration, and vicarious jubilation that we all feel whenever one of our great warriors receives good news.
Bob & Cherry

My heart lives at Rainbow Bridge
Forum Posts: 3754
Member Since:
28 November 2008

Offline
As one of the five Bob & Cherry mentioned, I can tell you from my perspective, guilt is not the word I would choose. I think for me humbled better describes how grateful I feel to have the great fortune to be able to share our journey for so long with so many.
It is sometimes hard to post th celebrations when others have suffered a great loss, but there are newcomers who are just beginning their jouney and really need to hear the encouraging stories, to see that flicker of light when maybe they are just facing a new diagnosis and are scared and overwhelmed with all the decisions that must be made.
It is also chicken soup for the soul of those who mourn the loss of each and every tripawd we have met here. Sometimes I am overwhelmed when we lose so many in a short period of time, but that is just the time when we all need a boost to remind us that even though we will all face the end in time, we must be positive until that time arrives.
Shanna & Spirit Trouble ~ Trouble gained her wings 3/16/2011, a 27 1/2 month cancer survivor, tail wagging. RIP sweetheart, you are my heart and soul.  Run free at Rainbow Bridge.
The November Five - Spirits Max, Cherry, Tika, Trouble & Nova. 11/2008 - 3/2013 An era ends as Queen Nova crossed the Bridge.

eholm314
Thank you so much for starting this thread. I would have to say that reading the blogs and posts from this website are incredibly humbling. I think it's so important though as I do not want to have false expectations through this journey. Its a trite saying but I " HOPE FOR THE BEST BUT PREPARE MYSELF FOR THE WORST"
I have never met anyone who has gone through this (amputation and osteosarcoma)and having people to come share good news with is such a gift as everyone here knows what it means. I love reading peoples great stories as it gives me hope for Jack. Hope is all you have with cancer whether its with a dog or a human. Watching the battle is the hard part. Experiencing the battle is the hard part. EVERYONE OUT THERE PLEASE KEEP THE GOOD NEWS ROLLING!!! We celebrate the good news and cirlce up to cope with the bad. Pawsitive energy sent everyone's way as Jack's one month ampuversary was on the 6th of November and right now he is lying next to me snoring logs…..
Erin and Jack

Forum Posts: 410
Member Since:
5 April 2009

Offline
Shelby's situation is quite a bit different than many of the friends we have made here.
She didn't have her leg removed because of cancer, she had it removed because her human mother in Taiwan did something to her that led to a partial amputation and then when she came to the HBGRR they decided to take the rest of her arm off. We don't have the terrible ordeal that so many others are going through.
Many years ago we lost our precious Lucy dog to cancer, we have been through that journey and I hated it. I hated that even though we did everything we could, cancer still won. I have lost count how many times I have read about someone losing their dog or even just hearing that someones dog has come home from the vet with news they didn't want or expect and have written to them through tears.
I feel terrible when I read some of the posts, I want to say something that would help in some way but often I can't find the words.
What I can do is let others know what and how Shelby is doing. I can share her victories, I can share that she works hard to try to bring a smile to some folks and I can share that she has something that makes people want to meet her.
Good news doesn't make me feel guilty, what makes me feel guilty is I wish we could bring more good news to the neighbourhood.

Oregon
Forum Posts: 198
Member Since:
19 September 2009

Offline
Even with "the bad news glut", we all need the good news. It brings joy and strength to those who are struggling. I never shyed away from spreading the good news, but I have found that through good news it helps me try to see all the good in my own walk. Concentrating on those positive milestones, weither 1 month of 1 year. The good news brings strength and positive energy that we can then pass to our babies who needs our strength to fight.
Shilo diagnosed with osteosarcoma 9/4/2009, amputation 9/9/2009. ShiloAnne lost her battle 11/23/2009 where she regained her fourth leg and is patiently waiting for her parents to join her. We will always love you baby girl.

krun15
We are definitely in the success story category. I don't know why Maggie has made it this far (neither does her oncologist). One of the things I learned from her, and from all of the stories here is that you really need to be 'more dog'. After the inital diagnosis that gave her 6 to 9 months I spent a lot of time worrying about what I would do when she was gone, instead of focusing on what I still had with her. I am fortunate that I got a chance to learn the lesson, and enjoy the time I have. I don't feel guilty about our success, I feel like I owe something back to the doggie gods or something. I am glad I found this site so I can share Maggie's story and the things that we have learned and hopefully bring something good to those who read it.
It hasn't been an easy haul with either of my pug girls- I often introduce people to my pugs by saying this is my 3 legged dog with cancer, and she is the healthier one! I have more cards from vets in my wallet than from my own doctors!
Not everyone understands our attachment to our dogs, or why we do what we do for them. This is a place where everyone understands.
Karen

Forum Posts: 1216
Member Since:
20 May 2009

Offline
It turns out that my Emily did not end up being a "success story". But don't tell Angel Emily that because the life she lived was full of love and hugs and kisses and McDoubles and fries.
I need good news and celebrations to feed my soul. Keep posting them. New members need to know that we have successes not only in living in the moment but that some of us have many moments. Those of those who have lost our babies need to know that some dogs are healthy and happy and marking milestones.
Empathy is a wonderful thing and I am glad that everyone is feeling it but please, please, please, put a smile on my face. I need it even more now.
Debra & Angel Emily
Debra & Emily, a five year old doberman mix, who was diagnosed with an osteosaecoma. She had a right rear leg amputation on May 19, 2009. On November 10, 2009 she earned her wings and regained her fourth leg.

Linden, MI
Forum Posts: 458
Member Since:
11 November 2008

Offline
Oh Debra, your post brought tears to my eyes. It's so hard to share the good news when so many in our Tripawd family are hurting. We've been so blessed thus far with Nova, but I know that any day, any time, our luck could change. It just doesn't seem fair that some battles are shorter than others. I guess we will all end up comforting each other sooner or later at different points in our journeys.
Dog bless you and your sweet Angel Emily.

Sue and Queen Nova
Dane Mom Sue at nova.tripawds.com and Mom to Beautiful Great Dane Queen Nova, a Blind Tripawd, who kicked cancer's butt from 11/08-03/13. The Queen is Spirit Nova now, but her legacy lives on here at Tripawds!

Livermore CA
Forum Posts: 684
Member Since:
24 January 2009

Offline

Sue, I'm with you on that one. It doesn't seem fair that we all do everything we can to ensure a good outcome but some of us have to suffer sooner than others. I don't like to mention that Cemil still seems to be doing well when someone else has just lost their baby; but in light of what I've just read, I'm re-thinking that. I know it will be our turn one day and then I'll be glad to hear a happy story to brighten up the landscape, even if it isn't fair. That must be another of the lessons to be learned.
I love that there are so many one-year ampuversaries coming up. Congratulations, all of you–you give me hope that we can make ours too.
Mary
Cemil and mom Mary, Mujde and Radzi….appreciating and enjoying Today
Forum Timezone:
America/Denver
Most Users Ever Online: 597
Currently Online: krun15, becky111390, skbryson720
56 Guest(s)
Currently Browsing this Page:
1 Guest(s)
Devices Used: Desktop (47), Phone (11), Tablet (1)
Member Stats:
Guest Posters: 1005
Members: 12748
Moderators: 2
Admins: 3
Forum Stats:
Groups: 4
Forums: 23
Topics: 15016
Posts: 211413