Caring for a Three Legged Dog or Cat
Tripawds is your home to learn how to care for a three legged dog or cat, with answers about dog leg amputation, and cat amputation recovery from many years of member experiences.
Learn how to help three legged dogs and cats in the forums below. Browse and search as a guest or register for free and get full member benefits:
Instant post approval.
Private messages to members.
Subscribe to favorite topics.
Live Chat and much more!
Hello fellow 3 legged doggy owners.  Very nice resources.  I wish something like this existed when my we learned my pup Nyaya wasn't going to be able to keep her right front leg.  She was attacked by her mother when she was 8 weeks (the note the vet made was "Attacked by bitch"  .... right on a two levels :).  I adopted her when she was 10 weeks, not knowing that a dog bit could be anything serious.  The bite severed a nerve (so she couldn't move or feel it) and, unbeknownst to us at the time, damaged the growth plate.  Initially we hoped the nerve would grow back.  When she was really young she just held it up.  But by 2 to 3 months we started using splints (so she had 3.5 legs).  We had the splints made by a medical professional who had transitioned to dogs.  They worked great until my boyfriend wasn't careful and let her toes hang over the end one day.  She spent all day running hard and by the time I saw her had little bloody nubs for toes :(.  With the poor circulation infections were common.  I really wanted to give the nerves a chance to grow back, but when the shoulder grew wrong and the vets realized the growth plate was damaged they said it was time.  That was when she was about 6 months old.  Rehabilitation was mostly waiting for the tenderness to subside and keeping the incision clean.  From talking with other tripod owners, recovering for a puppy with a physical injury is a good bit easier than recovery for an older cancer patient or a car victim with multiple injuries.  
I must be honest and say 3.5 legs was better than 3.  She could zig and zag with 3.5 and the pounding wasn't at hard on the remaining left shoulder.  With 3 legs she could still run hard and chance squirrels (when she was younger), but pretty much only in a straight line, or long rounded curve. She is half cattle dog and the rest other herding breeds so she has had a need to move and is unhappy if she can't.  I've tried to balance her having a good doggy life with minimizing damage to her body over the years.  When she was young she wouldn't stop bringing the frisbee or ball back from fetch when she got sore and tired and people could fetch her until she couldn't move for 3 days. I quickly learned to stop (and make others stop) playing with her well before she wan't too quit.   In the warmer months I try to take her swimming regularly but her thick coat and skin sensitivities results in yeasty infections that I have to knock back on occasion results in stretches where she can't swim.  I've also maintained her weight at 40lbs by balancing exercise and food intake to try to make the shoulder go longer (I keep telling my boyfriend I could help him hit and stay on a desired weight too, but he isn't having any part of that :).
I bought one of Eddie's carts a few years in.  It is well fit for her and solidly made.  But since it is a front cart it requires she have the front of her body strapped down and her head is right there with the big front wheels.  I spent a good bit of time trying to acclimate her to the cart when she was young but she hated it.  It might be more accurate to say was freaked out.  She would just stand in it panting with a glaze in her eyes.  I got to where she could make the rounds down the street a bit, but if she got in front of a tree or curb and couldn't do the wide turn she just froze and freaked out.  Reverse was an unknown for her.  I finally decided that since she didn't "need" it yet I would cut the torture sessions and work with her again it in when she did need it.  Ironically arthritis hit her in all 3 remaining legs so the cart that puts more weight on the back legs is not the best tool at the moment.  But since her latest problems seem to be more in the front shoulder than back hips I'm thinking about dusting it off and seeing if it provides some mobility she can tolerate it a bit. 
She is 11 and a half now and has lost her happy puppish attitude from the pain.  Its really sad to no longer have my "isn't life awesome" greeting each and every morning.  I have her on monthly Adequan, with occasional Tramadol. She can't do the Rimadil type stuff because when I first got her evaluated for arthritis medicine 6 months ago (when she first started showing signs of pain that affected her quality of life) her liver numbers were on the high side.  Not super high, but high enough they don't want to go that route.  Those drugs helped for about 4 to 5 months, but she is back to hardly moving in the last few weeks. 
I'm heading to a new vet to assess whether there are non-drug options that can help (chiropratic, acupuncture, etc).  I'll put a post in the appropriate discussion area after I decide whether to go one of those routes.
Cheers!
Hi Otter and Nyaya, welcome!
Well, we've been around since November 2006 so I'm sad you didn't find us earlier, but am very glad you did now. Thank you so much for sharing your story. It sounds like Nyaya has been on three legs a long time, when exactly did she lose her "3.5" leg? It's helpful for others to know what life is like as a Tripawd for that length of time, thank you for taking time here.
We hope your new vet can help her get that sparkle back. With new pain management and rehab therapy techniques out there, even senior dogs can be happy and pain-free again. If you haven't already, be sure to check out posts about pain management for Tripawds:
http://tripawds.....ment-tips/
Keep us posted on how the new vet appointment goes!

Virginia


Member Since:
22 February 2013
Offline
Your avatar picture of Nyaya is sooo cute!
This little girl has certainly played full out and has enjoyed rocking three legs just fine...even if shr has ri make "curves" instead of sharp turns! You described that so well!
It is so clear you hace done, and are continuing to do everything possible for your girl. There is a fine line between letting them live their life to fhe fullest and do the things they love, while trying to "protect" them. You obviously have done things right...she's an 11 old senior tripawd and is dealing with a lot of "normal" senior issues. You let Nyaya be Nyaya and that's exactly what she wants. Good job!
Many have had good results with accupunture and massage. From what I understand, it takes a couple of acupuncture sessions, to see improvement. I don't know if Metacam (Meloxicam) can compromise the liver levels as much as Rimadyl. Check with yiurr vet as that can help arthritis also. Doing the Tramadol on a regular daily schedule may help also.
I know this is tough. I've had four legged seniors who have had ro deal with arthritis. There is a lot more "comfort care" available now though. Continue to consult with vets who are knowledgeable in this area. Holostic/alternative vets may have some insight too.
Please keep is updated AND post more pictures of your pretty girl!
Love and hugs!
Sally and Alumni Happy Hannah and Merry Myrtle and Frankie too!
PS...Here's a great wuote from Hunter Thompson that I think Nyaya would agree with...................
"Life should not be a journey to the grave with the intention of arriving safely in a pretty and well preserved body, but rather to skid in broadside in a cloud of smoke, thoroughly used up, totally worn out, and loudly proclaiming "Wow!"
Also, you might check with Eddie's Wheels and see if they have any suggestionor even a better product now that they would work with you on.
Happy Hannah had a glorious additional bonus time of over one yr & two months after amp for osteo! She made me laugh everyday! Joined April's Angels after send off meal of steak, ice cream, M&Ms & deer poop!

Michigan
Member Since:
2 April 2013
Offline

wow, what a wonderful job you've been doing!  Have you tried the Chondroitin/Glucosamine supplements?  I wonder if that would help with her arthritis pain.
Donna
Donna, Glenn & Murphy 
Murphy had his right front leg amputated due to histiocytic sarcoma at 7 years old. He survived 4 years, 2 months & 1 week, only to be taken by hemangiosarcoma at 11 1/2 years 6/12/17  
Read about Murphy's Life on Three Legs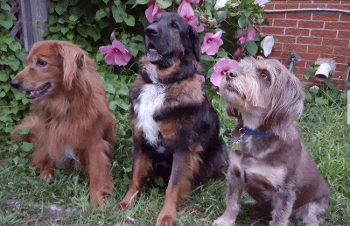 Oh my what a CUTIE! She really is a beautiful dog.
I'm so hoppy you started a blog for her, can't wait to check it out!!!
Thought I would give an update on Nyaya.  I was going to do it in her blog I created, but apparently I failed to actually create a blog.  So I dug up this post.  It is much more relevant to put her update here.  At the end of my first post in this thread I mention I was going to take Nyaya to a new vet that could do acupuncture because she had gotten to where she was hardly moving and had no puppy left in her at all.  I didn't take her into see her usual vet about her decreased mobility because I assumed it was due to increased pain.  The acupuncture vet said he had to do blood work before treating her, I mentioned she had been getting monthly liver tests and a complete panel was done about 4 months ago and he insisted on retesting because 4 months was along time.  Turns out that was a good thing as she was not immobile from pain but from anemia.  After several months of ruling out other causes she was finally diagnosed with IMHA.  A horrible disease that kills about 50% of the dogs that get it.  The research vet school vet (where she had to go for all sorts of tests to rule out other possible causes) put her on prednisone which gobbled up all the muscle we had spent years building in just a few weeks.  She eventually coughed up blood clots on the prednisone (not good when your anemic!).  Thank goodness my regular local vet overrode the recommendation from the university vet to continue her on prednisone anyway and moved her to mycophenolate and cyclosporine.  That probably saved her life.  She took those for about a year and half (until late 2017) and we eventually got through the IMHA scare and off those meds.  Her puppy attitude that ever morning was the beginning of the 'best day ever' came back after about a few months on the mycophenolate and cyclosporine in late 2016.  But her muscle never came back and she strength wise she never returned close to what she was before the disease.  
As part of following up on IMHA we got periodic blood work and her liver numbers started up again when she was 13.  Last August at 13 with her ALP over a thousand and ALT near a thousand the vet suggested I just make her comfortable as with her age exploratory surgery would be difficult and none of testing or blood work showed a definitive cause for the liver numbers.  The vet said her liver numbers were so high she could go at anytime.  So I took her home and made her comfortable, apparently plenty comfortable because she has been in good health other than the continued long, slow, torturous loss of mobility.  Over the last 9 months the distance she can walk without a face plant has decreased from about 15 feet to 3 if she is luck.  I started always carrying her outside about a year ago (of course I also had to do that when she was anemic).  I lost the vigorous tail wag upon getting up each morning due to pain/old age about 6 months ago (not bad considering I thought I had lost it in July 2016!).  In the last month I have had to start supporting her missing front stub while she goes to the bathroom to keep her from falling on her nose mid-stream (when she did this she would just stay there using her nose as a 4th limb 🙁 ).
She has been accommodating these losses with stride, or at least not dwelling on it, but it has been hard to watch.   As of now her life revolves around sleeping, eating, drinking, pooping, peeing, playing tug-of-war or chewing on a Nyla bone (that I hold for her since she can't flex or move her front wrist/leg much).  Barring getting super sick, when she gets to the point that she can't get up at all and gets bed sores or if she loses interest in eating/playing then we will have to say good bye.  She isn't ready to quit yet and we don't have the heart to put her down when she is alert and content most of the time.  She falls on her face all the time but she gets herself up and lurch herself forward in a torturous limp, fall, motion just to get to her basket of toys.  That doesn't seem like a dog wanting to die to us.  It is awful and awesome all at the same time.  How she lays down is by leaning down like in the doggy play pose, but with no bending in front leg and resting her face on the floor with her butt high in the air and then collapsing on her side all at once with a whomp, because her hips don't like to bend.  I am able to come home at lunch each day so worse case if she falls and can't get up because how she has positioned herself amongst the furniture or wall so only has to lay there for a few hours before I get her up.  She doesn't get freaked out about it.  I have padding spread out over the floor so it is nice and cushy when she falls to soften the blow and make it more comfortable if she has to lie there for awhile.
For pain as noted in my original post I looked into acupuncture and PT before the IMHA, but after that diagnosis it became about just surviving for about a year and she hates (I repeat hates!!!) being touched by others.  So I am not sure either of those will help more than the will stress her out and make her miserable.  Currently I manage her pain with tramadol (her liver issues prevent her from NSAIDs).  I checked in with my vet about gabapentin based on posts I have seen here but see mixed information about liver risk.  Given the tramadol is working (my vet says it either helps or doesn't help depending on the dog and it definitely helps Nyaya) and is very safe she suggested I stick with it until we max out the dose and it looks like it isn't having an effect.  I also give her regular doses of CBD oil. I think it suppresses her symptoms of Cushings disease (yes she has that too, plus a gallstone that she gets a pill for ever day).   I am not sure the CBD does much for suppressing pain it seems mostly effective at cutting her panting and thirst associated with the cushings.
She has been a great dog and lived an active life.  Before IMHA she went on lots of overnight camping and rafting trips.  Since the IMHA she prefers the creature comforts of soft beds and conditioned air.   She still goes to the ski hill most weekends in the winter (loves making doggy snow angels), RVing with us in the summer, and we go on daily walks to the park in her doggy ride dog cart .  Life with three legs is harder, but it can still be rich and enjoyable.  She has had an amazing run and my goal from here is to make sure it stays good as long as possible.
Hey there welcome back to you and Nyaya! It's good to hear from you.
You did start a blog at some point, because your photos point to it. It looks like you may have deleted it. I'm not sure, but you're right, it doesn't exist now. Let us know if you want help starting a new one OK?
Meanwhile, about Nyaya. Wow what a ride you guys have been on! She is a rock star

survivor thanks to all of your love and devotion to her care. I've never heard of IMHA and hope I never have to deal with it. Yikes! You stuck it out though and she survived and is getting to live out her golden years, what an amazing story!
A couple of things crossed my mind when reading your pupdate: have you talked to your vet about the pain reliever Galiprant? It was designed for dogs with liver issues who cannot tolerate traditional NSAIDs. Also, what about a front-wheel cart to support her on very short strolls around the house? With the way she face plants, a front wheel cart can help reduce those falls. She can't stay in it all day but it could give her some mobility if she could tolerate the fitting and training process (most dogs don't need much training). 
Let's see some photos of your sweet pup. Here's a post that explains adding images in the Forums, let us know if you'd like help.
I appreciate your ideas.  It is always good to have more input.  I was not familar with Grapiprant, but have it on my list if the tramadol is maxed out and has no effect.  I agreed with my doctor when we met last week that we should stick with it because it has no side affects and it is giving her some relief. 
I have a front wheel cart I got for her when she was young hoping I could train her while she had energy.  I spent months trying to get her to not be miserable in it.  For a front wheel cart you have to strap them down over the shoulders and cart is right under her nose.  For the longest time she would just stand there with her eyes side open staring into space and panting.  I eventually got her to take a few steps forward by putting steak in front of her nose.  She could sometimes turn, but usually the lean of the road would cause her to head into the curb and there she was stuck because she had zero clue of reverse in the cart.  The best we ever did was about 100 yards and back (with steak motivation every 10 or so feet, BTW it had to be steak, chicken wasn't good enough).  In a house there is very little room to travel that doesn't require turning and lots of things to walk toward and be stuck so I don't think it would 'free her up' indoors even if she had figured it out.  I thought about giving the cart back to Eddie's Wheels to donate and they don't take back front wheeled carts because they are so hard to fit.  I was surprised they didn't even want it for its parts, its very well machined.  The one I have fits great, but she never could figure it out and more importantly she couldn't get past being very stressed by it.  I would encourage others to try the front wheeled carts because if I could of gotten her to use it I believe she would be better off today in terms of less arthritis and maybe even to help her get around on her own.
Wow you really did try to help Nyaya with the cart, kudos to you for all of the tasty food lures! What a bummer that she didn't figure it out. And you are right, indoor carts can be a disaster unless they are for a very, very small pup. 
Let us know what ideas you and your vet come up with OK? Managing an aging Tripawd is not an easy thing. We are all learning how to care for their aging quirks from each other, so we look forward to your pupdates. And give her a smooch from us OK?
We let Nyaya go Thursday.  She started having progressively more pain and loss of energy and movement last weekend that escalated a bit every day.  Saturday and Sunday I just thought she was having slow days.  Sunday night was the first time she couldn't sleep comfortable through the night.   She tossed and turned (like a clock hand by spinning herself with her front leg) trying to find a comfortable position.  She could occasionally get her self to a standing position, but when she did she was in a lot of pain (indicated by massive panting) and the range of motion of her front leg and weakness and arthritis in all her joints prevented her from being able to do much more than topple over a foot forward.  I started giving her gabapentin each night around 2 am (I was up frequently with her) and upped her tramadol to two a day.  That gave her few hours rest.  I had to pull her out from under the dresser a couple of times that night (I blocked that the next day).   Monday I started thinking I may have to do something but I didn't want to pull the trigger.  After a repeat Monday night of Sunday night but a little worse I called the vet Tuesday and got an appointment for a house call Thur afternoon.  The tramadol went to the max limit of 3 a day.  I took off work to be with her the rest of the week and started mixing steak into her meals/treats (I had cut that out a couple of years ago due to liver disease).  Each night was a bit harder than the night before, but the days had a few bright spots. 
We had 5 walks together in the dog cart to the park in those three days (usually it was one each morning, but we started doing morning and evenings).  I timed them an hour after a tramadol and she was able to lay in the cart with her head up most of the time enjoying the view and fresh air.  She continued to grab the play toy and just hold it with me; she didn't have the energy for any tug or pull.  She was also able to chew her bone a bit but even that made her tired.   She had never been a dog that liked being petted or loved. 
She would let me pet her and love on her for a little while but then she would get antsy and grab any toy/ball and convert the time together to play time.  I was good with that as it was about giving her the best dog life possible.  But several times this past week she stunned me with overt long, comfortable happy dog displays of love and affection that she would initiate.  She has only ever licked my face a few times in her life and always nervously and then jump up and play.  I imagined she was telling me 'yes, I'm doing this for you but I'm uncomfortable with it so lets move on to something else'.  This week there were several times she looked me long and hard in the eyes licked my nose and cheeks and then looked me long and hard in the eyes again afterward.  It was very out of character as she was very submissive and nervous (she was over a year and half old before she could bring her self to look me in the eyes at all).  It felt she was making sure I knew how much I meant to her.  There were other times she would look at me where it seemed she was wanting me to do something to help her.  Weds night I worried that the vet wouldn't come soon enough for her to avoid suffering.  Thursday morning we still got a cart ride to the park and hung out for an hour watching the world go by.  Usually she could sleep peacefully after a cart ride but Thursday morning she needed an extra above max dose tramadol to get there.  She also had a bit of loose with blood that morning, but that could of been because of the steak.
The vet came out to the house Thursday afternoon.  Nyaya had enjoyed her lunch and was managing to sleep a bit.  She doesn't like other people touching her so we tried to distract her when they came into the room and got things going (I didn't watch what they did).  I held her head was on my lap and looked at her face.  She was a fighter to the end and would of gotten away from them if she could.  I guess the process of her passing was as good as it can be.  She was still there in terms of her spirit and hadn't suffered in the sense of being really sick, but her body was completely used up and she was unable to be comfortable for more than an hour at a time.  With each day/night being worse than the one before I was afraid of what Friday might bring.  So it was absolutely time.  Yesterday I went alone to the park a few blocks away that we must of visited thousands of times where we would go over the years and recalled great memories of chasing tennis balls, fetching freebies and sticks in the river, chasing squirrels and geese, and in the end sitting together under shade trees.  I would of thought that her not suffering needless and having lived a great doggie life would give me solace, and maybe it does, but I still have a profound sense of loss.  I miss my little Nyaya girl.
I'm so sorry. We all hope this day never comes, it hurts so much. Nyaya's fighting spirit is what kept her happy and going all these years, and you did her justice by giving her the send-off that she so deserved. What a lucky girl to be in the care of such a great human like yourself. 
I wish I could take the heartache away. All that helps though is time, so be good to yourself. Remember, that she is never far, she's still in that park doing all that she loves, pain free and always the puppy.
If you'd like to share more of her life with us please do, we are ready to celebrate the life of your amazing dog.
Forum Timezone:
America/Denver
Most Users Ever Online:
946
Currently Browsing this Page:
1
Guest(s)
Member Stats:
Guest Posters: 1224
Members: 16182
Moderators: 2
Admins: 3
Forum Stats:
Groups: 4
Forums: 23
Topics: 17939
Posts: 248733
©
Simple:Press
—