Join The Discussion
Learn about life on three legs in the forums below. Browse and search as a guest or register for free to take advantage of member benefits:
Instant post approval.
Private messages to members.
Subscribe to favorite topics.
Join the Live Chat and more!
Tripawd Heroes Book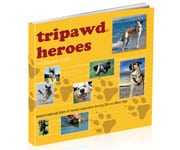 Tripawd Heroes books feature inspirational stories and photos of dogs loving life on three legs!
A
A
A

Tulsa, OK
Forum Posts: 3
Member Since:
7 July 2018

Offline
Riot, my approximately 5-6 year old Pom/Golden Mix (we don't know for certain what he is), was adopted from an animal shelter 4 years ago. He had always picked his leg up and carried it every couple steps only while jogging when off the leash. The vet said it could be a pulled muscle but since he never showed signs of pain, he also suggested it was just a habit from an old injury. Well, it was a hell of an old injury!
Jun 19th he jumped off the side of the deck to go after a squirrel while my Poppop was taking him outside (they "doggie sit" him every day, while I'm at work) and he landed wrong and was limping on that same leg that he sometimes picked up while jogging. I took him to the vet and she did an X-ray that showed a massive old break high on his leg near his hip that had healed all wrong (and was just terrible to look at) and a new fracture just below that. She said the best option for him would be amputation, with the previous badly healed break, it would most likely never heal correctly and just end up causing him more pain, she said he was probably feeling pains from the old break (hence he was carrying it at random). 
Jun 21st he got his left rear leg amputated. My mom is a teacher and was able to come and stay with me for the last two weeks to help me look after him while I was at work. Which was a blessing. She's gone home now and Thursday was his first day back at Grandma & Poppop's house to be "doggie sat" while I went to work. Grandma said he'd been real lethargic, refused to eat and was moping around. He was growling at the cat (which is very out of character, he loves that cat). I have cut back his pain pills to once a day, in hopes that he might start to eat again. But the only thing I can get him it eat is a plain cheeseburger, and even then he'll only eat half of it.
He was drinking like a camel right after his surgery, but now he hasn't ate or drank a single thing all day. It was 1:30 PM before I could even get him to get out of bed! I agree with my grandma that he's acting so depressed, and he was not behaving this way right after his surgery. His stitches are out now and the site looks really really good. He has had no complications at all until the last couple days he's been really lethargic and will not eat. He has always been a very picky eater (he holds out for people food) so I'm not too shocked that he won't eat his Bil-Jac or any other type of dog food. 
Is it normal for them to behave quite normally after surgery, then to suddenly be so down in the dumps? 

Livermore, CA

Forum Posts: 3201
Member Since:
18 October 2009

Offline
Hello and welcome, your future posts will not have to wait for approval.
It could be that he is still having some pain- most pups here are on pain meds at least two weeks, some will need them for three weeks or more.
Here is a good blog post on Recognizing Pain Signs.
Did he have a sudden increase in activity level? Could he have fallen and hurt himself?  It takes quite awhile for new Tripawds to build up strength and endurance.  Slow increase activity levels is best.  My first Tripawd Maggie, a Pug who lost a back leg to mast cell cancer, took 6 months to build up to half the activity level she was at pre-surgery.  Back then I didn't know how important core strength was for Tripawds.  Maggie was a stubborn girl who hated change to her routine- she was a grumpy slug for 6 weeks post surgery- she had no complications but just wouldn't play with me.  She got used to her new normal on her schedule and hopped happily through life for almost 4 years.
My current rear amp is a little Pug mix named Elly- I adopted her when she was about 2.5 months post surgery but she wasn't at all strong or ready for much activity.  As a 10 month old pup she was full of energy so I started her on food games and puzzles to work on her balance and core. We did short walks with lots of stroller time- we gradually increase her walking time.
Karen and the Spirit Pug Girls
Tri-pug Maggie survived a 4.5 year mast cell cancer battle only to be lost to oral melanoma.
1999 to 2010

Forum Posts: 1637
Member Since:
1 October 2017

Offline

How is Riot feeling today? Have you tried re-adjusting his meds at all?
Hugs,
Jackie, David, Mitchell, Andy Oscar, and the coolest feral tripawd kitty Huckleberry


The Rainbow Bridge

Forum Posts: 23780
Member Since:
25 April 2007

Offline
Riot and family, welcome. We hope he's feeling better but if not I would definitely talk to your vet about adjusting his pain meds, and also assessing Riot's post-amp activity.
Did your vet recommend an evaluation with a canine rehab therapist? If not, we recommend asking for one. Rehab therapy is a great way to find out what his physical challenges are and how you can best help him to overcome them and stay injury free. If your vet isn't familiar with rehab therapy, we can help you find a qualified practitioner. 

Tulsa, OK
Forum Posts: 3
Member Since:
7 July 2018

Offline
He has gotten a bit more smiley now that our routine is more back to normal. He still will not eat dog food and doesn't get up unless he has to. He is overweight, and gets very short of breath just going from room to room. We are at day 20 now, my original post was off due to my calendar being set to Monday as the first day for work. He had his surgery Wednesday June 20. 
The strange thing is he seems to do better as the Gabapentin wears off. About an hour after I give it to him, he starts breathing just a little heavy and starts not wanting to move. He isn't actually sleeping the whole time anymore, he's awake. He just doesn't want to move around even to go to the bathroom. 
He has not fallen or anything. He's actually never alone due to his anxiety. He never leaves my side or my Poppop's while he's at my grandparents' house. We still pick him up to get on the couch and up the stairs. At 25 lbs, that's not fun, but he doesn't even try to jump up or down off furniture at this point. He needs more time for that. Especially since it was his back leg. 
His leg/hip looks really good. 

Forum Posts: 18
Member Since:
5 May 2018

Offline
AKS*TEN said

The strange thing is he seems to do better as the Gabapentin wears off. About an hour after I give it to him, he starts breathing just a little heavy and starts not wanting to move. He isn't actually sleeping the whole time anymore, he's awake. He just doesn't want to move around even to go to the bathroom. 
Our vet tech explained that Gaba can make some dogs a little loopy, like space cadets. Wabs also did a lot better after we were able to wean him off of it and just use occasional Carprofen for pain management. He's now off both but still spectacularly lazy (though he's a greyhound, making it hard to tell how much of that is really a deviation from the norm). Hope your boy's back to his old self soon
Forum Posts: 1
Member Since:
28 July 2018

Offline
Wow!! I feel  like I am reading about my dog. Our stories are very similar. He did great after surgery. He is getting around wonderfully. But unless I'm actively engaging him, he just lays around and sleeps. He never did that before. He's never been a food motivated dog, so he's not eating much at all now. He eats every other day, maybe a couple of cups of food. He doesn't even sit and stare at me when I eat which is completely out of character. I don't feel like he's drinking enough either but he obviously is because he is peeing OK. I know he would eat human food if I offered it to him but I don't want to start him down that path. He's never gotten much of it in his lifetime and has always a good healthy dog food.
Sparky had his right front leg amputated on July 11 after a year long remission from paw cancer. Since the cancer did come back after his tumor excision last year, we decided to amputate. I'm now starting to think we did the wrong thing. He just doesn't seem to be himself.
 Like you, I have a family member who is a teacher. Our daughter came and stayed with him for the first two weeks to help with his transition. My husband and I both work, so it was a great help to have her here. And he loves her a lot so he was happy as well. But even with  her being here, he was still pretty lethargic. We also cut his pain medicine down to once a day and he was also on anti-anxiety medicine, which we cut down to once a day. Last night we decided to not give him any medicine, to see if he would perk up today. But he is still pretty tired and only interested in sleeping.  Before surgery he was such an active dog. He is turning six years old in the beginning of August. And other than a little bit a gray around his mouth, you would have thought he was still a puppy. That is why he needed the anti-anxiety medicine, because he is so active and he needed to rest in order to heal. I just don't understand why he seem so uninterested and depressed now.
I will back up a bit and say, if I offered to take him outside for a walk in the woods, he would be happy and more like himself. He wants to take off and practically run down the path of the trails around our house and you would never realize that he just had a leg amputation. But we have to be careful because he does push himself too hard and wants to go and go and then when we get home, he can't move for several hours because he's exhausted.  But it does seem like the only time he acts like himself, is when he's outside. Before surgery, he always wanted to be outside. Even though he is an inside dog, he would pester us to death to be outside. So I think some of his depression is related to the fact that he can't just come in and out of the house as he wishes. But there is nothing that I can do about that right now.
 His incision is healed but on his right back leg where his IV was, he has a sore that showed up about two weeks after surgery. It actually showed up the day his sutures came out. The area was excoriated from tape immediately after surgery and it looked like it had healed up well but then there's small hole opened up. So we have had to keep that area clean and dry and apply antibiotic ointment twice a day and keep him in the cone of shame to keep him from licking it.
I just wonder when or if my Sparky will ever act like himself again? The vet said now that his sutures are out he can resume normal activity but he doesn't seem interested in normal activity unless he is taking a walk.

Here and Now

Forum Posts: 11434
Member Since:
25 April 2007

Offline
deezsparky said
…vet said now that his sutures are out he can resume normal activity but he doesn't seem interested in normal activity unless he is taking a walk.  
"Normal" is relative…take things one day at a time and focus on strength building while working up to The New Normal, keeping in mind that walks do not build strength, only stamina. There are many starter exercises you can do to help regain strength, but the best option is to consult with a certified rehab therapist for a professional evaluation. Visit a CCRP or CCRT and the Tripawds Foundation can even pay for your first consult from the Maggie Moo Fund for Tripawd Rehab.
Sadly, many vets are not familiar with the benefits of rehab, offering poor suggestions causing difficult recovery. While you wait for comments from others, use the Advanced Search above to refine your forum search results with specific phrases, and you're sure to find lots of helpful feedback. You can also search all blogs here . Or, consider downloading the Tripawds e-books for fast answers to common concerns and feel free to call the toll-free Tripawds Helpline anytime!
Welcome, and best wishes for Sparky! Please consider starting a new topic to share your story. Your future forum posts will not require moderation.
Forum Timezone:
America/Denver
Most Users Ever Online: 597
Currently Online: kbp0419, kbart1107, joni
60 Guest(s)
Currently Browsing this Page:
1 Guest(s)
Devices Used: Desktop (52), Phone (10), Tablet (1)
Member Stats:
Guest Posters: 1005
Members: 12590
Moderators: 2
Admins: 3
Forum Stats:
Groups: 4
Forums: 23
Topics: 14970
Posts: 210768