Caring for a Three Legged Dog or Cat
Tripawds is your home to learn how to care for a three legged dog or cat, with answers about dog leg amputation, and cat amputation recovery from many years of member experiences.
Learn how to help three legged dogs and cats in the forums below. Browse and search as a guest or register for free and get full member benefits:
Instant post approval.
Private messages to members.
Subscribe to favorite topics.
Live Chat and much more!
Today is one year since the Bridge got a new sheriff, Codie Rae. We are thinking of she and her people today, and remembering all the good times we had with a true one-of-a-kind Tripawd. She was the best combination of tough and tender, rowdy and occasionally serene. 
Codie knew how to put everyone in their place. And she also knew how to throw a great pawty.
if it wasn't for her, Tripawds Foundation probably wouldn't exist today. She and her humans gave us the giant nudge we needed to start helping Tripawds in a bigger way, and for that we are furever grateful.
Codie Rae, we will always treasure the time we spent together. See you on the other side beautiful girldog.

Member Since:
4 April 2019
Offline
Wow, I can't believe it's been a year. I am sure the sheriff is keeping everyone in line at the Bridge. ❤
My Beautiful Beloved Brownie was diagnosed with Osteosarcoma on February 26, 2019.  With all odds against him he lived an additional one year and eight days with amputation, love, and prayer.  I was honored to be his mom, and I have never been so proud!  He will live forever in my Heart!
04/01/2007 - 03/05/2020
"March Saint"

Oakland, CA
Member Since:
20 December 2008
Offline
Woohoo! Tripawds Rule!
Regulator of the Oaktown Pack, Sheriff of the Oaktown Pawsse, Founding member and President of the Tripawd Girldogs With 2 Names ROCK Club, and ... Tripawd Girldog Extraordinaire!

Oaktown
Member Since:
16 July 2009
Offline
There will never be another Codie Rae. It is so quiet now without her, and it is almost boring. I remembered today that iit was 10 years ago that we were in LA for the music video and Codie did her write up of the event a few months later: https://codiera.....1602885744
Without her our Tripawds adventure would not have happened. What a ride it has been!

Wherever the Wind Takes Me, Dude
Member Since:
25 July 2009
Offline

Hey Codie, it's just like old times up here, ain't it?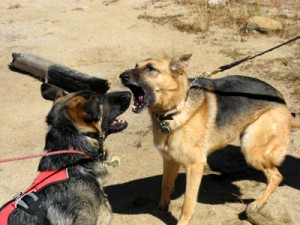 You were a bright star in your earth clothes and you are a comet up here at the Bridge. Keep on shinin' crazy girldog.
Wyatt Ray Dawg . . . The Tripawds Leg-A-Cy Continues!
Read all about my adventures at my Tripawds Blog

Member Since:
5 April 2009
Offline
We can't believe it's been a year. Sometimes time goes by so fast, other times it crawls. Our hurt lasts a long, long time. We all know how very special these TRIPAWD Dogs are. They don't like us being sad, but we can't help it.
Who's gonna patrol our future TRIPAWD Parties? Without her firm paw on all dogs and their peeps that attend, it's going to be pure "Pandemonium," with a capital letter P.  Rosy, our new TRIPAWD, has a "tendency to take over", poor Emmy Lou and Dusty have learned she runs a pretty taut ship around here. I think it's called "short dog syndrome".
Codie Rae was the last of the original TRIPAWDS of the Nor-Cal group. We've been meeting together for 10 years, we've become good friends. We've been there for each other celebrating and supporting each other. The Nor-Cal TRIPAWDS peeps need to see each other again. Our group needs to be able in person to share stories and precious memories, hug each other and shed tears. We'll bring plenty of tissues. 
Everybody be careful and get through the Covid thing and let's get together again.

Yep, the world has been changed in so many ways and without Codie here to manage things, it's upside down and spinning round! We sure miss her.
We can't wait for the day we are all back together again, and look forward to meeting Rosy the Regulator!

Virginia


Member Since:
22 February 2013
Offline
That Codie Rae sure knows how to continue to hsve a big presence  here.  Nope,  being at The Bridge hasn't changed that at all.  That's how Legend's roll.
I've  enjoyed following the antics of all the Oaktown Pack, as well as the NorCal  meet  ups and all those pictures of so many beloved members.  I can only imagine how The Bridge pawties everytime  one of the pack joins  and Codis Raype is leading  the chorus.loudly, very, very loudly!..
Love and light
Sally and Alumni Happy Hannah and Merry Myrtle and Frankie too!
Happy Hannah had a glorious additional bonus time of over one yr & two months after amp for osteo! She made me laugh everyday! Joined April's Angels after send off meal of steak, ice cream, M&Ms & deer poop!

Schofield, WI
Member Since:
13 August 2015
Offline



Member Since:
16 October 2012
Offline
I know why I missed this.  January was a very hard month for me.  I agree with Linda.  The world was a better place with Codie Rae.  Sorry I missed your Angelversary.  Sending your pack love and hugs
xoxoxo
Michelle & Angels, Sassy, Bosch, Baby Simba and Sweet Snickers
Sassy is a proud member of the Winter Warriors. Live long, & strong Winter Warriors.
sassysugarbear.tripawds.com
07/26/2006 - Sassy earned her wings 08/20/2013
05/04/2006 -  Bosch, Sassy's pal, earned his wings 03/29/19  fought cancer for 4 months.
"You aren't doing it TO her, you are doing it FOR her. Give her a chance at life."
Forum Timezone:
America/Denver
Most Users Ever Online:
946
Currently Browsing this Page:
1
Guest(s)
Member Stats:
Guest Posters: 1254
Members: 17235
Moderators: 5
Admins: 3
Forum Stats:
Groups: 4
Forums: 24
Topics: 18407
Posts: 253997
©
Simple:Press
—