If you ever encounter anyone who doubts that a big dog can be hoppy on three, point them to today's Tripawd Tuesday German Shepherd rock star, Luca. After a terrible accident, this gorgeous girl is living the good life in Spain!
Here's her amazing rebound story as told by mom Kirstin Nivbrant.
Meet Tripawd Tuesday's German Shepherd Hero, Luca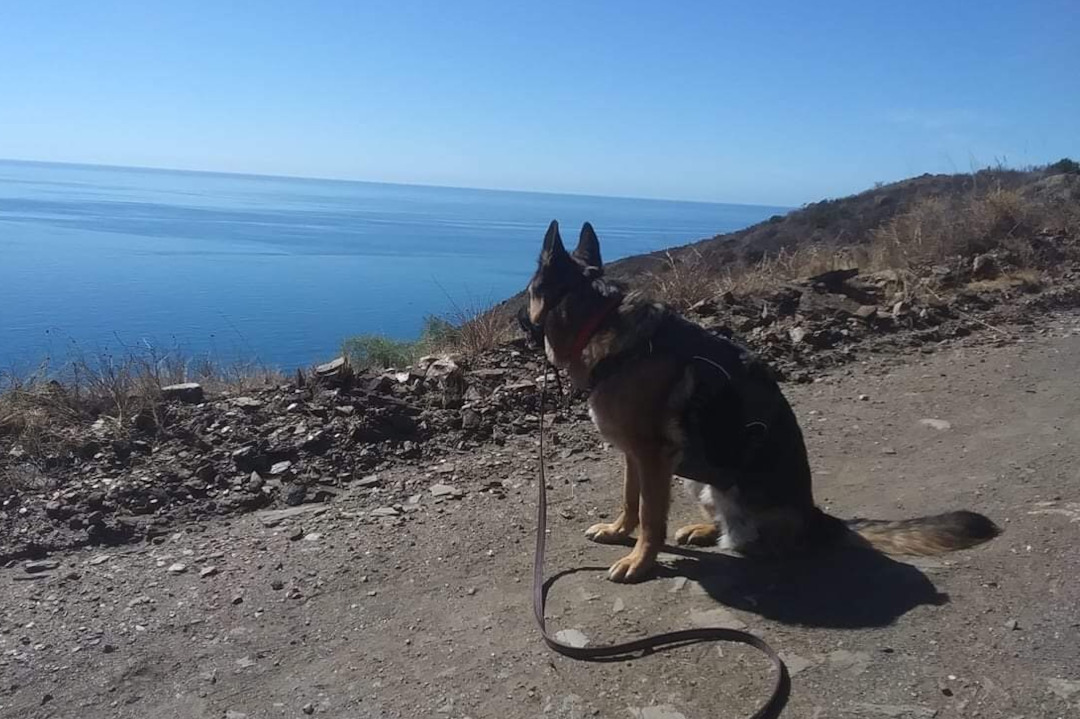 We moved to Nerja, Spain in December 2019 from Perth, Australia. Luca has adjusted well to the Spanish way of life. She turned 8 in March, and is a very clever and attentive GSD. We're very active and fit; exploring the countryside and mountains around here, swimming in the Mediterranean, moving around a lot. Luca goes to daycare when I play golf, loving that as well.
Well, I thought it was all going to end one morning.
Luca's life changed in a split second on Sunday morning 25 July.
She was annoyed with the neighbour's cat, ran across our terrace out on the roof over the garage doors, slipped and fell 4 meters down onto the street. She landed on her left side. It was an open fracture. The femur was totally smashed.
My husband was away. But my neighbours heard me scream and came to our aid. JeanPaul lifted Luca into my car, Mike drove my car, I was holding her pressing on the open wound, Pernilla and Rafaela rang around to the emergency vets finding one that could take us with this serious injury.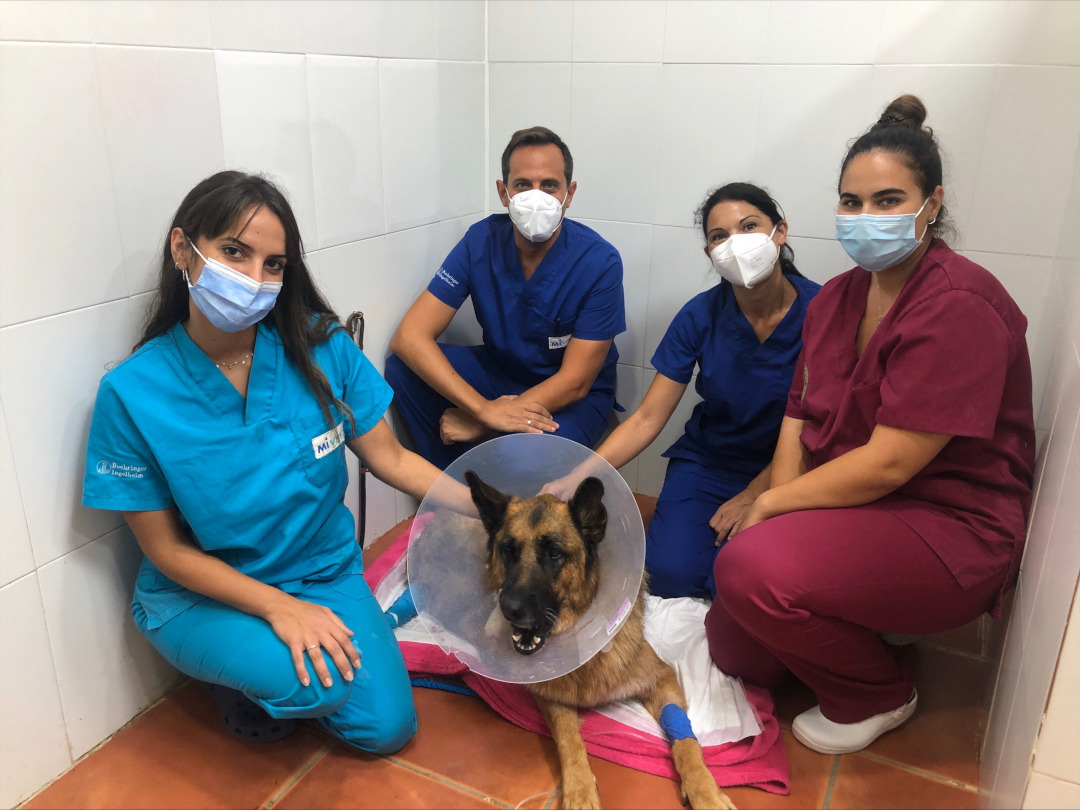 We drove to Torre del Mar Mi Vet Hospital 20 mns away, and the team stood ready when we arrived. We were all impressed by them. Luca was taken care of in the most professional way. But it was very clear when looking at the xrays; this was bad. She also had pneumothorax, from the impact of the fall. I sat by her side till the next day, and by the afternoon had nearly decided to let her go.
Then my daughter called. She said I mustn't. She'd been finding information on the internet, and had found this amazing group Tripawds.com. She said Luca could be a happy girl with three legs, and I listened.
On Thursday 29th Luca's leg was amputated. On Friday evening we went home. My husband is an orthopedic surgeon, and all my three children are doctors. They were all giving me support, but they were all far away. However, the hospital sent us home with instructions, medicines, food and more, and my neighbours helped me every day. It was hard, it was scary, it was heartbreaking, but Luca took it all in her stride. She was absolutely amazing.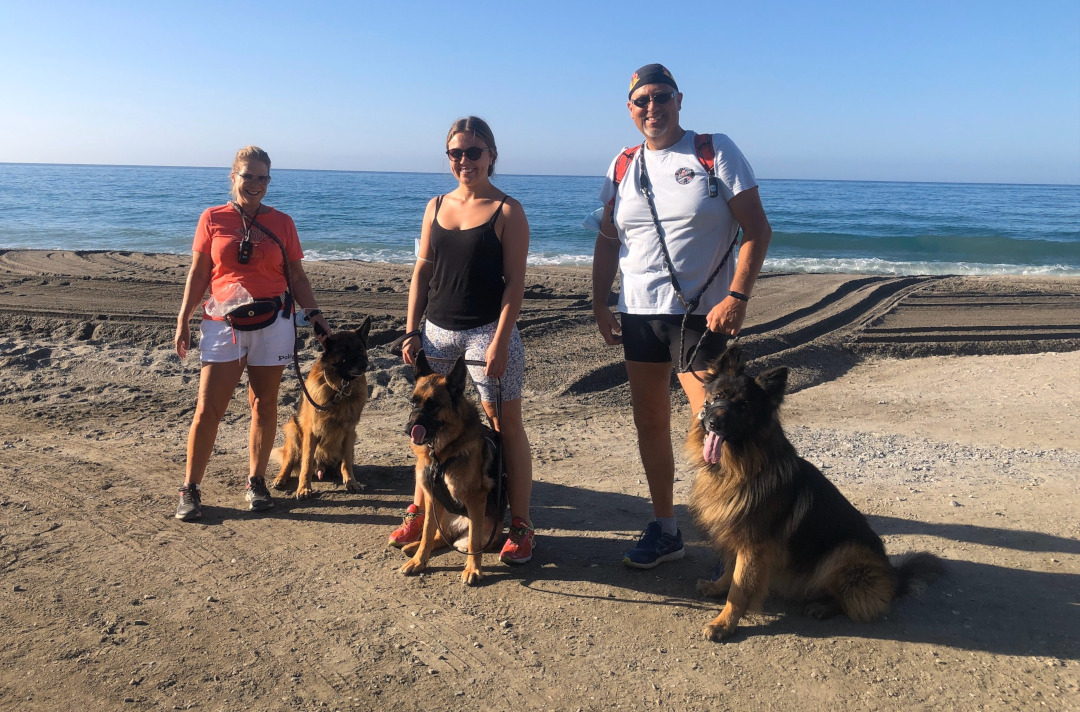 From day two Pernilla and JP picked us up every morning for a short 'toilet trip' to different places. Luca was able to move, balance and enjoy the smells. I had a lifevest for her that we used in the beginning, before the Ruffwear Web Master with the Brush Guard arrived. It is fantastic. It fits her like a glove and gives both of us confidence and support.
The rest of the days we were resting, and probably because Luca's age, that was not a problem. I was reading on Tripawds.com the whole time, and I can honestly say, that thanks to you, Luca is still here with me.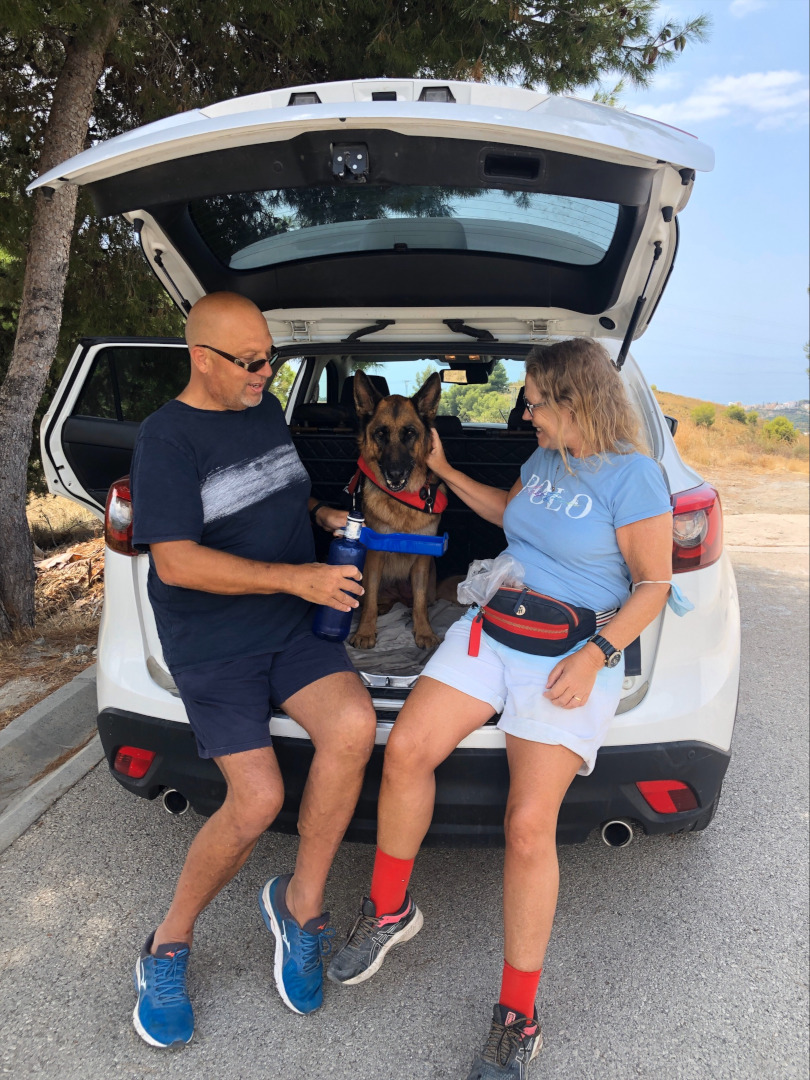 I haven't found a physio for dogs around here, so I'm working with Luca with the guidance of your information. We've just passed the two months post surgery, so still working our way forward with caution. One day at a time.
Finding new ways to enjoy the outdoors. Luca loves a drive in the car, so we go to places and do short walks, integrating a bit of exercise. I've learned from you that we need to build muscles, so I include a bit of that as well. Luca loves swimming, it's handy that we have a pool. My daughter came for a visit and my husband returned, and they both helped us, of course.
All that we do are in very short intervals. But Luca gets stronger, for sure. We introduced her back to daycare, and last week she stayed twice. They take care of her so well, and Luca is so happy there. The next day she was a bit tired, but bounced back. We're going to be very careful, of course.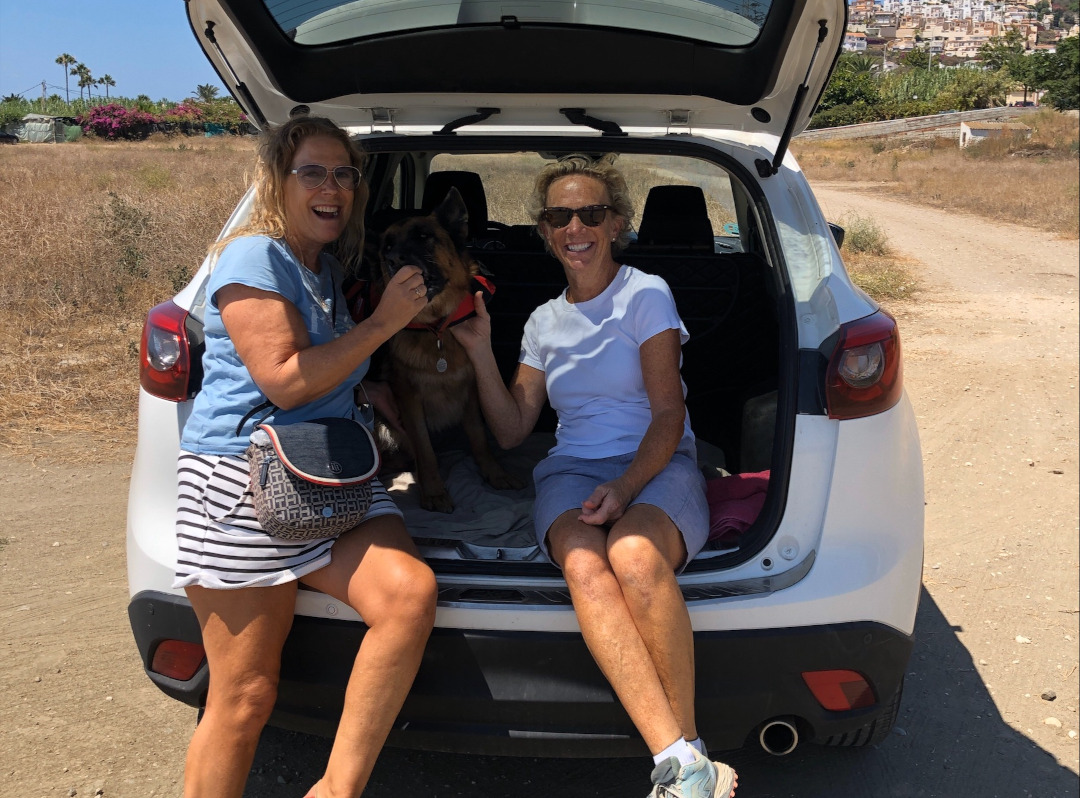 Our lives changed that day and it's been a journey I never thought I would have to experience.
The inspiration I find on your website is what keeps me going, I think. I wouldn't have been able to do this all on my own. It's definitely a mind set. We can do this. Luca is a dog. She carries on. Yes, life is different, but we can still do lots of things. The walks must be shorter, but that's ok. Luca is still bright as a button, and she loves life. Everyone we meet adores her and can't believe how well she's doing. Many don't even notice she's missing a leg. I understand the problems that can occur with time, but I'm confident that we're going to enjoy every day for as long as we have together.
Thank you for being there for us. Amazing we're so far away, but yet so near.
We Want YOUR Tripawd Tuesday Story!
Are you inspired by today's Tripawd Tuesday German Shepherd hero Luca? Want to share your Tripawd hero's story? Whether you have one, two, or more Tripawd dogs with three legs, a coyote, a cat, or a rabbit (or any three-legged animal!), share your three-legged love story with the world and inspire others! Send your Tripawd Tuesday shout-out now.
Each Tuesday is the best way to celebrate Tripawd amputee pets from around the world. Enter for a chance to be "Tripawd of the Week." Just share your story in a few words and you're in!
Whether you are a bonafide registered Tripawds member, or part of our Facebook, Twitter and Instagram communities, we want to tell the world about your three-legged cat or dog.
Send Your Tripawd Love Story in 3 easy steps:
In a short paragraph or two (or longer if you'd like!), describe your three-legged hero's story. Share a photo, video or both.
Got a Tripawds Forum topic and/or Tripawds blog that you started? Be sure to include that link too! Of course let us know any social media handles that feature your Tripawd.
Then send your story to us via email, Facebook Messenger, or direct message us on Twitter or Instagram @TripawdsCommunity.
We try to publish a new Tripawd story each week. It's time for yours to get featured!