Today's Tripawd Tuesday spotlight proves that 3-legged Luna love is the best kind! Meet this incredible, resilient girl, in a story told by her mom Diane from Colorado.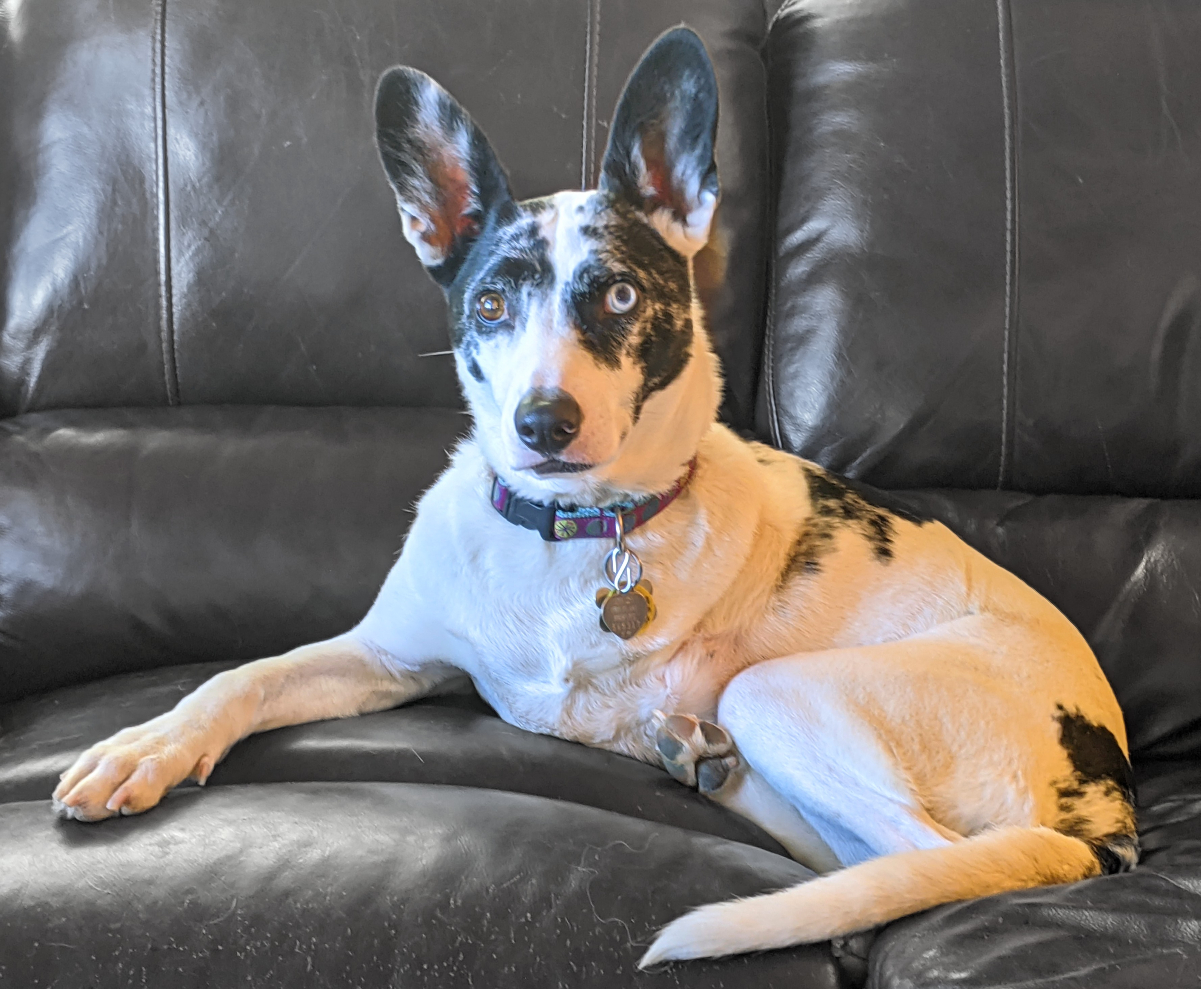 Luna is my almost 5 year old, 3 legged, deaf dog. She was transferred from a shelter in TX with a badly damaged front left leg, probably hit by a car, as a 4 month old pup. The TX shelter did not mention her deafness! Our small shelter (in Divide, CO) did a lot of work (various vets and treatments) to save the leg but it was determined that it needed to be removed. I work at this shelter and could not imagine her returning to the shelter post- surgery to recover. So I fostered her and you know how that goes!
My beautiful girl also has one brown eye and one blue eye. As if she wasn't unique already! People think she is a handful (also a "wild child" and kinda crazy) and she is all that and more. Because she is deaf she often screams instead of barking (although she can bark). She screams when she is excited, happy or frustrated. People find it alarming but we try and warn them in advance. The 2nd pic is her with her favorite guy, a long time shelter volunteer who she adores!
We Want YOUR Tripawd Tuesday Story!
Did you like today's Tripawd Tuesday spotlight? Share your three-legged hero's story with the world and inspire others! Send your Tripawd Tuesday shout-out now. Each Tuesday is the best way to celebrate Tripawd amputee pets from around the world. Enter for a chance to be "Tripawd of the Week." Just share your story in a few words and you're in!
Whether you are a bonafide registered Tripawds member, or part of our Facebook, Twitter and Instagram communities, we want to tell the world about your three-legged cat or dog.
Send Your Love Story in 3 easy steps:
In a short paragraph or two (or longer if you'd like!), describe your three-legged hero's story. Share a photo, video or both.
Got a Tripawds Forum topic and/or Tripawds blog that you started? Be sure to include that link too! Of course let us know any social media handles that feature your Tripawd.
Then send your story to us

via email,

Facebook Messenger, or direct message us on

Twitter

or Instagram

@TripawdsCommunity.
We want to publish a new Tripawd story each week. It's time for yours to get featured!