A recipient of the helpful recovery and care emails sent after you download a free copy of Tripawd Heroes submitted this Tripawd Tuesday Feature about amputation after Brachial Plexus injury …
Hi lovely Tripawds Team,
Thank you for the eBooks and all the touching stories. Most dogs have suffered from osteosarcoma and lost their legs this way which is very sad.
I like to share my story of my beautiful girl Tilly, an Australian cattle dog/Smithfield cross. Tilly was just 12 weeks old when she jumped from the back seat of the car out of the window while I was driving. My back then teenage stepdaughter and her boyfriend (both 17 last year) were too busy playing on their iPhones and didn't pay any attention when the poor little pup was hanging too far out the window. Off she went.
Tilly was lucky in one way. She fell on grass, the street was a very quiet one and I wasn't too fast. When we picked her up from the vet in the morning she was okay except her right front leg. There was no sensation when squeezing between the toes. We were devastated. The vet gave her 4 – 6 weeks and made us aware that the leg might have to be amputated then if the sensation doesn't come back. A horrible thought.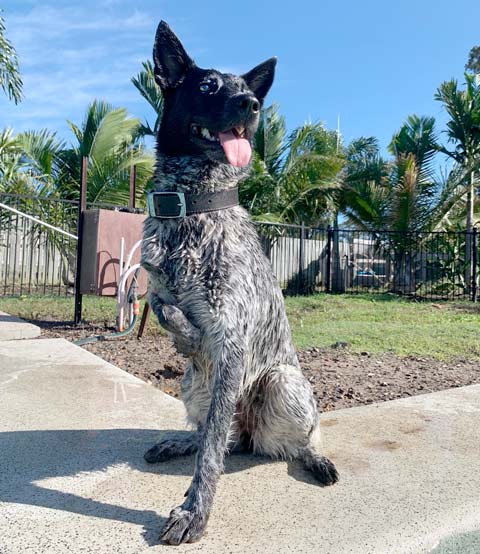 It was the end of February 2018. She was still so young and perfect 😢. I tried the utmost to get her leg working again by finding specialists, holistic vets etc. It wasn't meant to be.
Affect of Brachial Plexus Injury in Dogs
The ligaments contracted, muscles wasted as they didn't get any messages from the brain. The injury is known as Brachial Plexus injury and the nerve damage is usually so severe that most dogs don't recover from it. The leg turned into skin and bone and was a useless additional weight.
Holistic vets told us to wait until she gets to 17/18 months so her growth plates have closed. And she went through at least one heat cycle so I had the idea to wait with the amputation and get spaying done at the same time. I sought advice from two very good animal surgeons.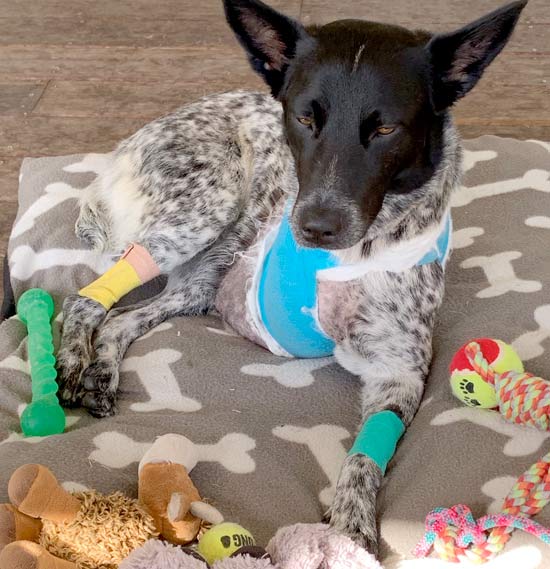 Tilly's major amputation surgery happened one week ago. I did go through hell and back and shed many tears. Today I can say we have made it 😀. She's improving every day despite being still on a few meds and another week of strict rest. She's a very brave girl, very affectionate and loving.
I hope she will have a great life on three legs despite the fact that she is not supposed to do everything a dog on four legs can do. We are lucky in a way that it wasn't cancer.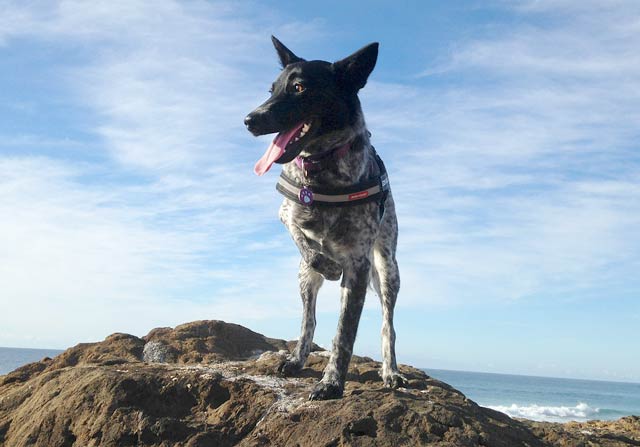 I am grateful for having her in my life. She taught me a lot and took me on an amazing journey in the world of canine health. I am a Canine Remedial Massage therapist now, just about to finish a course in raw food for dogs and learned animal reiki.
Tilly has been through a lot in her short life and will always be a role model for me when it comes to being brave and strong.
Warm regards,
Andrea & Tilly
Read All Tripawd Tuesday Stories
Your Pet Can Star in Tripawd Tuesday
Each Tuesday, Tripawd dogs, cats and other critters from around the world can enter for a chance to be "Tripawd of the Week." Just share your Tripawd's story and you're entered to win! On every Tuesday of the week, tell us about your three-legged hero. Just follow these easy steps:
In a short paragraph or two (or longer if you'd like!), describe your three-legged hero's story.
Include photos or links to videos already uploaded to YouTube.
Include a link to your Tripawds Forum topic and/or Tripawds blog, social media handles, etc.

Email your story and photos

 

to us.
All entries must be received by Saturday at 11:59 pm. One Tripawd story will be selected at random to be featured the following Tuesday.