It's Tripawd Tuesday and time to share the story of Bender the English Bulldog. This mighty pup has an interesting myxosarcoma pain management story to share with the world. His long and eventually successful recovery shows why having a veterinary team with top-notch pain management skills before and after amputation surgery can literally mean the difference between life and death.
Mighty Bender's Myxosarcoma Pain Management Victory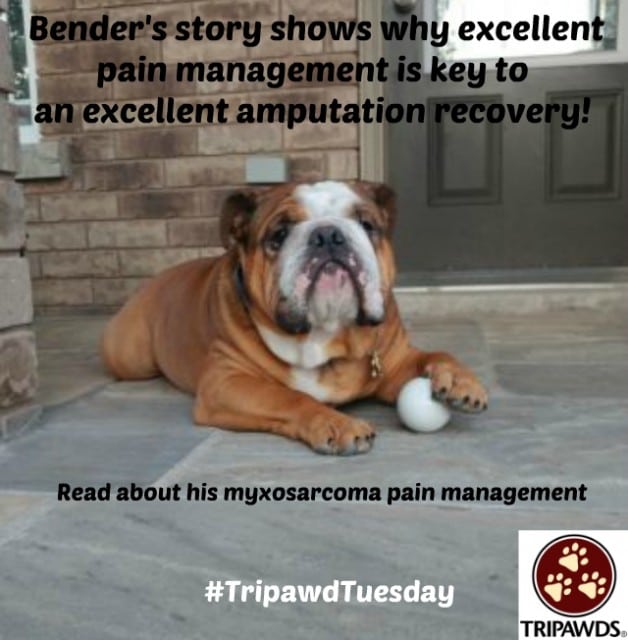 We had never heard of myxosarcoma until Bender the Bulldog came along. This rare tumor type is a locally invasive and metastatic tumor of canine connective tissue. Unfortunately even with radiation therapy it often grows back.
In September 2017, Bender's oncologist diagnosed myxosarcoma in his elbow, and recommended amputation. Although Bender has arthritis and grade 2 knee luxation, he seemed like a good candidate, said his mom in this Forum topic, "Myxosarcoma Amputation of Left Forelimb."
Before this cancer mess, Bender had multiple surgeries for entropion and bladder stones. He always bounced back very quickly and exhibited little to no pain.
The Nightmare of Uncontrolled Myxosarcoma Pain
Tripawd Bender was prescribed a combination of Gabapentin, Amantadine and Tramadol to manage the pain while waiting for surgery at the nearby veterinary teaching hospital, University of Guelph Ontario Veterinary College. Surgery went well and when he returned home with pain relief medications, it seemed like he would have a routine recovery. Unfortunately the excruciating pain returned:
The first few nights were amazing, we were dealing with a new dog that was free of pain. This quickly turned into a nightmare as he regressed into severe pain uncontrolled by any oral medications.
Benders' veterinary team just couldn't pinpoint what was happening. His surgeon believed the location of the tumor had something to do with it. Being on the elbow, the tumor's invasion of sensitive nerves and damaged bone material may have been the reason for the extreme pain bender was feeling. His mom updated us in the Forums:
In a last ditch effort to control the pain, Bender is undergoing a 48-72 hour constant rate infusion of Ketamine & Opioids. They are also assessing the feasibility of a secondary nerve block (very hard to do because of the location).
Bender's pain became so bad that his people thought they might have to euthanize him. His vets worked frantically to try to help him find relief. Despite adding acupuncture into the mix, nothing was helping. When his incision re-opened, it made things even worse.
https://youtu.be/gqaff9g2qak
Then the veterinarians decided to add pregabalin, a newer version of Gabapentin. This human neuropathic pain relief drug is also known as "Lyrica." Bender was given 75mg every 8 hours to see if that would help.
Bender's Pain Disappears
Finally, things started looking up. Bender's pain episodes disappeared, he started getting around well with minimal pain medication and his incision was looking good. Finally, the long recovery of this tenacious English Bulldog was coming to an end!
Today he's a happy, healthy Tripawd. We asked Bender's mom, "What did the trick?" She said:
I think it was a combination of resetting the pain cycle with the Ketamine CRI and allowing enough time for the orals to kick in.

Additionally, I think we could have reached a pain free state faster if the incision did not reopen (because of the seroma ). As soon as the incision healed and stitches were removed, his behaviour changed immediately.

Regarding the medication, switching from gabapentin to pregabalin seems to have helped and we are continuing the cartrophen and meloxicam to protect the other arthritic joints.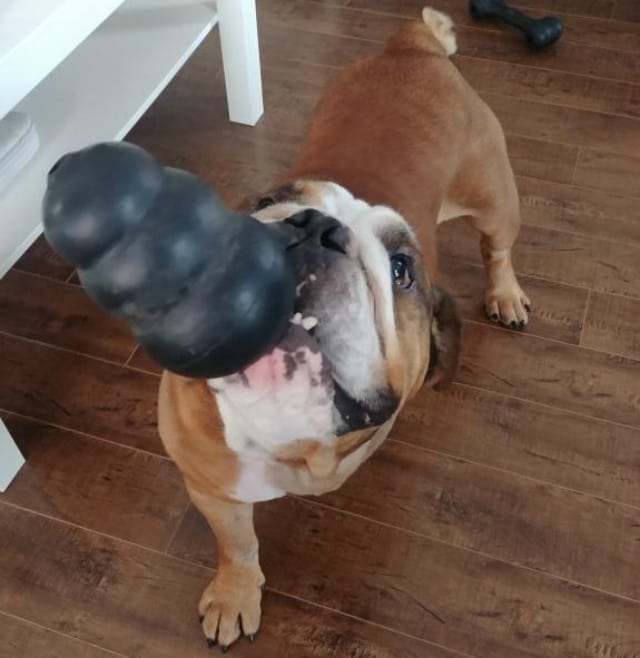 We share this Myxosarcoma pain story with you today to celebrate Bender's victory, and to let new members know that even when things look bad, oftentimes the solution isn't too far away. It might take more time to find it, and your heart may break while your dog or cat is feeling terrible, but as Bender and his people show, with the right pain management, things can get better!
I can honestly say this was the most difficult time of my life. I was constantly fighting thoughts of putting him to sleep because of the pain. Many times I did not think he would come home from the hospital. I have to commend folks on this forum that have fought this battle multiple times with the same vigour and positivity.
Read All Tripawd Tuesday Stories
Your Pet Can Star in Tripawd Tuesday
Each Tuesday, Tripawd dogs, cats and other critters from around the world can enter for a chance to be "Tripawd of the Week." Just share your Tripawd's story and you're entered to win! On every Tuesday of the week, tell us about your three-legged hero. Just follow these easy steps:
In a short paragraph or two (or longer if you'd like!), describe your three-legged hero's story.
Include photos or links to videos already uploaded to YouTube.
Include a link to your Tripawds Forum topic and/or Tripawds blog, social media handles, etc.

Email your story and photos

to us.
All entries must be received by Saturday at 11:59 pm. One Tripawd story will be selected at random to be featured the following Tuesday.