Today is Thanksgiving Day, America. We hope you'll take time to stop, slow down and ponder all that we have in our life. Sure, that's not always easy, especially if you're new to this community. But our animals are here to show us that even when times are ruff and things aren't going as we had hoped, there is always something to be grateful for on this Tripawds Thanksgiving holiday.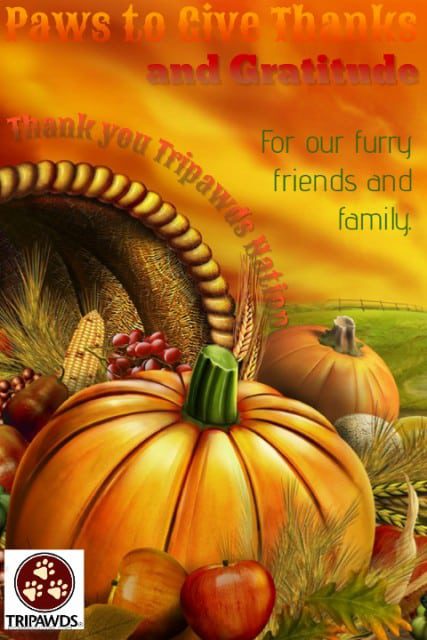 This day has extra special meaning for us, your faithful founders. After all, our fearless Tripawds Founder Jerry went home after amputation surgery on Thanksgiving Day in 2006. We were scared to death, but the moment he hopped out of the hospital, he never looked back. We watched in awe as we mourned the loss of his leg, but Jerry ultimately taught us that we didn't amputate his leg, we amputated the pain. Without it, he was free to move on and enjoy every day to the fullest once again.
A wise Buddhist once said that we live life moment to moment. It's all we have. Everything else is just an idea. This is so hard to do when your life has been turned upside down by something that requires amputation surgery. Suddenly we are reminded of our animal's mortality and it feels like the walls are closing in. But if you stop, breathe and find it within yourself to acknowledge the good things still present in your life, you're that much closer to achieving the wisdom that our beloved animals carry in their souls. They are always present, always grateful for the moment unfolding right now. And their lives are that much richer because of it.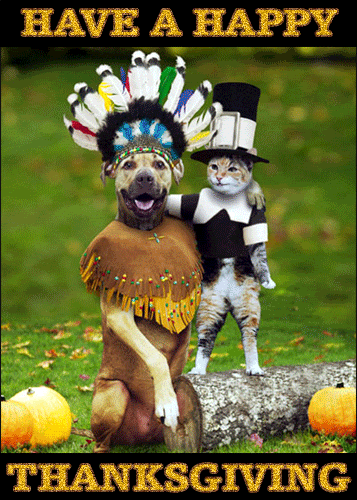 Each day we're thankful for the love and wisdom that our animal friends and you, Tripawds Nation, bring into our world. You restore our faith in humanity every single day by doing so much to make this world a better place! Thank you for being there during happy times and sad, for sharing your wisdom and your experience, and providing a place to turn to when all hope seems lost. Here at Tripawds, nobody is a stranger. We are all family.
May you have a beautiful Thanksgiving celebration today and a life filled with abundance and hope . We love you Tripawds members!