For today's Tripawd Tuesday feature, meet Roxy, the three-legged Boxer girl who is the inspawration behind this Tripawds Have More Fun design in the Tripawds Gift Store!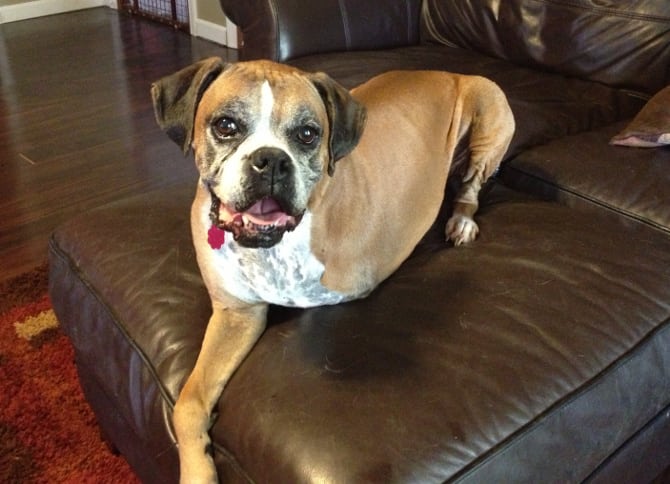 Roxy has a great story, we know you'll love reading about her amazing fight against mast cell cancer as much as we did! Here's her story as told by Mom Leslie:
The Beginning
Roxy's leg was amputated because of a Grade III mast cell tumor. I was scared because I didn't really know Roxy and I wasn't exactly sure what was best for her. Roxy had only been with us for about 7 months. She was a stray, she was on death's doorstep when we found her. At the time of diagnosis we were just starting to see an actual personality emerge in her. Besides, there are no good statistics for a dog with Grade III MCT.
So all I could think was she's finally settling into a good life, can I really put her through an amputation when statistics say she'll be dead within a year? I finally decided she deserved a chance to live with us for as long as possible, she deserved to be taken care of and loved as long as possible.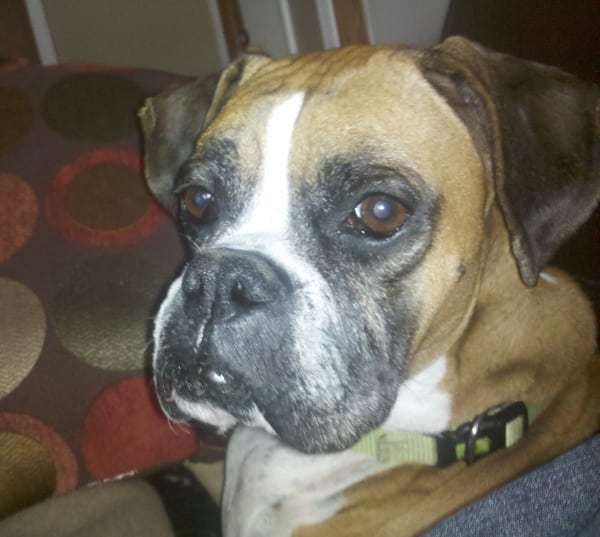 Roxy's Recovery
As far as her recovery goes I didn't get to witness much because I was working really long hours. I wouldn't get home until 9pm or later so every time I saw her she was tired and wouldn't do much. She had problems with phantom limb pains. All I saw was a lethargic dog who would scream randomly with a horrible pain.
My mother was helping my husband care for her. During a big breakdown I had when I thought I had done something horrible to this poor dog she was the one who gave me encouragement, telling me Roxy is normal Roxy during the day. She would be up moving around and took the few stairs to the grass like a pro.
Ruff Times
Roxy handled it all so much better than I did. Roxy's tumor wasn't painful, but giving her this time has allowed her to grow in her personality. She's finally found a family who loves her dearly, and more importantly, she knows she is loved. The amputation has given her the time to experience that love.
The biggest challenges for Roxy have been experiencing phantom limb pain during her recovery, and currently arthritis. She was given Gabapentin which took care of the phantom limb pain. Now she's on a daily joint supplement, a very small dose of steroids (for both the cancer and arthritic inflamation), and tramadol as needed.
Roxy Today
Roxy lives with three other dogs. When the other three are running like mad dogs she will stay off to the side so she's not knocked over. But when someone has a tennis ball she will take down the other dogs before she'll let them have it. And she also loves to play tug with her dog brothers and sister. Other than that she just loves to be next to her people or laying in the sun on her porch.
Any Advice for New Tripawd Pawrents?
For those facing this decision, I can only echo what I know is said in the forums everyday. You have to follow your heart. Do your research, ask your vet tons of questions. If your vet seems bothered by those questions find one that is willing to help you. A good relationship with the vet is very important. But in the end only you know your pup, only you know what would be best for him/her.
How to Get Featured on Tripawd Tuesday
Each Tuesday, Tripawds from around the world can enter for a chance to be "Tripawd of the Week." Just share your Tripawd's story and you're entered to win!
On every Tuesday of the week, tell us about your three-legged hero here in the Tripawds Discussion Forums or on the Tripawds Facebook page. Just follow these easy steps:
In a few short sentences, describe your three-legged hero's story.
Include a photo or video.
Include a link to your Trpawds Facebook page, Forum topic and/or Tripawds blog (if applicable)
All entries must be received by Saturday at 11:59 pm. One Tripawd story will be selected at random to be featured the following Tuesday.