Today is National Dog Day and in honor of specially-abled dogs, cats and other animals, we send a big 3-paw salute to Tripawds and their pawrents all over the world. Heck, Tripawd Spokesdog Wyatt Ray proposes calling today "National Specially-Abled Dog Day"!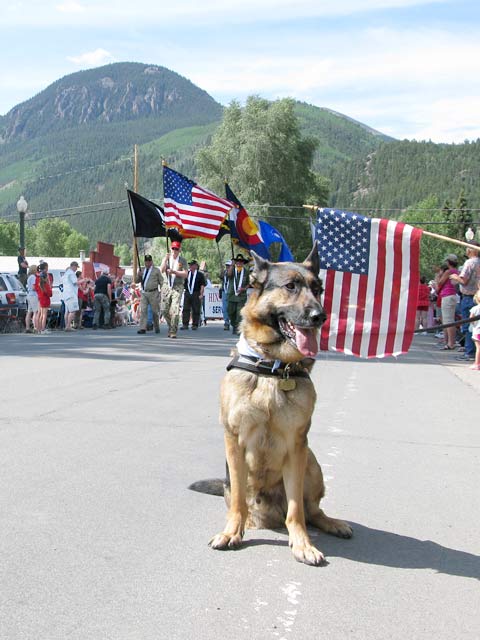 From three-legged heroes to bi-pawds in doggie wheelchairs, our furry heroes are showing the world that specially-abled pets like those featured in this Pet 360 article lead awesome and inspawrational lives.
Not too long ago, most people thought that the loss of a limb or other function meant the end of the road for an animal. Thank Dog for a few forward-thinking folks who were willing to look for innovative ways to help handicapped animals get around. Their ingenuity has led to numerous mobility aids from harnesses to wagons that help a variety of animals get around comfortably while enjoying a great quality of life.
Retired Military Working Dog Emil
Read more at: 5 Specially-Abled Pets that Inspire

With the help of a doggie wheel cart, canine war heroes like Emil can continue serving our country by working as a service dog and putting smiles on people's faces everywhere.
While most Tripawds get around just fine on their own, sometimes it may become necessary to use mobility aids for a better quality of life. If you're unsure about how animals can live with wheelchairs, these tales of specially-abled pets will put any doubts to rest.
Scooter defies the odds!
"Life doesn't have to be a drag for a handicapped pet" says HandicappedPet.com representative Lisa-Marie Mulkern. "With the right products and support, specially-abled pets can live happy, healthy, active lives."
Happy National Dog Day everyone!
Share your Tripawd story about being specially-abled in the comments field below, we'd love to hear about it.
Disclaimer: Tripawds is blogging on behalf of BlogPaws Pet Blogger Network and Pet360. We were chosen as a Pet360 Ambassador and in exchange for this post have the chance to win a Gift Card to Pet360.