Randomly selecting for one Tripawd of the week is tough, so this week our Tripawd Tuesday feature spotlights two amazing heroes. Read their stories and be inspired!
Rogue
Last week Tripawds pawrent Tammy Parnell shared Rogue's story with us.
"Would like to nominate Rogue, our sweet McNab tripod who went to Rainbow Bridge two years ago at age 7. He was getting lame in his front leg, which was causing him a lot of problems. Sadly, amputation revealed it was due to a large, inoperable nerve-sheath tumor. He lived happily and active as a tripod for several months until the cancer got to be too much for him. He was a very sweet, loving boy and is still greatly missed. Here is our tribute video."
[youtube]http://www.youtube.com/watch?v=AQLqcaUoFeg[/youtube]
Lonnie
Tripawd Mom Jennifer Dann wrote to share Lonnie's story.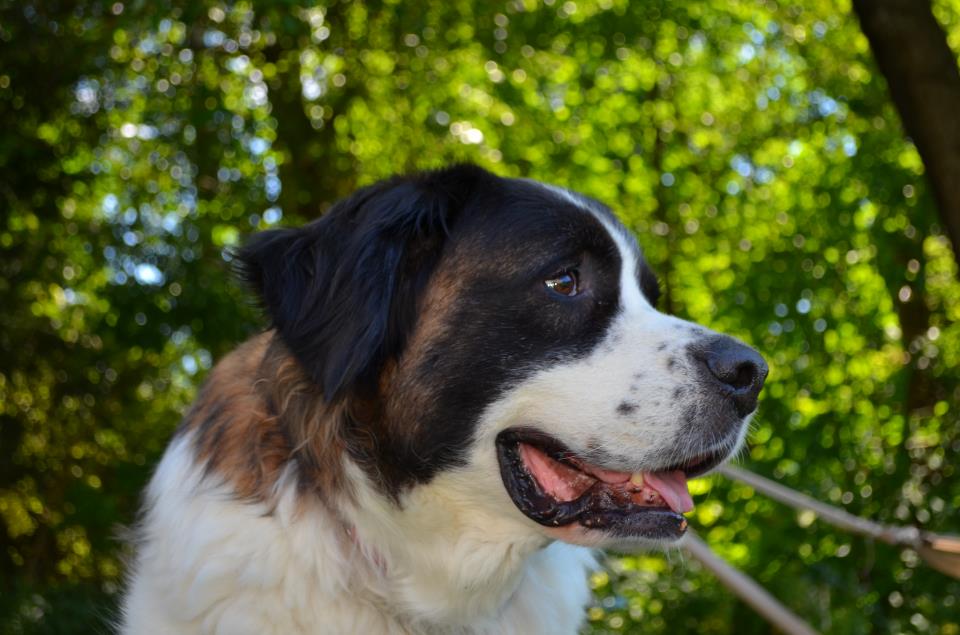 "Almost two weeks ago, had to let our beautiful tripawd Saint Bernard go. There's not a minute that goes by that we don't feel Lorrie with us, although we miss the happy sound of her hopping and howling through the house. Lorrie was a Wonder Dog after her amputation, and taught us that we can't know what we're capable of until we're given the chance. She received 6 rounds of chemo and then metronomic chemo daily, and was happy and healthy until the very last days.
She survived 1 year, 1 month and 1 day past diagnosis – and we wouldn't trade a moment of it.
She had a long, full life after we thought she couldn't, and we believe she's hopping around on the other side, like the wildly happy tap-dancer that she was on three legs, basking in the sun, rolling in the grass and smelling flowers, waiting for us all to join her.
Thank you all for your love and support of our sweet bear in her life. We continue to send her love now that she has really reached the rank of Saint."
How to Get Featured on Tripawd Tuesday
Each Tuesday, Tripawds from around the world can enter for a chance to be "Tripawd of the Week." Just share your Tripawd's story and you're entered to win!
On every Tuesday of the week, tell us about your three-legged hero here in the Tripawds Discussion Forums or on the Tripawds Facebook page. Just follow these easy steps:
In a few short sentences, describe your three-legged hero's story.
Include a photo or video.
Include a link to your Trpawds Facebook page, Forum topic and/or Tripawds blog (if applicable)
All entries must be received by Tuesday at 11:59 pm. One Tripawd story will be selected at random to be featured the following Tuesday.