According to attendees at the recent Solvang Greyhounds Festival in California, it was announced that the osteosarcoma cancer gene in greyhounds has been identified by Dr. Guillermo Couto, DVM, dipl. ACVIM, founder of the Ohio State University Greyhounds Health and Wellness Program and Dr. Carlos E. Alvarez, PhD, of The Research Institute at Nationwide Children's Hospital.
UPDATE: After publication of this news we were contacted by OSU representatives of Drs. Cuoto and Alvarez in order to clarify what was accomplished with this study. Dr. Alvarez tells us that:

"I would not say that we have identified the Greyhound osteosarcoma gene. Rather, we have identified several candidate genome regions (each implicating one or more genes. When we claim validation in this work, we will be referring to 1) discovering candidates using genomewide genetic mapping and 2) confirming those results in a second group of dogs.

Formal validation would probably require creation of a rodent model in which a variant of interest results in increased risk of osteosarcoma."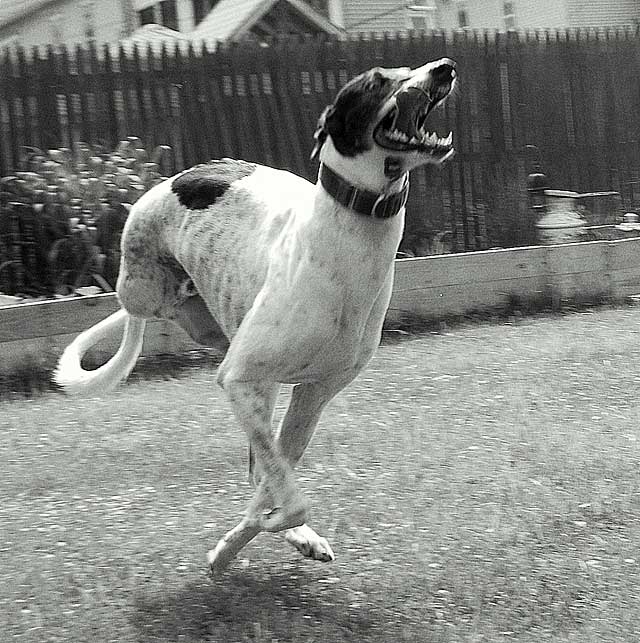 Their research was conducted through a grant by by the American Kennel Club Canine Health Foundation. The team's study description is here: "01660: Identifying the Genes That Confer Risk for Osteosarcoma." The abstract describes the study as:
"Osteosarcoma (OSA) is the most common cancer of the bone in both dogs and humans. A prime candidate for investigation of the genetic component of OSA is the Greyhound, which has the highest risk of OSA of any breed. However, despite significant effort, classical genetic approaches have not identified any Greyhound variant that accounts for most OSA cases in that breed.

Dr. Alvarez proposes that Greyhound OSA variants have been directly or indirectly selected for in racing performance, consistent with the vastly elevated incidence in racing vs. show Greyhounds. If this is true and all racers carried an OSA mutation on both chromosomes, then this could not be detected using classical approaches (which require different genetic markers to distinguish cases v. controls).

Here Dr. Alvarez proposes an innovative genetic approach that is impervious to the limitations described above, and enables genome-wide discovery of Greyhound variation with large effects on OSA risk. Such findings would lead to rapid development of therapies and clinical trials in dogs, and translation to human medicine."
The study described above was just completed, official publication will follow. This exciting news carries various implications, such as the ability to identify this gene in humans. Dr. Cuoto announced that this finding is less than one week old and publication is still forthcoming.
Dr. Cuoto presented at the Solvang Greyhounds Festival and discussed this study as well as the groundbreaking research conducted at the Greyhounds Health and Wellness Program. You can view his presentation about the program on the Solvang Greyhound website.
The OSU program conducts extraordinary work for dogs with osteosarcoma and other bone cancers, with a focus on greyhounds. As well as research, Dr Couto and his team also offer an online consultation service for Greyhound owners and vets. For just $50 this extraordinary team will review x-rays of Greyhounds who are suspected to have osteosarcoma and offer treatment recommendations. Their work is funded entirely by donations and grants. To learn more, visit the Ohio State University Greyhounds Health and Wellness Program website.