Kai has another Tripawd rescue story with a happy ending!
… It was love at first sight. I rushed back to the reception and promptly told the lady manning the desk that I was interested in the 3 legged collie x.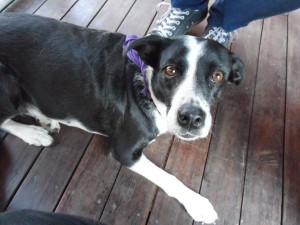 I did ask about her history at WetNose. They had pulled in to help a fellow shelter who had been packed to the brim with over 1000 animals. So they took the most abused and neglected animals back to WetNose. Kai had apparently been in a kennel with little puppies and dogs of smaller size. And these dogs had bitten her legs and sides raw due to kennel stress…She was one of the most neglected dogs the shelter took over. They rehabilitated her. It took some time, and she's still sensitive about dogs entering the space where her muzzle is. I will continue their hard work, and teach her with love, patience and respect… [read more]
Read Kai's blog to follow her progress. You can help other three legged rescue dogs in the Tripawd Rescue Forum and you can help us spread the word about all canine amputees by using the Share This! buttons below.