For those who don't know, my people still continue their fulltime RVing adventures after saying goodbye to me seven months ago. And while it's difficult for them to go back to places where we traveled together, they have learned the best way to let go. And that is by never letting go.
By keeping me in their hearts and knowing that my spirit shall always travel with them, they find comfort in my absence. Every once in a while I just have to remind them I'm still around, if only in spirit. Take their recent stay in Luckenbach, Texas for instance.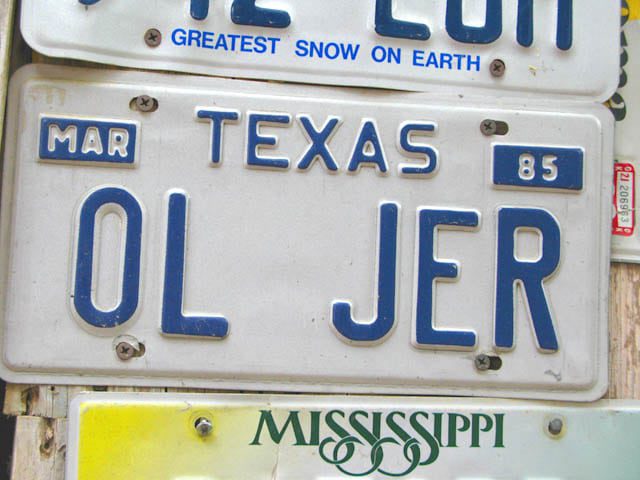 We spent a couple nights enjoying the Luckenbach scene last year – lots of grass, good people, and a sign on the door that reads "Dogs On Leases Only" – my kinda place.
Missing me on their recent visit back, they stumbled upon my name lost in the sea of license plates that makes up the outhouse walls. Just another reminder from me for them to live in the now, with no regrets, and enjoy life as it is.
After a storm flooded the field where they had parked the trailer, they found themselves stuck in Luckenbach a bit longer than expected. But instead of getting upset, the license plate reminded them of my mantra – Every day is a great day, enjoy each one to the fullest no matter what life throws your way.
I could think of worse places than Luck to be stuck. If you've lost a furry friend to cancer, consdier checking out our coping with loss discussion forum. Fortunately – or unfortunately, depending on how you look at it – you're not alone.